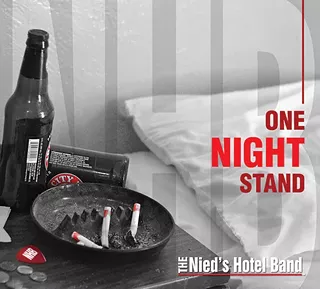 The Nied's Hotel Band
One Night Stand
(Self-released)
The local rock supergroup's first full-length in a couple of years. As per usual, the sounds are all great: Well-produced '70s/'80s-style funky rock with copious saxophones and plenty of instrumental precision. A lot of these tunes are about love affairs and having a good time; the band does get slightly political with one song that's a vague upbraiding of the tax system. (Rock 'n ' roll, meet Reaganomics!) It's dad-rock, but very well-done dad-rock.
THE NIED'S HOTEL BAND CD RELEASE. 7 p.m. Thu., July 17. Rivers Casino Outdoor Amphitheater, 777 Casino Drive, North Side. Free. 412-231-7777 or www.riverscasino.com
Marcus Meston
Our Voices Are Just Noise
(Self-released)
A five-song EP from local synth-pop producer Marcus Meston. The multi-instrumentalist gets the party started with the album-opener/title track, changes dynamics and covers Prince — all in 14 minutes. The release starts on a high note with an energetic, dancey tune, but loses that fervor at track one's end. Trading funk for pop on Prince's "17 Days," the EP ends well. For fans of Swimming with Dolphins (Adam Young's pre-Owl City project).
— Zach Brendza
Power Pill Fist with VFKR
Basaltic Day Terrors
(Self-released)
Basaltic Day Terrors is a grinding instrumental collaboration between Power Pill Fist —an alum of Pittsburgh's Black Moth Super Rainbow — and Georgia's electronic noise duo VFKR. In what's billed as an off-the-cuff collaboration, the two groups achieve a low-end growl that BMSR fans will enjoy, but Basaltic Day Terrors lacks the flourishes that make BMSR shimmer. They've built a dystopia, but there are no people to suffer in it. As a result, the album lacks drama.
— Ian Thomas