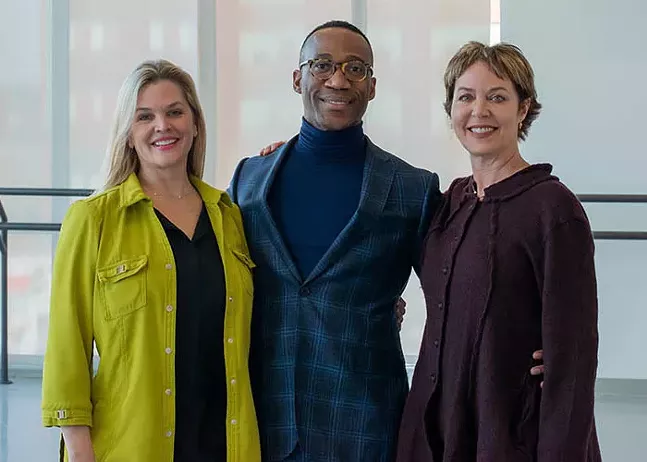 Point Park University
is collaborating with the
Pittsburgh Ballet Theatre School
for a college program where students can earn a B.F.A. in dance in two years.
With the program, students will receive technical dance instruction from PBT, touted as one of the "nation's finest schools for dance education and training." The program will have students receiving technical training from PBT instructors, who are certified through level five in the American Ballet Theatre curriculum, while also fulfilling academic requirements through Point Park, putting graduates on what's described in a press release as "the fast track to a successful career in dance."
PBT artistic director Susan Jaffe, who will lead the program along with PBT School director Marjorie Grundvig, says the school is "thrilled" to collaborate on this degree with Point Park.
"When Pittsburgh Ballet Theatre's first artistic director Nicolas Petrov founded our organization in 1969, it was affiliated with Point Park college, so we are excited to rekindle a partnership that goes back to PBT's roots," Jaffe says in a press release. "It's a wonderful opportunity for students to earn a college degree from an exceptional university while gaining valuable dance experience."
High school graduates interested in the program had to first audition for PBT School's pre-professional division. A round of in-person auditions took place earlier this month, but prospective students could also submit a video audition or schedule an in-person audition after March 11.
Once accepted, students can apply to Point Park, which accepts applications on a rolling basis.
Students enrolled in the program must complete two years of training at PBT School. Of the 125 required credits to complete the degree, 83 credits will be earned at the PBT School. Students can then enroll full-time or part-time at Point Park, where they will have full access to student resources and academic support.
In addition, students in the program will have the opportunity to be featured in Point Park's annual production of ChoreoLab, a performance highlighting the school's dance faculty and students.
"What an extraordinary opportunity to offer the best of both worlds to students interested in a career as a professional dancer," says Garfield Lemonius, Dean of the Conservatory of Performing Arts at Point Park University and artistic director of the Pittsburgh Playhouse. "That is, professional training from one of the nation's renowned dance companies further strengthened by an exceptional conservatory education from one of the top ten university dance programs in the country."