Flight has evolved three distinct times in vertebrates throughout Earth's history. Most recently — just 50 or 60 million years ago — it happened in birds and bats. Before that, it was pterosaurs, winged reptiles that soared above the earth during the Mesozoic Era.
"Now we have all three of those at the Aviary," says Jennifer Torpie, the
National Aviary
's Education Manager.
The Aviary's "Living Dinosaurs" summer exhibit, which opens this Sat., May 25, showcases two life-size pterosaur sculptures, in addition to the regular exhibits with live birds and bats.
One of the sculptures, with gray, leathery skin covering its 11-foot wingspan, looks similar to the illustrated
pterosaurs
of children's encyclopedias. But the other sculpture has been designed to emphasize pterosaurs' similarities to modern birds, with feather-like fluff on its body and a bright orange crest on its head.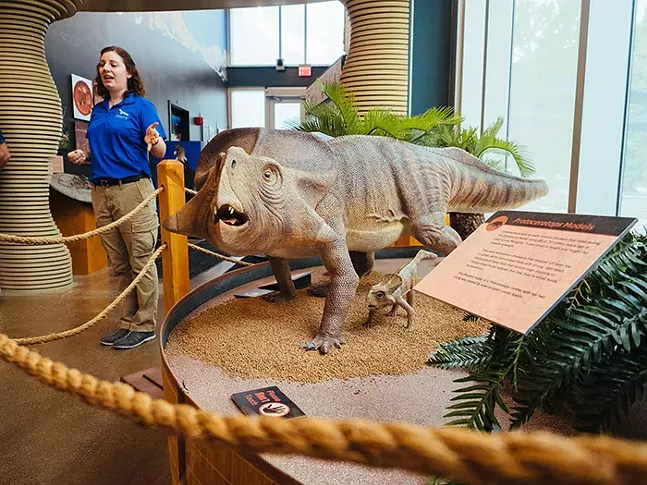 However, Bob Mulvihill, an ornithologist at the Aviary, is quick to point out that modern birds didn't evolve directly from pterosaurs, which aren't dinosaurs at all. Instead, birds are descended from the smaller, meat-eating dinosaurs that survived the mass-extinction event caused by an asteroid colliding with earth 66 million years ago
On a daily guided tour of the Aviary, visitors can learn about the relationship between birds and their extinct relatives.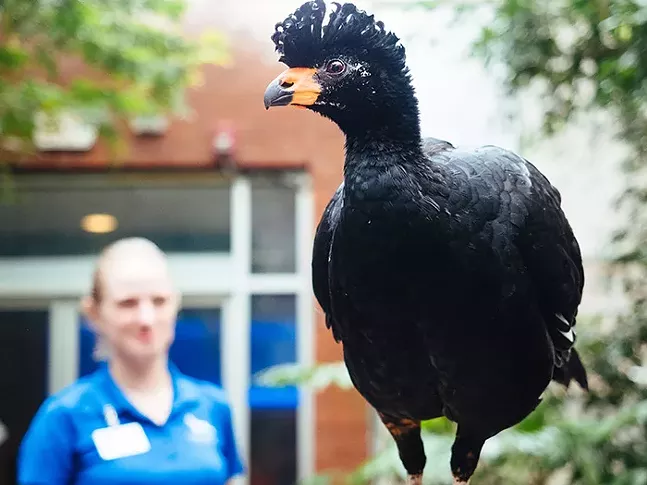 "Land fowl — so chicken-like birds and turkey-like birds, along with waterfowl — ducks and geese, are the most primitive bird groups that are the most closely related to dinosaurs," Mulvihill says. The Aviary's friendly wattled curassow, a black bird with a crown of curls on its head, is a prime example, he adds, calling it "one of the closest living representatives of a dinosaur."
In "Living Dinosaurs," the Aviary displays models of some of those smaller dinosaurs alongside its pterosaur sculptures and a traveling exhibit of real fossils. Nearby, there are dinosaur costumes and a digging pit where kids can search for fossils.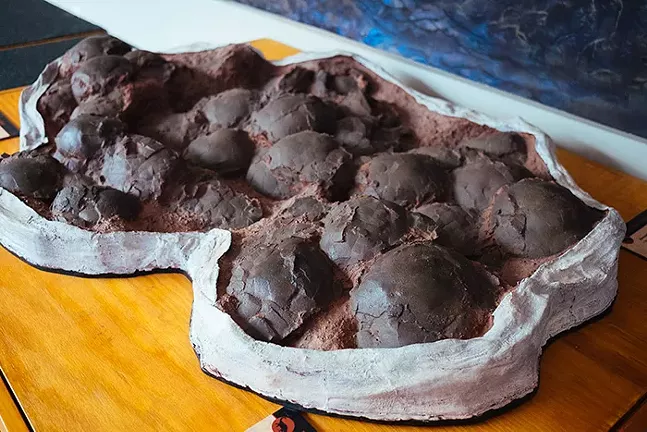 The exhibit also features "Jurassic Flight," a new addition to the Aviary's full-body flight simulator that mimics the experience of pterosaur flight.
"Here, you're a pterosaur able to fly through the Jurassic and see a variety of dinosaurs that lived during that time," Torpie says. Visitors who pay the $5 fee to use the flight simulator can control the flight of a virtual "pterosaur" through a forest habitat, watching groups of brachiosauruses and stegosauruses through their virtual-reality goggles as they wing by.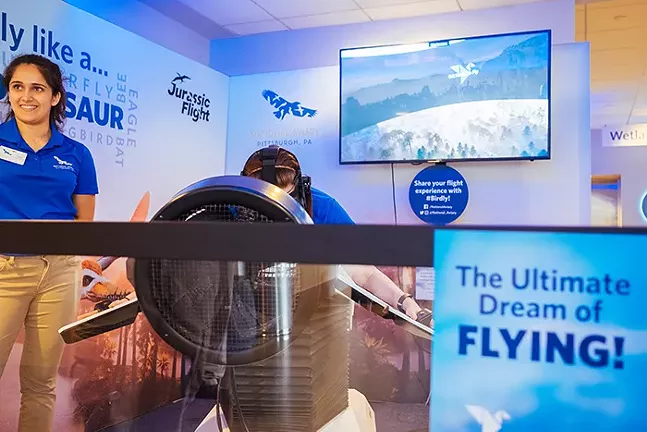 For Mulvihill, the exhibit is about driving home the similarities between the Aviary's birds and their dinosaur ancestors. The American flamingos in the wetlands habitat, for instance, squawk loudly at the other members of their flock. Dinosaurs, Mulvihill says, were equally noisy when communicating in a group. And just like many birds, some dinosaurs migrated, and some had brightly-colored feathers.
"When we look at the beauty of birds, we are looking at a connection that they have with feathered dinosaurs from long ago," Mulvihill says. "Not all dinosaurs were birds, but absolutely all birds are dinosaurs."
"Living Dinosaurs" runs through Sept. 29. Tickets available at aviary.org or at the National Aviary, 700 Arch St., North Side.