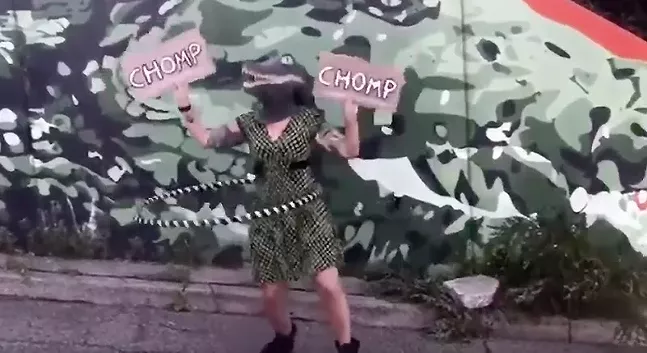 The following cryptic message was sent to
Pittsburgh City Paper
offices this morning: "Is Pittsburgh's future at stake as alligators steadily infiltrate our society? Is your neighborhood at risk?"
Attached was the following music video, "Alligators of Pittsburgh," with the note: "I think it's time that the people of Pittsburgh know the truth."
The video comes a month after a
third alligator was found in the city of Pittsburgh
, according to
Pittsburgh Tribune-Review,
which reported that one of the gators was almost five feet long.
The video was created in part by Dave English, president of the Puppetry Guild of Pittsburgh, who we previous interviewed
here
during Pittsburgh's Day of Puppetry. Along with BOOM Concepts' co-founder Darrell Kinsel, English is also part of the duo who created
Puppet Karaoke
. Other credits on the video include Will Simmons on music and video editing, and additional singers and dancers Melissa Ciccocioppo, Teresa Martuccio, Jennie Snyder, Spaz, and Suzanne Werder.
"As a group of concerned citizens, we felt that the media and authorities were not giving the story the coverage it deserves," says English. "So to make sure the people of Pittsburgh get the real story, we formed a new wave band, wrote this song, and shot a music video."
Police told residents that "anyone who encounters an alligator or any other exotic animal should not approach it, and instead should call 911," according to the
Trib
. No word yet on what Pittsburghers should do if they spot an alligator in a dress dancing on two legs.
"Pittsburgh has a good enough sense of humor to embrace such buffoonery," says English. "It makes us glad to live here, even if we have to make space for these damn alligators."