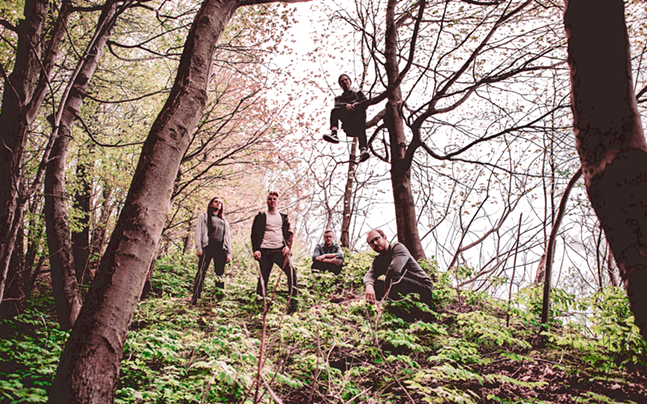 Frame and Mantle - Lost Under Nighttime Sky
Frame and Mantle
dropped its debut album,
Lost Under Nighttime Sky
, fittingly on Friday the 13th (which is also a full moon). The 10-track album was produced with the help of
Matt Very
, a Pittsburgh-based producer who has worked on releases from local acts such as Code Orange, Heart Attack Man, and Swiss Army.

CHARIOT FADE - "Spotless Century" and "Witness to a Lover"
Remember earlier this year, when the Pittsburgh-based band delicious pastries came to an end after 10 years of making music? Well, three of the six DP members (Jonathan Chamberlain, Stephen Gallo, and Jesse Ley) are back, this time as electronic pop group CHARIOT FADE. The members of the new group released their first two singles on Sept. 7 and have their first show
Oct. 2 at Spirit
, alongside Yip Deceiver (Davey Pierce from of Montreal) and Ky Vöss.

Swiss Army - "On Top Of The World"
"On Top Of The World"
became available on all streaming platforms Sept. 6, and is a walk through the challenges and excitement that come with every level of success. Lead singer Brandon Lehman compares success to balancing on a rope, where a single blow could knock you off. The more prosperous you are, the harder, or longer, you fall.
More...
Plasmid - EP II
Hunted Creatures - Sleep Weed
Princess Jafar - eurotape
Beautiful Kings - March Or Die
Ashley Puckett - "Medicine"