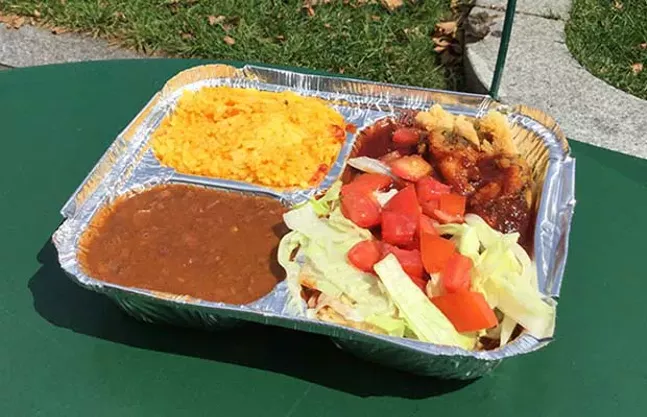 Intrepid travelers to New Mexico know that the state has its own cuisine worth seeking out— a mélange of Mexican, American and indigenous influences that is both familiar (tacos, tamales) and unique. Chiles dominate, and orders for breakfast, lunch and dinner ask "red, green or Christmas?" That is, do you want your food topped with red chile sauce, green chile sauce or both.
New Mexican casual fare has come to Pittsburgh via Mesa, which has taken over the longstanding Conflict Kitchen take-out spot in Schenley Plaza. New Mexico was variously under the control of Native Americans, Spain and Mexico, before becoming part of the U.S. after the Mexican-American War, if you're still looking for conflict. But a little green alien stands by Mesa's tip jar, perhaps reminding us that the people of Earth need to stick together.
At this currently peaceful spot, diners will find a compact selection of regular items, with vegetarian options. The aforementioned tamales are available as: pork with red sauce, or calabacitas squash (sautéed with onions and peppers) with green sauce. There are also tostadas (beef or chicken), enchiladas (chicken or green chile and cheese), and a New Mexican chopped salad, with corn, black beans and tortilla strips. Or try a mildly spicy pork and potato stew, flavorful from chiles, and served with a warm flour tortilla. Beans are an integral part of New Mexican cuisine, and Mesa's creamy, seasoned ones are an excellent side dish.
Weekends feature additional brunch items, including entrees topped with fried eggs, such as bacon and cheese tamales, and the delicious hot mess that are chilaquiles (tortillas sautéed with peppers and onions, and served with green chile).
If all that chile sauce is making you thirsty, Mesa offers an assortment of beverages, including housemade fruit sodas, Piñon coffee (hot or iced), aguas frescas and Topo Chico sparkling mineral water.
Save room for dessert: Sopaipillas are fried dough puffs, drizzled with honey, and not to be missed.
Schenley Plaza, Oakland. 11 a.m.-7 p.m. daily. www.mesapgh.com