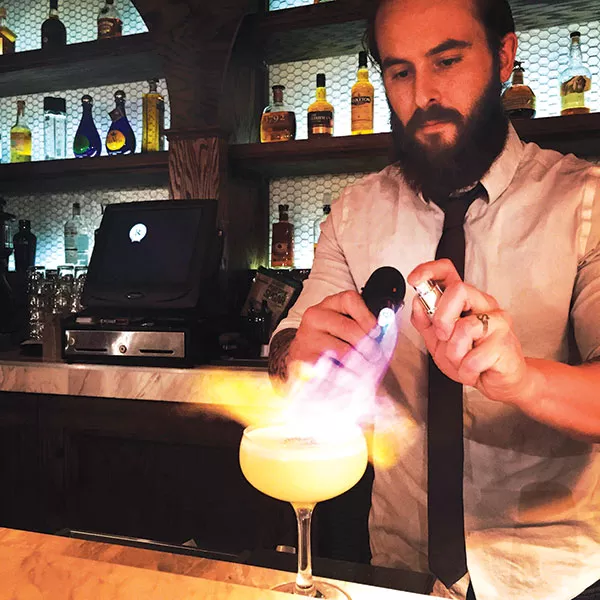 Inside Ten Penny and behind a sliding oak door, a stairway tiled in ivory white draws you down into the comfortable quarters of The Penn Society, a new members-only bar and social club chartered in 2010. Adam DeSimone, a club officer, says that having a space had always been a goal. Mid-July marks the soft opening. "This is a pet project for us. It was never meant to be a nightclub or a high-volume bar. It's meant to be a great social gathering spot." To sip cocktails at the Italian marble bar, or lounge in leather couches atop the custom parquet floor, you must be referred by a current member or accompany one as a guest. Membership costs $250 a year. All members sign in with the doorman, flashing sleek but weighty black membership cards, highly (and intentionally?) reminiscent of the fabled, black-and-titanium Centurion Amex. Different classes of membership afford different privileges, but both members and non-members can rent the space for special events, with Ten Penny catering.
Head bartender Corey Bardell has created a highly approachable but interesting cocktail program. The simple syrup is infused with lavender he grows on his porch. In homage to summer, for one cocktail he stewed organic cherries. Judging from his shelves and the menu, it's clear he's committed to providing a warm experience. Wine is served by bottle and from a tap system, and there is a modest but thoughtful selection of beers. Any bartender who can make Cheers jokes and nerd out about gin in the same breath will command the affection of patrons.
Bardell and DeSimone both emphasize that membership in the Penn Society is for patrons of all kinds who like good conversation and cocktails, whether you're a server just off a shift or a lawyer fresh from court. "It's not based off salary or status," says DeSimone. 
Membership is limited. To apply, visit www.pennsociety.com.