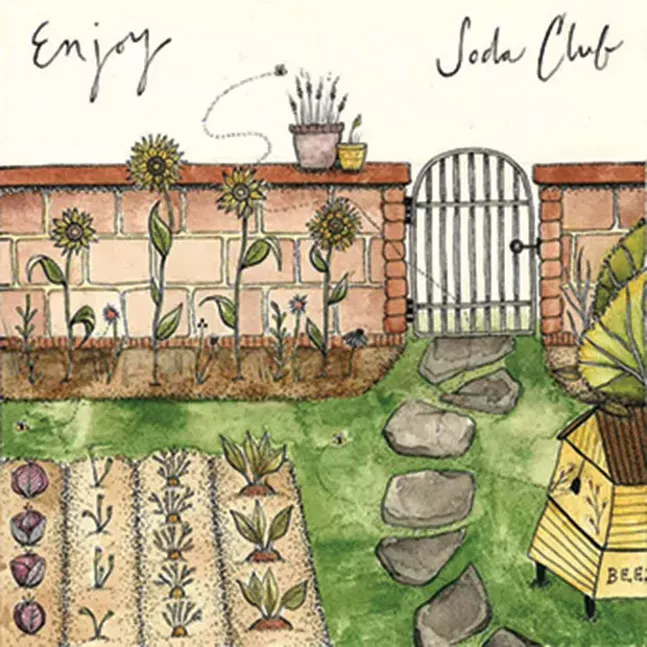 Soda Club
Enjoy
Self-Released
Enjoy, Soda Club's debut EP, is four songs of poppy goodness with vulnerable lyrics, dreamy harmonies and a sound that celebrates cuteness. Vocalist, guitarist and ukulele player Shay Park takes the primary role of storyteller, while Jarrett Krause, when he's not playing his tenor saxophone, fills the dual vocalist role so often found in twee music. Tosh Chambers on bass guitar and Mason Jaynes on drums hold down the groove through shifting movements. The band shines in its ability to make smart, intimate pop tracks.
"Halloween Party," the EP opener, is an instant classic with playful dynamics and very relatable lyrics. "I show up to your Halloween party without a costume on. Everyone keeps asking me who am I supposed to be," sings vocalist Park, a simple question with a loaded, existential undertone. Eventually, Park and Krause reveal their hand, admitting their true selves with shared vocals over a delightful uke riff: "I'm not popping bottles, I'm just popping pimples. Stay in my pajamas, keep it nice and simple."
"Been Down" is a bouncy musical pep talk, a loving song that feels like encouragement from your closest friend and confidante.
The tone shifts into melancholy dreaminess with "Stone Soup," a track about fleeting flings. The way that all those tiny details and moments fall into disrepair is embodied by a musical round of Park and Krause that swirls with a gentle aching tone.
Enjoy concludes with "Haunter," in which Krause takes the lead vocal. It's a waltzing number, a drunken dizzy spin around the kitchen with someone who makes your heart race. "Don't mind if you haunt me, just want you to want me," sing Park and Krause, in a sugary harmony, before giving way to the repetition of a bittersweet and defeated, "I don't even want me."
The four songs on Enjoy show off Soda Club's range. It also reminds listeners that while cute can be powerful, catchy melodies are more important than musical excess, and nothing is more intimate than confessing your love of popping pimples.
For Fans Of: Watermelon Sour Patch Kids, Diet Cig