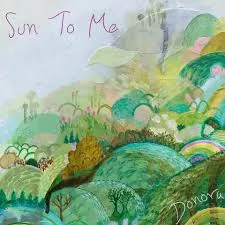 Donora
Sun to Me
Rostrum Records
www.donoramusic.com
Sun to Me is an album that exudes bliss. Donora's fourth album, its first in three years, is 11 songs long, each one bursting with starlight and confetti in a celebration of love. In times as distressing and tumultuous as these, albums like this present an alternative to the darkness, creating a world of light and laughter in which to lose yourself.
Sun to Me is full of sparkling synth melodies, grooving bass riffs, and simple, open percussion. It is an ideal base for Casey Hanner's dynamic voice to play and harmonize upon. Hanner's the kind of vocalist whose voice is just as much an instrument, whether as a vehicle for lyrical messages or a carriage for melody.
The album begins with "Just You and Me My Dear," a song whose synths have a similar quality to early Dan Deacon — overflowing with a fun, bouncy energy. "Celebrate" carries on this feeling with a beachy vibe and catchy bass riffs. "Do You Hear Me Boy" recalls the butterflies-in-the-stomach feeling of new love, while songs like "Self Destruct" emulate the ever-changing feelings of long-term passion.
Donora plays with genres on Sun to Me, utilizing an overlying pop theme while incorporating surf elements and hints of indie rock. The titular track has a bluesy rock vibe, its choruses full of saccharine falsetto. The verses utilize warm horn sounds and a heavier bass drum, adding to the dancey quality of the track. Playful deviations from the pop formula keep the album interesting and fresh, while still offering infectious choruses and hooks.
The band's mission with Sun to Me was to encourage listeners to put joy and love first. "We can't teach what we don't live," Casey sings on "Celebrate" and "Celebrate Reprise," a verbal reminder to live the message that ties the album together. And as a listener, this could be the soundtrack to kickstart your journey of following your bliss.
For Fans Of: Joseph Campbell, holding your lover's hand as you ice-skate at PPG Place