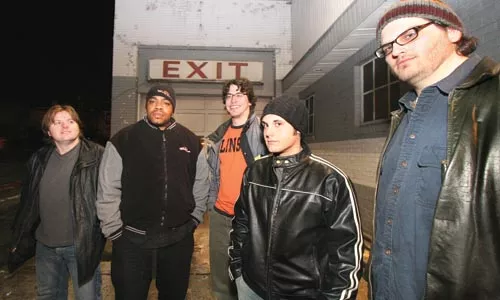 Bearded and burly in flannels and a knit cap, Joe Pucciarelli looks different in person than his high, plaintive voice prepared me for. Sitting in the homey Little Brown Jug in Millvale, where he hosts an open mic, he bears some resemblance to a smiling, bespectacled Neil Young. Which I guess I should have expected.
I'd been listening to These Unimportant Years, the new album by Pucciarelli's band Stuck in Standby. All shuffling backbeats, cranked guitars and moody violin, it's like hearing Michael Stipe sitting in on the Young classic Everybody Knows This Is Nowhere. But despite occasional explosions of Crazy Horse raunch, like "Driving Sound" and "Ballad of Aurelius Binns," something about those coiled, ropy bass lines -- that sense of groove -- gave me an uneasy feeling.
I popped the question I'd been building up to: "So, are you guys, like, a jam band?"
"No ... sometimes, I guess," Pucciarelli fumbles, " ... maybe?"
With violinist Graham Denmon and guitarist Joe Tarowsky, "[I]t's kinda hard not to be a jam band," he says. "Because they'll both start playing something, even at shows, and one of them will just start doing something they've never done before." When that happens, Pucciarelli says, "we have a lot of inside jokes. Like, 'I peed a little,' which is like, when something's really good."
Despite the group's current synergy, Stuck in Standby began in 2001, not as a band, but as simply Pucciarelli armed with an acoustic guitar and some free studio time at Gorby Run studios. While attending California University of Pennsylvania, he "was lucky enough to get on a compilation for an open mic they had down there through the university," he says. "They gave me four hours of free studio time ... so I recorded five songs, and that was the first album pretty much."
The North Hills native earned a degree in science and technology; since graduating in 2005, he's lived in Millvale, playing music and running his kitchen-table CD-duplication company, Tower 41 Productions. "Between hosting the open stages, doing the CD duplication and the band, I'm trying to make enough money -- it's a little tight right now," he says, wincing.
The current band lineup didn't really click into place until this summer, after some twists and turns. Tarowsky started out on bass in 2004, and briefly played drums, before finally settling on lead guitar. Pucciarelli met and recruited the remaining band members -- Joe Shields on bass, Rob Berletich on drums and Denmon on violin -- through the open stages he hosted at California University and here in Pittsburgh.
He met the classically trained Denmon at an open mic at Logan's Pub in Oakland. "He came up and was like, 'Hey, I play violin, is it OK if I go home and get my violin?' I was like, 'Sure, go for it.' He gets his violin and comes back, and asks, 'Is it OK if I play with you?" Pucciarelli conveys his surprise with a gesture. "Instantly, it was chemistry when we started playing. He was the first person I asked to join right on the spot -- normally there's a waiting period."
The resulting band's music is informed by influences ranging from classic rock to classic indie -- from The Who and Rush to Death Cab for Cutie, Modest Mouse, Billy Bragg and Pucciarelli's favorite songwriter, Bob Mould. For These Unimportant Years, the band simmered these influences into its own sound, even as Pucciarelli's songwriting evolved to meet it. "For the longest time, I tried to hide the fact that my music may be poppy, or have some pop aspects to it. But with this album, my friend told me, 'Joe, you write pop music. Deal with it.'" He laughs.
The new record comes out on Dec. 16 at the Rex Theatre release show. You can also catch Stuck in Standby at spots like Howlers, Bloomfield Bridge Tavern, and Club Café, where Pucciarelli says the band's live show emphasizes an open-ended feel and long, drawn-out grooves with minimal chord changes.
He takes a sip of beer and doubles back on our earlier conversation. "So, as far as being a jam band," he muses, "as much as I hate to admit it, maybe we are."
Stuck in Standby CD Release with The Good Seed, Dragon & Phoenix and The Comic Dr. Awkward. 9 p.m. Sat., Dec. 16. Rex Theatre, 1602 E. Carson St., South Side. $8 ($10 at the door). 412-381-6811 or www.rextheatre.com