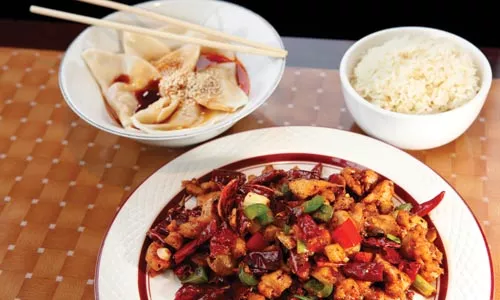 5888 Forbes Ave., Squirrel Hill. 412-422-1888
Hours: Mon.-Thu. 11:30 a.m.-10 p.m.; Fri.-Sat. 11:30 a.m.-10:30 p.m.; Sun. noon-10 p.m.
Appetizers and soups $1.50-8; entrees $7-15
BYOB
It's interesting how the most quotidian events can sometimes leave an indelible mark on a person -- or a building, or a neighborhood, or all of the above.
The "How Lee" Chinese restaurant sign at the corner of Forbes and Murray avenues is such a relic. The sign, in which the "w" doesn't match the other letters, has become a reliable, if eccentric, Squirrel Hill landmark, but few know the backstory. In the early '90s, a Canadian chain opened a franchise there offering "healthy" (read: MSG-free) Chinese food. The restaurant, Ho Lee Chow, didn't last, but its successor, calling itself How Lee, hit upon the brilliantly economical idea of reusing the relevant letters from the existing sign. The only hitch: Since it was in cursive script, the "w" in "Chow" was attached to the "o." So a new, non-cursive "w" was purchased.
For years thereafter, under this distinctively mismatched banner, How Lee ran a storefront takeout counter proffering Chinese-American fare of the most common variety. So accustomed were we to noting the sign and bypassing the food in this establishment that an online rave about the Sichuan dishes at "New How Lee" caught us by surprise.
Sure enough, our next stroll past revealed that the once-garish takeout counter has been transformed. Now, cozy tables and upholstered banquettes line the walls, which have been repainted a warm, tawny brown, and art-glass pendant lighting has replaced the old fluorescent tubes. The place looked downright appetizing.
So did the menu, especially the "Authentic Sichuan Cuisine" section that covered the back page. The rest of the menu offered a full complement of classic Chinese-American choices, but for this meal, we set Kung Pao and Triple Delight aside. How Lee's Sichuan specialties went far beyond the preparation of unusual meats (beef tendon, pork stomach) in all-too-familiar brown sauces. Braised beef filet with roasted cabbage, leeks and celery? That's a combination that sounds good in any language. We started compiling choices, trying to gauge how many platters our table could hold.
Service was prompt and friendly, if a bit haphazard: Dishes arrived as soon as they were cooked, and in no particular order. Since we were mostly sharing, it didn't matter much, but one dining companion had to wait patiently for the tea-smoked duck; it arrived last, but for the fortune cookies. It was worth the wait, though. The Chinese are famous for their way with duck, mostly Peking-style, but tea-smoked is another classic preparation, and How Lee's was extraordinary. Without any sauce, every piece featured crisp skin over a modest layer of rich fat and succulent meat, all infused with the earthy, smoky, herbal notes of tea.
The duck paired especially well with our plate of dry green beans, a bit of a misnomer, as they were sautéed in plenty of oil; perhaps the name is a reference to the absence of sauce. Regardless, How Lee's beans were plump and juicy with a bit of caramelization at the edges from their time in the skillet. Salty crumbles of crispy pork served to season the dish, a bit harshly at times, but satisfyingly.
Scallion pancakes were also fried in plenty of oil, creating a flaky, phyllo-like exterior with a moist, chewy interior which we preferred to the more typical crepe. An excellent, sweet dipping sauce rounded out the balance of flavors in this lovely appetizer.
The hits kept on coming, and with them, heat. Sichuan is a spicy cuisine, but as the name became ubiquitous in American Chinese restaurants (replacing the once-dominant Cantonese), spice was mostly relegated to a dish or two with extra chili powder. Not at How Lee; this is a restaurant that dares to put the spice back in Sichuan cooking. Our first bite of dan dan noodles, a classic street food served with ground pork and sesame sauce, confirmed that all those little red chili pepper symbols on the menu weren't bluffing. But the dish also contained enough sweet and savory notes that spice was not our overwhelming impression. Chendu fried "dry hot chicken" (at two chilies, the hottest dish on the table; we didn't dare try the Chongqing fried dry hot chicken, with its three chilies) seemed to contain as many pieces of dried red chili as it did bite-size morsels of chicken. But what chicken: Each piece was crusted with crispy batter, but never so much as to obscure the tender, moist meat within.
Cumin mutton distinguished itself by its tenderness -- rare, in our experience, for restaurant mutton -- and in the warmly spicy flavor of the dense rub which covered the meat and infused the simple sauce and accompanying onions and sweet bell peppers.
There was only one dish, salt-and-pepper squid, that didn't do much for either of us. Large chunks of squid, although tender, were thickly coated in a breading that overwhelmed their mildly flavored meat, and with only a smattering of diced vegetables mixed in, plus a bed of raw cabbage, there simply wasn't enough to make this dish sing.
But that's a quibble with a meal that stood out -- like the "w" in How Lee's sign -- from other Chinese, even Sichuan, meals we've had. New How Lee rises above its peers with simply delicious food that's well cooked, expertly seasoned and fearlessly spicy.