Amy Oden is the filmmaker behind From the Back of the Room, a new documentary about women in DIY punk-rock communities. The film features interviews with musicians, zine writers, photographers and venue representatives. (Bikini Kill's Kathleen Hanna, comic-book artist Cristy Road, Slug and Lettuce zinester Chris Boarts-Larson and Slade from Tribe 8 are among the most noted women featured.) The Washington, D.C.-based Oden spoke with City Paper about making the film and what she learned in the process.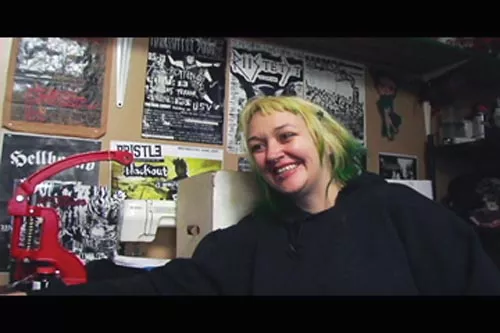 What was your introduction to punk communities?
I started going to shows when I was 15 or 16. That started off with just going to indie shows, and then starting to slowly get more immersed in the DIY scene in D.C. I think one of the earliest punk shows I went to was at the Wilson Center, which is an old venue that's been around since the '80s, and I went to see a band called Crispus Attucks. That was when I started getting my feet wet.
What's your take on the way women interact in, and are treated in, DIY punk as opposed to the larger mainstream culture?
I think it varies so widely according to what subsection of punk you're involved in, and who you're surrounding yourself with. Just as many times as I've met kind of macho hardcore guys that have surprised me by being compassionate, I've experienced really radical hyper-political punk men or women that have been actually kind of conservative with regard to gender. As much as I'd love to give some idealistic answer about -- "The scene is utopian!" That's just not the case. I think it does mirror larger society in a lot of ways that sometimes people don't want to admit.
You talk about Riot Grrl movement, and it seems like it's a jumping-off point for the film, but you present a very nuanced view of it -- not like it's the face of women in punk, as some people assume.
Yeah -- I think it's been kind of frustrating to me over the years as a woman involved in that community. It's just a shame to put people in the same box over and over. That was an inspiration for me -- I wanted to explain that there's more to female involvement than just Riot Grrl. And that's not to trash Riot Grrl; [the movement] did some really cool things. Now we're getting to this nostalgic era with Riot Grrl, and I think it's great to remember and re-energize ourselves with that, but it's only part of the larger picture.
You don't to involve any men's voices in the film -- there's no Henry Rollins or Ian MacKaye talking about women in punk.
That was a deliberate decision. I think the idea came up early on, and [co-producer Brian Kruglak and I] decided that there are so many documentaries about punk and about music that are almost entirely men, and I think they've taken up enough space in the dialogue. If we're talking about gender, I wanna hear what women have to say.
What did you learn while making this film?
I keep going back to one thing that was really surprising to me, which was the real diversity of opinions that a lot of the women I interviewed had about any [aspect] of the topic. You tend to universalize your own experience when you're thinking about a group of people that you're a part of, like "Oh, well, if I'm pro-choice, then everybody that's like me is pro-choice." Or "If I feel this way about parenting, or sexuality, then everybody like me feels this way." And that's definitely not the case. That was both surprising and actually pretty cool.
There wasn't any sort of forced conclusion or angle in the film -- it was a big discussion with a lot of different people. Was there any overarching conclusion that you did reach that you hope people will take away from it?
I think the two things I hope people will come away from the film with are -- the main thing is to start discussion. And so I hope that it does that, and it seems to be doing that. The other thing was, the very last portion of the film, where everyone's giving advice -- my driving belief about all that is that I really hope that if younger women watch it, it then motivates them.
Almost everyone in that last section connects the discussion to the world beyond punk communities.
I think it's very easy for punk to become an insular or elitist thing, and I think that's a shame in a lot of ways. I think it can be good for people growing up to feel like they have this coherent community that cares about the same things that they care about, but as I've gotten older I've realized that punk's situated in larger society. To try to deny that you have to exist outside of it is kind of silly.
Why take the film out on tour, as opposed to just finding a distributor and getting it into arthouse theaters?
I think that harkens back to my immersion and upbringing in a DIY ethic; I'm not gonna wait for a distributor to pick up the film and do whatever they want with it. If that happens, that'd be cool; I'm not opposed to having it formally distributed. But for me, that's just the way I think about things -- just go on tour with it. DIY bands tour and they tour hard, and that was the very logical next step for me, I thought.
FROM THE BACK OF THE ROOM FILM SCREENING with performance by ICON GALLERY. 7 p.m. Sun., Nov. 20. Mr. Roboto Project, 5106 Penn Ave., Bloomfield. $7. All ages. www.therobotoproject.org