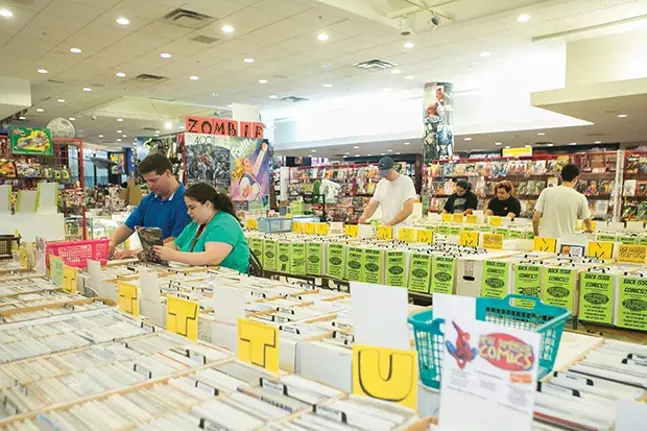 Century III Mall in West Mifflin is filled mostly with vacant storefronts. Staples such as Hot Topic, Macy's and GameStop have all closed, and the food court is barren.
But a stalwart remains and it's thriving: New Dimension Comics, located on the bottom floor.
This massive store, packed with toys, tabletop and card games, thousands of comics and more, has maintained through thick and thin. It even has a second room next door dedicated to playing games.
"We've seen some dips, but things have kind of leveled off a little bit," says Chip Grossman, manager of Century III New Dimension Comics. "I've not been in this situation before, so you don't really know what the future looks like as far as traffic… it has a pretty strong customer base that it's been able to survive on."
New Dimension Comics is a small chain with five other locations in Pennsylvania and Ohio, including one at Pittsburgh Mills. The Century III store has diversified its appeal and taken advantage of empty store fronts nearby. Next door, New Dimension uses a room as a dedicated space for folks to play card and tabletop games.
One of the commonwealth's more famous comic-book stores, Amalgam in Philadelphia, has seen financial success thanks to creating a homey atmosphere. Amalgam has tabletops and couches, and a coffee shop inside the store. New Dimension appears to be following a similar model, though doesn't offer coffee yet.
Also, once a year, the store plays host to Three Rivers Comic-Con in the mall. The event solely focuses on comic books in an era where most comic-cons have embraced comics-related movies and TV shows. The last one, in May, drew about 1,000 attendees, according to Grossman.
"Those parking lots were packed," says Stephanie Reynolds, a frequent visitor who attended the last Three Rivers Comic-Con. "People will still come out for their comics."
Reynolds, 40, usually shows up every Wednesday for Dungeons & Dragons and likes to buy manga (Japanese comics) at the store. She's made some strong friendships while gaming there.
"We look out for each other," she says. "If something's going on, we're there for each other."
Another customer, Justin Comp of Latrobe, comes to the store once or twice a month. New Dimension is succeeding if it's attracting customers from well beyond the South Hills market. "It's worth the drive," he says.
Grossman and assistant manager Tim Hibbard love to channel their enthusiasm for comics and try to sell customers on certain titles. It's not just fun, though – it's a business strategy.
"When we get excited about things, sales get affected," Grossman says.
Hibbard exudes passion. He has notebooks filled with sketches and ideas for comics he'd love to create himself, he says.
"I feel like half the people who read comics had aspirations of writing them or drawing them at some point," Hibbard says. "I haven't given up on the idea yet."
New Dimension's success comes at a dark time for malls across the U.S. A new report from New York-based real estate research firm Reis shows the vacancy rate at regional and super-regional malls reached 8.6 percent in the second quarter of 2018. This is the highest vacancy rate since 2012.
Grossman believes the store has succeeded, despite the failures of malls at large, because New Dimension has garnered a dedicated fan base, in addition to attracting out-of-towners.
"We've carved out this little niche," Grossman says. "People tend to not travel more than 10 minutes, so you kinda want to stay within that little bubble, because that's where your regulars are."
A sheriff sale for Century III has been announced and postponed a few times. It's now set for September. There's no way of knowing what a new owner would do, leaving the mall in flux at the moment.
But New Dimension is unfazed by the uncertainty.
"It's an unnecessary distraction," he says. "I just want to run the store and sell stuff and sell people fun."
__
New Dimension Comics at Century III Mall 3075 Clairton Road, West Mifflin. ndcomics.com