Wes Roberts often finds himself perched over the Carnegie Library's $2,300 3-D printer armed with nothing but a purple bottle of hairspray.
The hair product, he explains through a spray of mist, is essential in keeping objects it's printing from sliding around inside the machine, ruining them. "The machine isn't as intelligent as people assume," says Roberts, a senior librarian. "It often comes down to a goofy thing like making sure there's some hairspray."
Roberts is responsible for overseeing the program that allows the general public to use the library's 3-D printer — a technology that allows for everything from creating prototypes on the fly to more artistic ventures. On a recent afternoon, Roberts is trying to print a model dachshund, almost identical to one requested by a library patron. And despite the hairspray, the dog's legs are sliding from their intended position, and small globs of molten plastic are being applied to the wrong spots, giving the hound a decidedly misshapen look.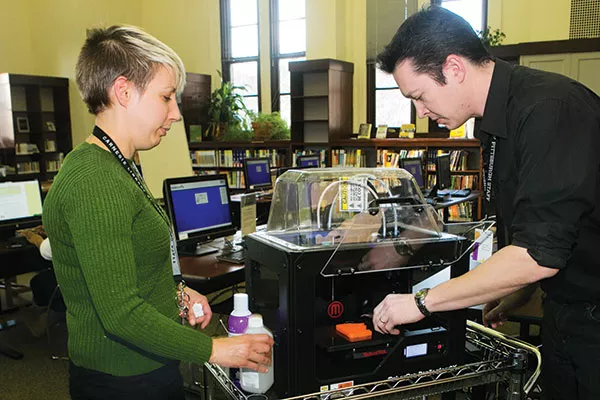 He stops the process, pulls the half-finished dachshund out of the microwave-sized printer, makes a quick adjustment on his laptop and starts over.
Roberts, who learned to run the library's 3-D printer from scratch, says he was originally unconvinced it would be a good idea to make the tool available to the general public. He expected people to request useless keepsakes. "I was totally skeptical," he says.
The library wound up with the printer through a $30,000 Library Services and Technology Act grant awarded in 2013, designed to "inspire libraries to participate in the maker movement." At first, they used the printer mostly as a teaching tool, not for on-demand public printing. But that changed last July, and a flurry of media coverage spurred the public to start using it.
Not all requests could be met, of course. The 3-D model of Princess Leia's gun from Star Wars violated the library's policy against building weapons. But in the roughly seven months since the library opened the tool up to the public, Roberts has been impressed by some of the enterprising projects people have come up with. There was the schoolteacher who printed the skull of Australopithecus Africanus for a class. And a brother/sister team who printed part of a prototype device that will measure which of the city's streets are most bike-friendly. Then there was the research assistant who printed his own brain.
And even though most of the 61 objects the public has printed so far — including everything from a BMW motorcycle keychain to a model of the Athena of Velletri — were pulled from Thingiverse, a website that lets people share digital files of 3-D objects, Roberts maintains that the library's program is helping familiarize people with the technology, even if they're not all designing their own objects from scratch.
"It was meant to start connecting people to [the tech sector] who have never been there before," says Roberts. "It's kind of a cultural connecting piece."
The idea came to Allison Plummer as cars whizzed past on her morning bike commute up Stanton Avenue. "It's one of those roads in Pittsburgh that is residential and the speed limit is 25 miles per hour, but you would have no idea."
A 26-year-old urban- and environmental-studies graduate of the University of Pittsburgh, Plummer wondered whether she could build something that would collect "proactive" data to give bikers, policymakers and law enforcement ways of making bike commutes safer. "Too often it's death statistics or crash statistics" that are used to decide where to put a bike lane or change signs to improve traffic flow — "and that's too late," Plummer says.
To fix that problem, she came up with the concept she calls the "Sentinel Box" — a device containing sensors and a camera that attaches to the frame of any bicycle and can measure everything from a passing car's speed to whether it passed too closely. If deployed on enough bikes, the boxes could extensively map where the most dangerous spots are for bikers around the city (or even give public-safety officials a tool for making citations under the state's rarely enforced safe-passing law).
Plummer enlisted her brother, Ethan, a 23-year-old recent California University of Pennsylvania grad who studied computer and robotics engineering, to build the box. He had some experience with 3-D printing and heard he could use the library's printer at virtually no cost.