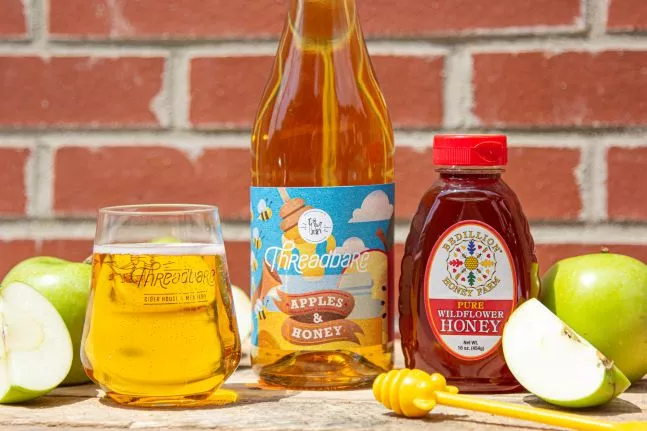 Scratch & Co
1720 Lowrie St., Troy Hill. scratchcopgh.com
Scratch & Co has introduced a new, but familiar item to their menu: pierogies. Chef Brent Cable brings his grandmother's pierogi recipe to the popular spot, and they look delicious. Made with dried cheese curd and served on a bed of onion and bacon, you're sure to get your savory fix with this one.
Arsenal Cider x Girls Running Shit
300 39th St., Lawrenceville. arsenalciderhouse.com
The popular local cider house has collaborated with a Pittsburgh-based podcast (and previous
Pittsburgh City Paper
Best Of winner
) on a special cider called Steel City Sunrise. A combination of apple, mango, and pineapple, its sounds as refreshing as sunshine in a cup.
North Country Brewing x YaJagoff
111 Arrowhead Dr., Slippery Rock. northcountrybrewing.com
Yet another brewery and podcast have teamed up to create This Is My Spot Ya Jagoff. A classic American Light Lager, it's the perfect drink for summer and available at many area Giant Eagles.
Apples & Honey by Threadbare
1291 Spring Garden Ave., Troy Hill. threadbarecider.com
Threadbare Cider House & Meadery is releasing a new beverage perfect for the upcoming fall season. Apples & Honey is described as blending the crispness of apples with the sweetness of honey for a refreshing but rich flavor profile. Made from Soergel's Orchard apples and Bedillion Apiary Spring Wildflower Honey, the cider and mead are made separately and then blended together post-fermentation. This sweet brew is set to release on Thu., Sept. 2.
Pittsburgh Taco Festival
2101 Smallman St., Strip District. pghtacofest.com
The Pittsburgh Taco Festival is set to happen on Sat., September 11 at the Strip District Terminal from 12-7 p.m. Samples items from La Palapa, Taquitos, TacoTown, Juniper Grill, La Catrina on Wheels, Mi Empanada, Tocayo, Vagabond TacoTruck, El Sabor, Caustelot Creamery, El Rincon Oaxaqueno, Brisketburgh, Cilantro &Ajo, Los Gallitos, Let's Taco, Allegheny City Farms and more. There will also be live entertainment. General admission tickets are $10, with $30 Early Bird and $65 VIP tickets also available for taco die-hards.
Project Vanila Shteam Machine at Sheetz
sheetz.com
Sheetz just announced a new cream ale that will only be available in Pennsylvania. Project Vanila Shteam Machine, made in partnership with Evil Genius Beer Company, is described as tasting like a vanilla cappuccino. The limited-edition beer will go on sale Fri., Sept. 3 at 58 Sheetz stores statewide.
The Best Thing We Ate This Week
After enjoying a few beers with friends at Two Frays Brewery in Garfield, I decided to try nearby El Sabor (
elsaborpgh.com
) for the first time. Located in a once long-abandoned space at the corner of Penn Avenue and Main Street in Bloomfield, the restaurant has offered an alternative to rival Mexican spot, Cabos, located just a couple of doors down. I ordered a build-your-own dinner combo with a tofu burrito and cheese enchilada, with a side of street corn. The burrito (smothered, not handheld) contained some of the best-prepared tofu I have ever had in a restaurant. The protein was drained well and lightly fried in a skillet, giving it the slightly chewy texture I usually desire. It was also nicely seasoned and held up well against the sloppy, spicy sauce covering the dish. I have a feeling this will be my new take-out favorite. — Amanda Waltz,
A&E editor