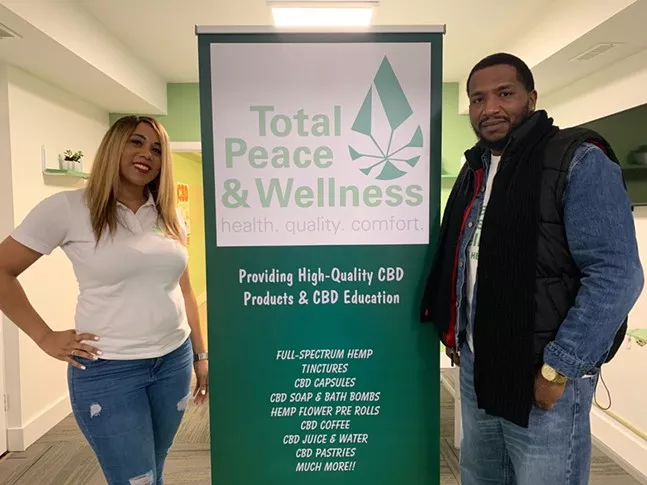 Women of color account for just 5% of senior roles in the cannabis industry, according to a 2017 study by
Marijuana Business Daily
, which is why I was excited to see a Black-owned CBD store open here in Pittsburgh.
Total Peace & Wellness
, which had its official grand opening in Lawrenceville on Oct. 25, has brought not just diversity to the local scene, but education.
CBD can be found almost everywhere now, from
Dick's Sporting Goods
to Turnpike rest stops. But studies are not clear on which CBD products
actually work
, discouraging those who might benefit from its usage. With the addition of Total Peace & Wellness, owners Rhonda Broadway and Carlos Smith are aiming to help people live happier and healthier lives by providing high-quality products and spreading CBD education and awareness.
"You can take CBD, you can take gummies, you can take the tincture," says Broadway. "But the absorption rate isn't that great, so you're putting this tincture under your tongue and a lot of people are not feeling the reaction from it, and it's because you're not really absorbing it in the blood."
How the product is absorbed into the body is a key factor in how effective CBD can be, and the owners say they aim to help their customers understand the process. While Broadway says she knows what makes a CBD product good now, initially she discovered it through trial and error. While suffering from anxiety and stress a few years ago, she started going to different health-related expos and events to look for ways to help her mental state.
If you're using CBD it is best to research the terpenes in the product you're purchasing to get the best results. Please read How Terpenes Affect Your Body https://t.co/sLuP8GeMjt pic.twitter.com/qxywclugxS

— Total Peace and Wellness (@totalpeacecbd) November 2, 2019
"I saw a lot of CBD stands and didn't really know much about it, and I purchased CBD tinctures from the events," says Broadway. "Some were good, some were bad. After researching companies and how CBD works with our bodies, I was able to find quality products that work well for me.
"What it did for my body and my stress, and how it helped relieve my symptoms, was something that I had never experienced before. It really helped me work in my daily life without having that stress level," she adds. "I was just fascinated by CBD and how it works if it's really good quality. I really wanted to spread that awareness to other people."
Total Peace & Wellness offers a variety of CBD-infused products
online
and in-store, such as tinctures, hemp flower, prerolls, coffee, water, soaps, and even pet items like bath bombs for dogs.
"Tinctures do the same thing for pets as it does for humans," says Broadway. "If dogs are suffering from high stress, anxiety, or different medical issues, it relieves those symptoms as well."
In-store, next to the CBD products for dogs — and cats too — is an informational guide about how CBD works with your pet, what to use for different ailments (arthritis, seizures, cancer, etc), and how much to use based on the animal's weight and size.
For humans, next to the register are pamphlets on CBD in the body, its benefits, and information on full-spectrum CBD. Patrons can also chat with either Broadway or Smith, as one of them is always there. Friendly and knowledgeable, Broadway helped me understand more about how the products work. (When my boyfriend went the next day — we sampled a few of the products and he fell in love — Smith helped him pick out the right items for his needs, and he walked away feeling like a CBD expert.)
"We're really focused on providing education about CBD in the community," says Broadway.
Additionally, it was Smith's idea to bring awareness to local organizations that provide some type of social equity for people who have been criminalized or affected by the War on Drugs, which is what an article in
The Week
cites might be the reason for the lack of women of color in the CBD business world.
It quotes Raeven Duckett, a board member at
Supernova Women
which works to empower women of color in the cannabis industry: "[S]moking weed, having an ounce of weed on you, could mean you're going to jail, you're ruining your life; a whole lot of like negative impacts ... [White people] weren't getting arrested, they weren't going to jail, and their families weren't getting torn apart as often and as horribly as Black people."
Each month, 5% of Total Peace & Wellness's monthly sales are donated to a nonprofit organization. For the month of October, the donation was made to
The Essie Justice Group
, which works with women of color who have family members that are incarcerated.
"They're like a support group, and help with paying bills for phone calls and transportation to see loved ones," says Broadway.
The plan for November's donation is to give to
Students for Sensible Drug Policy
, which has a chapter at Indiana University of Pennsylvania.
CBD isn't illegal and you can't get high from it, but with its drug connotation and the racial bias found with marijuana arrests — people of color are 3.73 times more likely than their white counterparts to be arrested for marijuana, according to a study from
ACLU
— Black faces are not seen working with cannabis, psychoactive ingredient or not.
The addition of the new Black business is refreshing to see, especially here in Pittsburgh, where Black women already have the
short end
of the stick.