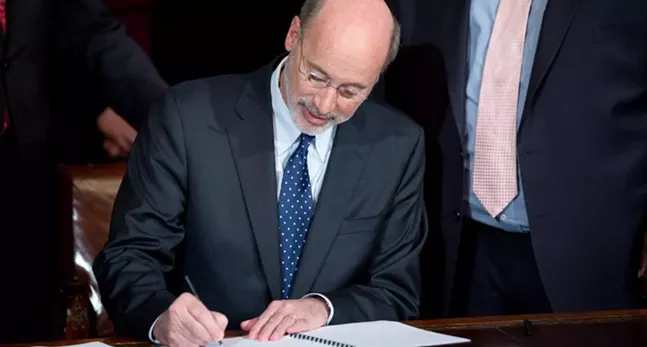 Female genital mutilation, a form of horrific abuse that affects thousands of women and girls throughout the world, is now a felony in Pennsylvania, thanks to some recently signed legislation. And good timing. According to the U.S. Centers for Disease Control and Prevention, the Pittsburgh region ranks among one of the top metropolitan areas in the nation for female genital mutilation risk.
On June 28, Gov.
Tom Wolf
(D-York) made the act of female genital mutilation or circumcision (FGM or FGM/C) a first-degree felony in Pennsylvania by signing
House Bill 315
into law. Defined by the World Health Organization (WHO) as a procedure that intentionally alters or causes injury to the female genital organs for non-medical reasons, FGM is widely considered a human rights violation by WHO and the United Nations, despite its connection to various cultural and religious beliefs.
While FGM is practiced in 30 countries, with concentrations in Africa, the Middle East, and Asia, the CDC estimates that 513,000 girls are at risk of FGM in the U.S., with Pennsylvania ranking 11 for FGM risk.
The law is part of several newly enacted victim protections in the commonwealth, including mandated timelines for rape-kit testing and the omission of a victim's sexual history in trials involving sexual assault and rape.
"Thousands of women and girls are at risk for FGM in Pennsylvania," says Elizabeth Yore, an attorney and child welfare advocate who heads the EndFGMToday movement, in a press release. "We appreciate and applaud the lawmakers and Gov. Wolf, who stood up for women and girls with the passage of this important law."
Yore added that FGM constitutes child abuse, with the procedure being inflicted mainly on young girls between infancy and age 15. The nonprofit Population Reference Bureau estimates that, of the nearly 19,500 female residents in Pennsylvania at risk for FGM, about 6,000 are girls under the age of 18.
The anti-FGM law comes several months after a Michigan judge struck down a sweeping federal law outlawing FGM, deeming it unconstitutional. The ruling generated backlash from women's rights and anti-FGM advocates, especially after it led to charges being dismissed against a group of alleged FGM perpetrators awaiting trial in Detroit. So far, the U.S. government has failed to appeal the decision, leaving many women and girls in the country vulnerable.
As a result, over 30 states have drawn up their own anti-FGM legislation, including Pennsylvania and South Carolina, which passed its own bill criminalizing the practice in May.
U.S. Rep. Scott Perry (R-York) urged Gov. Wolf and the state legislature to create an anti-FGM law. He stated that he's hopeful that the anti-FGM momentum "continues to other states until we all agree that FGM/C is intolerable in the United States of America, and that the perpetrators of this heinous act should be held accountable."
The bill was also sponsored by state Reps. Tom Murt (R-Montgomery), Donna Bullock (D-Philadelphia), and Pennsylvania House Judiciary Chairman, Robert W. Kauffman (R-Franklin).
In a press release, Murt called the law a "major victory for the women of Pennsylvania."
"I want to thank the governor for understanding the seriousness of this crime and for women to be safe from this kind of abuse," Murt states. "FGM is a crime of violence against women. Now, Pennsylvania is explicitly saying that."