Until 2015, the small Pittsburgh suburb of Bellevue was still operating under Prohibition-era laws. Because of Bellevue's small population (8,300 residents), the state approved two liquor licenses for the borough. Grille 565, a neighborhood restaurant that opened in April 2015, was the first area eatery to get a license. The second was approved for Revival on Lincoln in late 2018.
With both licenses taken, there was no guarantee that 202 Hometown Tacos, which opened earlier this year, would be able to sell alcohol. Owners of the restaurant, Dave Caligiuri and Marc Seiavitch, had to win approval from the Bellevue council before the Pennsylvania Liquor Control Board would even consider their application. Two months before opening, the two were still waiting on the borough's decision. A few weeks before 202's grand opening, the borough approved a third license.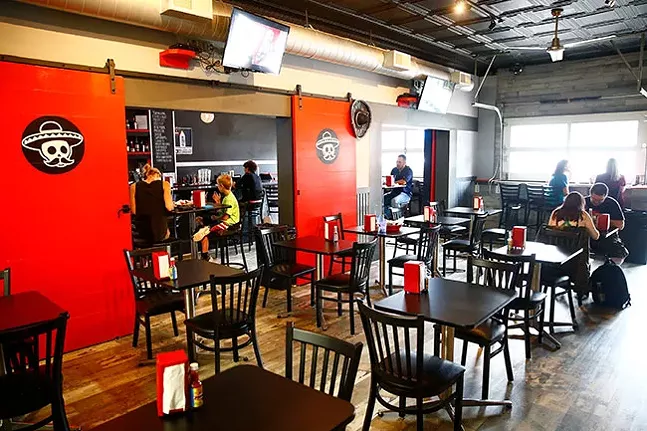 Now, in their third month of business, Caligiuri and Seiavitch run a full bar program. They specialize in margaritas and have a full beer list and wines by the glass. In addition to being one of the area's first booze-approved businesses, the restaurant is also Bellevue's first taco joint.
Caligiuri and Seiavitch, Pittsburgh natives and childhood friends, reconnected in the hopes of contributing to Bellevue's commercial growth. The idea for tacos, however, came straight from the people of Bellevue. During a municipal meeting, the duo asked residents what they wanted in their community, and the answer was clear: Bellevue wanted tacos.
202 Hometown Tacos calls its menu a "modern American flare" on Tex-Mex cuisine. There's a smattering of Tex-Mex style — loaded nachos, hard shell tacos, lots of shredded cheese — alongside churros and traditional Mexican meats, like carne asada and carnitas.
Tacos occupy most of the bill, but for those who prefer no tortilla, there is a build-your-own bowl option. The restaurant's signature bowl, the Bellevue bowl, has a little of everything: pulled pork, ancho chicken, shrimp, rice, and toppings.
I visited the restaurant for an early weekday lunch, and chose four tacos: carne asada and spicy shrimp, at the recommendation of my server, along with pulled jackfruit and Buffalo chicken.
Unable to resist guacamole, I started out with a side of chips, guac, and Mexican street corn dip. The guacamole far outshined the street corn, which could have been a little fresher.
I may have wanted a crisper corn to dip my chips in, but the street corn worked well in my carne asada taco. The creaminess mellowed out the bite from pickled onions and added zest to the mild steak. In the jackfruit taco, everything was too sweet. The spicy shrimp taco seemed to be missing the spice, but won me over with an avocado cilantro crema.

I ordered the Buffalo chicken, prepared to roll my eyes at the American gimmick of topping it with ranch, but I loved it. It was the chicken that convinced me, cooked perfectly, shredded, and masterfully blending ancho with Buffalo spice.
Caligiuri and Seiavitch are drawn to Bellevue because of its energy. The town is on the edge of a boom, with the opening of Revival on Lincoln and soon-to-debut Lincoln Avenue Brewery. 202 Hometown Tacos isn't just a chance for Caligiuri and Seiavitch to achieve their own dreams, it's another step towards revitalization.
Favorite Features

1. Walking Taco
Remember those walking "tacos," crushed-up Doritos topped with beef, sour cream, lettuce, cheese, and tomato? 202 has it, served traditionally from a Doritos bag.

2. Karaoke
Head over to the restaurant on a Tuesday night for Karaoke. Taco Tuesday and sub-par singing. What could be better?

3. Good L'Oven
202 partners with its neighbors, Good L'Oven Cookie Shop, on a sweet dessert: vanilla ice cream sandwiched between two of the shop's creme brûlée cookies.