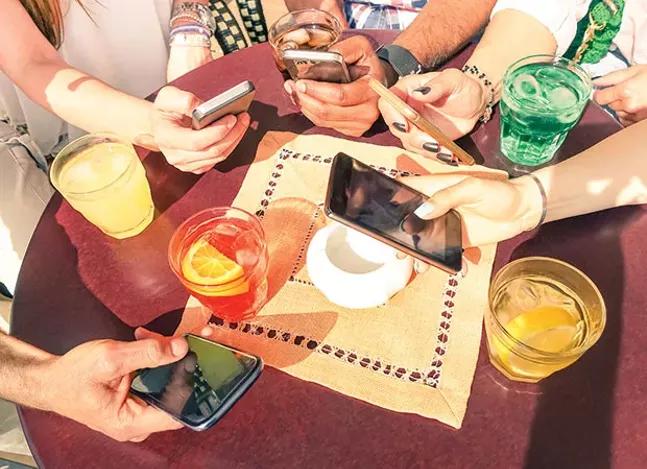 Everyone knows the frustration of trying to get a drink at a busy bar. The shouting, the jockeying for position, the fruitless attempts to make eye contact with the bartender. Of course, that bartender can move only so fast, and things get especially bogged down when people pay as they go or everyone wants to close a tab. The tedium of ringing in drinks and swiping cards often eats up far more time than just pouring a beer. There's got to be a better way.
Now there might be one. Lee Selkowitz, Sachal Lakhavani and Nick Mele are the Pittsburgh-based cofounders of Srvd, an app that allows you to order and pay for drinks using your smartphone. Selkowitz, a bar-industry veteran with more than 20 years of experience, says the app is the result of a conversation about how to improve the bar-going experience. "Everything surrounding this industry has changed," he says. "The integration of POS systems, the boom of the craft-beer market … but the actual process of getting a drink, what's at the core of going out, has not changed. There seemed to be a real big disconnect there."
If you can order a cup of coffee or a ride home using your phone, why not a cocktail? That's the simple but innovative premise behind Srvd. Rather than fighting crowds or opening tabs, Srvd (www.srvdapp.com) allows you to order and pay from your phone. The order is sent to a tablet or the bar's POS system; through the app, staff notify you when your drink is ready to pick up, meaning you can spend more time socializing and less time waiting.
Srvd launched last summer, and Lakhavani says the reception has been warm, with customers already putting it to use in unanticipated ways. One customer said she ordered a drink from the dance floor, picked it up and was back before her song was over, while another placed her order from her Uber so her drink would be ready the moment she walked in.
Like any new technology, Srvd has been met with some skepticism. As Selkowitz says, bartenders and customers wonder whether the app "is taking away from the 'service' of the 'service industry.'" In practice, however, he says that they've seen quite the opposite: by freeing bartenders from the tedium of processing payments and making change, Srvd actually gives them more time to interact with the people around them.
Srvd is currently live in a handful of bars around Pittsburgh (including Belvedere's, Mixtape and Rivertowne North Shore), and it's making appearances in New York and State College as well. The team continues to add new features, including the ability to save custom drink orders and new options for in-app deals and discounts. Though the app is still young, Srvd has the potential to change the way you go out: Instead of batting your eyes at the bartender, just make sure your battery is charged.