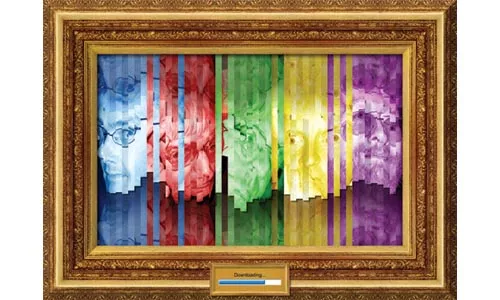 Negativland's 1991 brush with U2 is legendary. "We've never had a hit record, but we did have a hit lawsuit," jokes founding member Mark Hosler. When the collage collective released a single that intercut a U2 anthem with Casey Kasem, Negativland saw the ensuing legal maelstrom as an opportunity "to get our two cents' worth out there into this discussion about culture, about who owns it, and what you can do with it."
But that was a long time ago, and such "culture jamming" is now more likely to elicit a yawn than a subpoena. Accordingly, the group's new live show reflects changes since it last toured in 2000 -- pre-September 11. "We said, 'Hey, the world has changed, the United States has changed,'" says Hosler. "And we're not going to go out and do a live show that's about copyright infringement, or anti-corporate this or that, or advertising.'"
This time Negativland has set its sights higher: hoping to challenge even its open-minded audience on topics of spirituality, religion and God. "You can look at what's going on now with the war on terrorism, the war in Iraq, and certainly it's about power, it's about imperialism, it's about oil, but it's also ... a battle over God," Hosler says.
Presented as a live radio show called "It's All In Your Head FM," Hosler describes the event as "some twisted collage, parallel-universe fucked-up version of 'Prairie Home Companion' or something." There are still the familiar characters, sound effects and tape-collage cut-ups. And, "parts of the show are absolutely pee-your-pants funny," he adds. "Our sense of humor is still completely intact."
Hosler thinks moving on is important for Negativland's relevance. "Even in the early '80s, I remember thinking, 'One day, I bet you this way of cutting up sound and collaging things is going to cross over into the mainstream and become normal,'" Hosler says of the current mashup rage. "And when that happens, Negativland won't seem to be so weird anymore."
But others still fan the flames of the group's brush with the letter U and the numeral 2, like rising Pittsburgh-based artist Girl Talk. His Night Ripper monster mashup album -- recently featured in Rolling Stone -- openly flaunts copyright infringement laws. But that might not be such a big deal anymore.
"I think the industry, by and large, is no longer worried about people doing the kind of work that we do, that Girl Talk does," Hosler reflects. "[They're] concerned about people downloading entire Madonna albums."
Negativland with Wizardmaster. 7 p.m. Tue., Oct 31. Kelly-Strayhorn Theater, 5941 Penn Ave., East Liberty. $12 ($15 at the door). All ages. 412-361-2262