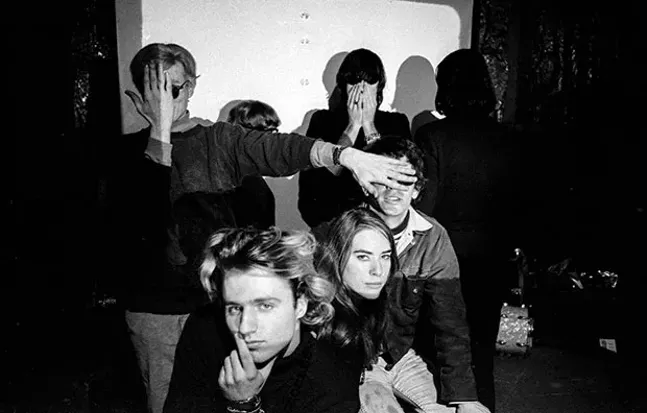 Though unheralded at first, the Velvet Underground would loom large in rock history. And likely no one captured more early Velvets images than Nat Finkelstein, who (among his many distinctions) was house photographer for Velvets patron Andy Warhol's Factory. A tantalizing 21 of Finkelstein's photos from the mid-1960s form half of Up All Night, an exhibit at the Irma Freeman Center for Imagination organized by Finkelstein's widow, Elizabeth Murray Finkelstein, who lives in Pittsburgh.
Mostly made in grainy black-and-white, the photos capture VU — then virtual nobodies — and other hipsters at the Factory and spots like pioneering youth-fashion boutique Paraphernalia. Lou Reed in wraparound shades; Sterling Morrison on a couch, reclining at the same casual angle as his nearby bass; Paraphernalia models — as led by Warhol himself, it's good, self-conscious scene-making.
Starkly contrasting VU's Euro-mod cool is Up All Night's other half, Finkelstein's documentation of New York's carnivalesque club scene circa 1990. A grid of 20 low-res, saturated-color stills depict blissed-out kids in a post-Reagan psychedelic playground, while in silent, projected video (shot at The Limelight) sequined and cosmeticized gender-benders and costumed animal mascots dance beneath strobes. It's fabulous — yet when occasionally the camera pulls back, most of the revelers are revealed to be wearing ordinary street clothes, and you see how anybody can make a scene.
Continues through Sun., Dec. 17.
5006 Penn Ave., Bloomfield.
www.irmafreeman.org
---
After seeing the big exhibit of some 260 Abraham Lincoln

-themed photos and artifacts at

Photo Antiquities Museum of Photographic History

, you might not feel differently about Lincoln. But the show, curated by museum founder Bruce M. Klein, might give you insight into the country Lincoln led. The photos (some of them copies of originals, but many of them actual vintage photos) cover everything from the first and last photos of Lincoln to a startling, shallow-focus close-up of the man in his coffin. There are multiple images copying or based on such iconic shots as Matthew Brady's Civil War-years portraiture of an increasingly care-worn president, and memorabilia including the final check Lincoln ever signed.




Perhaps most interesting, though, depictions of Lincoln in then-burgeoning popular culture, including hagiographic Lincoln trading cards and baseball-card-sized campaign photos. And you won't soon forget the antique memorial cards depicting Lincoln and George Washington embracing in heaven, in an imaginary bromance whose existence says much about our need for heroes.

Continues through April.
501 E. Ohio St., North Side.
412-231-7881 or www.photoantiquities.org
---
Thomas Jefferson died in 1826, placing him in the final generation of humans with no chance of ever being photographed. Imagine never having been photographed. Yet before pioneers like William Henry Fox Talbot — the British gentleman scholar who in 1840 took the first photograph of a standing human — no one was. At the Carnegie Museum of Art, William Henry Fox Talbot and the Promise of Photography offers 31 images getting their first-ever look in Pittsburgh. (Eight of them are actually inkjet-printed digital copies, because the originals decay in light.)
Talbot's innovations in recording and fixing images from life were virtually simultaneous with those of France's Louis Daguerre, though the latter was quicker to publicize his Daguerreotype. (Oddly, the exhibit ignores Nicéphore Niépce, the French inventor whom many say pioneered photography a decade earlier still.)
Included are some of Talbot's early "photogenic drawings" (photograms) as well as examples of the silver-iodide calotype he perfected, thereby inventing the negative. Most depict buildings and trees, though posed humans figure in later; the images are ghostly in their shadows and blur, some harking to conventions of Romantic painting. Talbot, a poor draftsman, liked that his invention instantly gave him the power, previously unimagined, to render images in much greater detail than the finest painter could hope.
Continues through Feb. 11.
4400 Forbes Ave., Oakland.
412-622-3212 or www.cmoa.org