Anticipate it or hate it, there's no way around it: "Pumpkin spice" season is here. Pumpkin-spice coffee, pumpkin-spice beer, pumpkin-spice air freshener, pumpkin-spice motor oil ... the marketing powers that be have decreed that, for the month of October, we shall live, eat and breathe in a pumpkin-spice world.
But we still get some say in how we consume it. With "literally" in mind, in the dwindling light of a crisp early-fall evening, we set forth for My Thai, a new Thai restaurant in Dormont.
The West Liberty Avenue space has undergone an attractive transformation from its previous occupancy by a sports bar. Thai art, textiles and wood carvings add texture to the walls, painted in warm tones, while big windows let in plenty of light and views of the bustling avenue. And, unlike at many Thai establishments, the gleaming wood bar serves an array of wines, draft beers and cocktails.
The typical Thai menu, comprised of "secret recipes" passed through generations of the family of Chef Suwannanan, was accented with a few distinctive items, including several appearances of woon sen: fine, translucent noodles known as bean thread. And don't worry, we'll get to that pumpkin curry. But first, a couple of sampler platters allowed us to explore an array of starters and made a good first impression. They were artfully arranged, lined with circles cut from banana leaf and studded with tiny bowls for the myriad dipping sauces, one of which, plum, we don't typically see in Thai restaurants.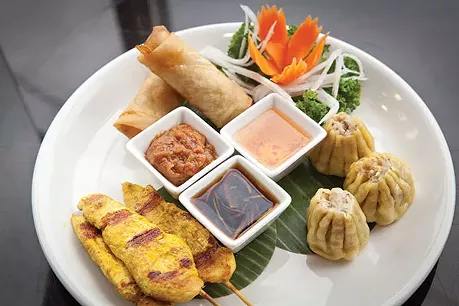 The vegetable sampler included eggplant crisps, medium-thick planks of eggplant fried in a batter that was a touch heavier than tempura, but still light and crisp. This was especially good with the plum sauce, which was topped with chopped peanuts. Crispy tofu seemed to lack any coating, and therefore a substantial crust, but the tofu fresh roll (a.k.a. summer roll) was flawless — full of herbs and vermicelli in a wrapper that was tender, not chewy or dried out.
On the meat sampler, satay chicken was cut from white meat, and therefore a tad dry, but still fairly flavorful. Shrimp spring rolls were unusually good, with fillings that went beyond cabbage and carrots, plus enough shrimp for their flavor to really come through. Best of all were steamed dumplings with pork and shrimp, reminiscent of shu mai in shape, but with bolder seasoning than is typical for Chinese dumplings.
Among the many reasons to love Thai food are its substantial, spicy salads. Chef Suwannanan's My Thai salad was a standout, an intense mix of tofu, red onion and tomatoes with lemongrass and chili paste over greens, all tossed with a chili-lime dressing. The finely diced tofu appeared to have been sautéed with the aromatics, giving it darkened surfaces and deep flavor, while everything else — including pretty good late-season tomatoes — was fresh and bright. A woon sen salad with chicken and shrimp also looked outstanding.
We had our woon sen in
pad Thai
with shrimp. The substitution for the usual
sen lek
— flat rice noodles — was distinctive, and so was the flavor. Bean sprouts seemed to take on a smaller role, spice was clearly present although the overall flavor profile remained mild, and the balance leaned toward sweet tamarind more than citrusy lime. The shrimp were done well. This was not a classic pad Thai, but a tasty adaptation with its own unique appeal.
And then it was pumpkin-spice time. Chunks of Asian kabocha pumpkin, sweeter even than butternut squash and with a soft, fluffy texture, commingled with pieces of chicken in an earthy, subtly spicy coconut-milk curry. Red pepper underscored the vegetal sweetness, and basil countered with aromatic, peppery notes. This was a balanced, autumnal and deeply flavorful curry; if there were a pumpkin-spice pyramid, we'd install this at the top.
With a growing number of Thai places in the South Hills, new ones have to set themselves apart. My Thai does so, not only with its spacious dining room and full, well-stocked bar, but with the flair and flavor of Chef Suwannanan's family recipes.