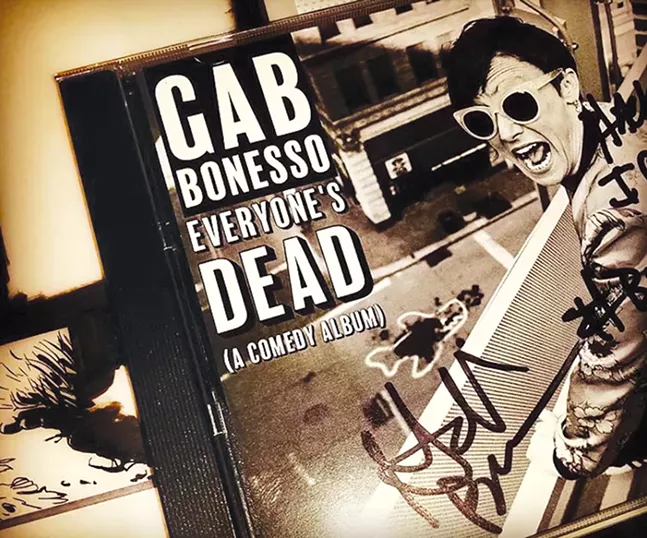 I sold my comedy album last month to a gentleman who also asked me to sign it. I had just opened for popular stand-up comedian Jen Kirkman and was surprised mostly due to my low self-esteem, but I gladly obliged and repeatedly thanked him for investing in my art.

A few days later he posted a photograph of the signed album on Instagram with the caption, "Up all night making comics and listening to the hilarious @gabbonesso."
Aw, shucks! I immediately thanked him and began to online stalk him as you do when someone new compliments you.
The first thing I noticed was that he had way more followers than I had. I wasn't jealous, I was proud of my new "fan" for being popular. Then I noticed that he was being followed by one of my favorite Instagram artists: Depressive Ghoul. Not going to lie, at this point I was slightly jealous of my new "fan."
I read from bottom to top, not top to bottom, hence the last thing I read was his actual bio: "Robert Hack, artist & co-creator of Chilling Adventures of Sabrina from Archie Comics."
Yo, what? Then I noticed that he is also being followed by: Roberto Aguirre-Sacasa.
Roberto Aguirre-Sacasa! He is the man and genius behind the TV show Riverdale (which is my favorite guilty pleasure.)
At this point in my research, I remembered that he also wrote and created Chilling Adventures of Sabrina and the light bulb went off in my head.
Roberto and Robert (my "fan") co-created Sabrina. They are artistic collaborators.
Holy shit! My brain began to metaphorically explode in manic joy.
I wanted his autograph now!
Immediately upon having this thought, I remembered how mad my ex-ex therapist was when I asked comedic author John Hodgman for an autograph after opening for him years ago. I stood in line with all of his fans even though Hodgman insisted that I didn't. I just didn't want any special treatment. My therapist felt that I gave up my power doing that, turning from peer to fan.
I knew she would not approve of me fan girl-ing over a fan.
The only other autograph I ever asked for was from former Steelers defensive tackle Mean Joe Greene. I didn't even know who he was because I wasn't born to watch the '70s Steelers, but my father forced me to chase him down in Ross Park Mall for an autograph. He turned me down and I immediately understood the adjective proceeding his name.
I guess what I'm asking, dear readers, is it appropriate to ask Robert Hack for his autograph? Or for a tour of his home studio? Or for a meet and greet with Roberto Aguirre-Sacasa?
I'm going to ruin this, aren't I?
I guess this must be how my kid fans feel when they are hiding behind their parents at Giant Eagle, poking them in the back and shoving them towards me until finally one parent asks, "Are you Gab? My kid says they know you."
Too bad I can't send my ghost parents to Robert Hack's house to ask for his autograph. I would imagine that would be less creepy than me dedicating an entire column to him.