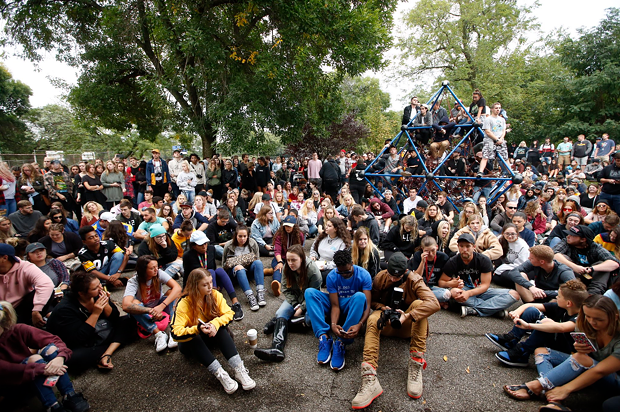 Every Monday, CP staff writer Jordan Snowden wraps up the weekend in local and national music news with #MusicMonday. Here's what went down in the past few days.
Local
Yesterday, Twitter fan account
@MacMillerMemoir
noticed a change on Apple Maps. Blue Side Park, a playground located in Frick Park, after which the late
Mac Miller
named his debut studio album, has been mysteriously renamed to Mac Miller's Blue Slide Park.
GUYS THEY CHANGED BLUE SLIDE PARK TO @MACMILLER'S BLUE SLIDE PARK 😭🙏🏼💙 pic.twitter.com/asY36eev0y

— The Mac Miller Memoir (@MacMillerMemoir) March 11, 2019
The update shows on Google Maps as well. There has been no official announcement from local officials about the name change. Last year, during a
vigil
held in the park after
Miller's passing
, there was a fan-driven petition to requesting to rename the park to Mac Miller's Blue Slide Park. At the time, Mayor
Bill Peduto
said there were strict rules regarding such changes.
Mac Miller vigil is growing by the minute 📸: @WickPhoto pic.twitter.com/mQx0fNMtXM

— Pittsburgh City Paper (@PGHCityPaper) September 11, 2018
Approx 300 signatures right now to rename the park to Mac Miller Blue Slide Park @WPXI pic.twitter.com/rWmlTCHRXG

— Gabriella DeLuca (@GabriellaDeLuca) September 11, 2018
The name Throwback Thursday has never been more fitting. Nelly, TLC, and Flo Rida set off on tour this summer, and on Aug. 8, the 1990s and early 2000s music makers make a stop in Pittsburgh.
JUST ANNOUNCED: @Nelly_Mo, @OfficialTLC, and @official_flo are heading out on tour this summer and they're coming to KeyBank Pavilion on August 8th! Live Nation presale starts 3/14 at 10am. Part of the @BordasLaw Concert Series. Get more info here: https://t.co/jKSLDWKVMv pic.twitter.com/iCYje5n2gS

— KeyBank Pavilion (@KeyBankPavilion) March 11, 2019
If Stage AE is the place you like to be, PromoWest Live just unveiled a new app.
Download the new PromoWest App to keep up with every new show, set reminders and buy tickets! iOS: https://t.co/8ezzxrlY0W Android: https://t.co/vr98CLV4FX

— Stage AE (@Stage_AE) March 11, 2019
Rapper J.I.D.'s Catch Me If You Can tour landed in Pittsburgh on Saturday, featuring Wilkinsburg native Hardo.
Pittsburgh

I'm in u

That's the tweet

— (J.I.D) (@JIDsv) March 9, 2019
Tonight we have a DOUBLE HEADER!

7:00PM - @JIDsv LIVE at Rex Theatre w/ @trapnhardo, @reasonTDE & @louthehuman - SOLD OUT

then

10:00PM - Make Sure You Have Fun w/ @malcolm_x, @djalexrivera412 & @DJSoloDolo https://t.co/OmtYgyrwei for more details! pic.twitter.com/HK8sRYfzCL

— Make Sure You Have Fun™ (@MakeSureYouHave) March 9, 2019
When the show was announced early December, it quickly sold out. An after-party at Cake Nightclub, where J.I.D. would perform again for those who couldn't get tickets to the show, was then added. Saturday afternoon, Cake decided to cancel the event.
Less then 100 tickets left @JIDsv Pittsburgh after partyhttps://t.co/6rncg6i9iZ pic.twitter.com/l2cSxVwbZ7

— Dr Fill (@DJAfterthought) February 5, 2019
The JId after party at Cake is unfortunately cancelled. The venue decided to pull the event last minute.

We did everything in our power to salvage but they were non responsive.

Refunds for the sold out event were sent out.

Wish venues here would do better biz

— Dr Fill (@DJAfterthought) March 9, 2019
Important update for those attending or planning on attending the Adventure Club show.
March 6, 2019
And Brooke Annibale has a remix EP coming out soon.
The first single from my upcoming remix EP is out today! Distraction has been remixed by my long time friend and collaborator Jeremy McDonald. Visual rep by Evan McCandless using the Distraction icon by @charliewagers. https://t.co/IXFnZlsZZ5

— Brooke Annibale (@brookeannibale) March 8, 2019
National
On March 30 for the first time ever, Australian looping master Tame Impala, will perform on
Saturday Night Live
.
Tame Impala!! pic.twitter.com/sNAZY6rWDU

— 𝘎𝘪𝘳𝘭 𝘞𝘩𝘰 𝘊𝘰𝘶𝘭𝘥 𝘍𝘭𝘺 (@Angela80s) March 10, 2019
A collection of handwritten lyrics, poems and watercolor paintings by Joni Mitchell
is
set to be reprinted and sold this October.
Mark your calendars for 10.22.19: we're publishing MORNING GLORY ON THE VINE by Joni Mitchell. Joni Mitchell! It's going to be a beautiful day.https://t.co/woK4K3Psng pic.twitter.com/V7xtayw2aU

— HMH Books (@HMHbooks) March 11, 2019
And finally, both Chance the Rapper and Glee star Lea Michele said "I Do" this weekend.
fixed it pic.twitter.com/oi6oOH3GTP

— Landon Owens (@Landon_M_Owens) March 11, 2019
LEA MICHELE IS MARRIED 😍😍😭😭 she looks so happy and I'm so emotional for her, what a princess ❤️❤️ pic.twitter.com/fanqwne6uH

— ℓ 🖤 (@bombshelpetsch) March 10, 2019
Check back next week for another round of #MusicMonday.