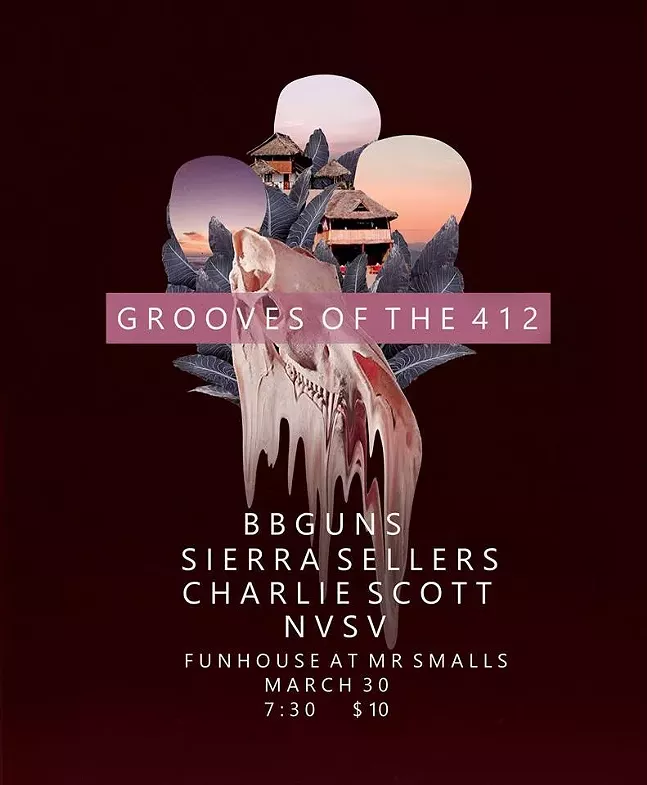 Every Monday,
CP
staff writer Jordan Snowden wraps up the weekend in local and national music news with #MusicMonday. Here's what went down in the past few days.
Local
Support local music! The lineup for the fourth annual Indie-Rockfest was announced, emceed by longtime Pittsburgh music staple Jeremy Caywood. Taking place on Sat., April 13, 100 percent of the money raised will go to the performing artists. The goal is to further assist local acts with costs such as recording, merch, websites, etc.
.@indie_rockfest is an original PGH-based music festival created to showcase the best local independent musicians in the region. Designed as a pure benefit event, 100% of money raised goes to all of the performers involved. @spiritpgh April 13th
Tickets: https://t.co/NKlGnC1bY6 pic.twitter.com/nYlzfgYWra

— 91.3 WYEP (@WYEP) February 18, 2019
Similar to
Pittsburgh's Very Own
, Mr. Smalls is hosting another night stacked with local talent. On March 30, join Sierra Sellers, NVSV, BBGuns, and Charlie Scott for "Grooves of the 412."
Also! There's a dope concert with some of the best local artists in the city happening at @MrSmallsTheatre! Ft. @sierrasellerss, @itsNVSV, @BBGunsPGH, and @cscott412✨
Hiphop/Soul/Funk/R&B unite again!
Show love with sharing this flyer, check their music, are buy a couple tix 🎫 pic.twitter.com/BYd4ata4SL

— C L A R A • K E N T (@IamClaraKent) February 17, 2019
This was a weekend for sold out shows in the 'Burgh. Both The Rex and Mr. Smalls, with completely different music genres, had full houses. The techy, bass-laden G Jones took the stage at the Rex on Saturday, while instrumental jam band, Lotus, played Friday and Saturday at Mr. Smalls.
pittsburgh i'm on at 10:40 🗝 sold out show

— G JONES (@gjonesbass) February 17, 2019
TONIGHT back at the heralded @MrSmallsTheatre in Pittsburgh, PA for Night 1 of 2 sold out shows, joined by the always jawdropping @ElTenEleven!
Doors open at 7pm, ETE on at 8pm, We'll take the stage at 9:15pm.

Will Call opens at 4pm to grab your tickets early. pic.twitter.com/0aTlzvehDS

— Lotus (@LotusTweets) February 15, 2019
Former WYEP host
Cindy Howes
begins a new job in Boston this week. To bid farewell, Pittsburgh musicians created a video love letter.
🙏❤️ Thank you @donora @chet_vincent @MollyAlphabet @MorganErina @SBroadcastBand @MOIPband @BindleyHardware @LoFiDelphiMusic @punchlion @BRFband @WorkingBreed @WreckLooseBand https://t.co/kONNhe9AOU

— Cindy Howes (@cindycast) February 18, 2019
Best of luck in Boston, @cindycast! We hope this tribute gives you a boost when you start at WERS this week! We miss you already! 🎶💕https://t.co/SC6lY0nVM7

— The Telephone Line (@TeleLinePgh) February 18, 2019
jGGZ PATEL dropped two very different instrumental EPs. Featuring an orange oil-slick cover,
UNTITLED
is a low-tempo, pulsating collection with looping, calming beats. Meanwhile,
black.
, featuring a fittingly wavy black cover, again showcases PATEL's looping ability, but is more upbeat, techier, and feels like a trip through space.
These EPs are the end and the beginning of a new era

UNTITLED. & black. OUT NOW:https://t.co/478Uoi6VMr pic.twitter.com/NjE73pBYyr

— jggz patel (@jggzaposition) February 17, 2019
Pizza and merch? A few local brands partnered up with South Side pizza shop Benny Fierro's for "Bennie Market" on Sunday.
The day has finally come!! Bennie Market begins today at 3pm! Check out a bunch of local brands and meet the people behind them, eat some good local pizza (us), and did we mention BYOB? See you soon! pic.twitter.com/bJGeeIc0NI

— Benny Fierro's (@benny_fierros) February 17, 2019
Bennie Market 🍕aka @benny_fierros was a dope one today #Pittsburgh. I just love seeing fools just do them and get support for it ... peep the brands and thread [🧵] 👇🏾@nevermindsworld @HOUNDS_USA @goodsportspgh @publicprintpgh pic.twitter.com/vw71ZsRrTK

— ☕️💨 (@MarSJackSon) February 18, 2019
National
Family drama with the Gallaghers. Liam Gallagher is currently working on a documentary about his time after Oasis, the band he had with his brother Noel Gallagher. Noel and his management team, Ignition, are claiming they will sue Liam if any Oasis songs are used in the film since Noel wrote most of the music.
Ive just been informed that I'll be sued by the not so mighty little fella and his goons at ignition if I use any footage of me singing oasis yes oasis songs in AS IT WAS who's bitter now eh ps Dya want a hand selling those tickets AS YOU WERE LG x

— Liam Gallagher (@liamgallagher) February 18, 2019
Though, if you really think about it.

Ignition is a big company and they probably have managers / employees who make decisions like this one.

Don't think Noel personally has any input in this seeing he is busy with a new tour and in the studio. https://t.co/NAR4RMAkQ7

— THE MAN WHO BUILT THE MOON. (@WaitingOnASong) February 18, 2019
Ariana Grande broke records last week when
Thank U, Next
landed No. 1 on Billboard and had the biggest streaming week for a pop album in over a year. This is Grande's fourth No. 1 spot on Billboard, and second in less than six months.
i love u sm and thank u

— Ariana Grande (@ArianaGrande) February 17, 2019
we love her so much a woman of history

— ajla (@arianamyron) February 17, 2019
Billboard 200: #1(new) @ArianaGrande, thank u, next 360,000 (116,000 in pure sales) pic.twitter.com/qvNzHYyWpW

— ᴊᴇsᴇʟʟᴇ 💍 (@tynextjes) February 17, 2019
That's all for today. Come back next week for another #MusicMonday wrap-up.