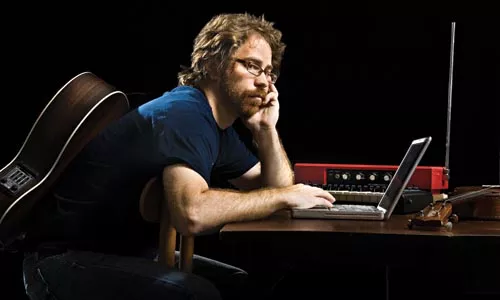 Singer-songwriter Jonathan Coulton quit his programming job in 2005 to pursue an independent music career, armed with an acoustic guitar and the Internet. By 2007, according to a New York Times feature on him, Coulton was earning a decent living -- thanks to songs like "Code Monkey" and his earnest cover of Sir Mix-A-Lot's "Baby Got Back" -- and could boast a growing, nerdy following, who refer to him as "JoCo." But even then, the NYT reported, Coulton wondered "whether an Internet-built fan base inevitably hits a plateau."
Today, Coulton is 40, and proof that an independent, Internet-famous musician can do almost anything. For starters, there's the "JoCopedia," a 2,640-page wiki about, well, him. He's working on his next album with John Flansburgh of They Might Be Giants, who offered to produce after Coulton opened for them.
"They're sort of heroes of mine," says Coulton, via phone from the Brooklyn home he shares with his wife and two children. "So that's a very scary thing to me, to suddenly bare your creative soul to someone you've admired."
But the real proof of Coulton's mojo happened just this month: The "JoCo Cruise Crazy," a six-day Caribbean cruise and festival -- an idea he got from national acts like The Barenaked Ladies.
"I'm a big fan of the 'What the hell, let's do something crazy' model of making things happen," Coulton says. He polled his audience, and a year later, boarded a cruise ship with loads of guest performers, including John Hodgman, and more than 350 flesh-and-blood fans.
Not bad for a guy who writes songs like "The Town Crotch."
"In many ways, I feel like I'm embarking on some sort of Stage Two," Coulton says.
When Coulton set out, he had little performance experience, at least as a singer-songwriter. He majored in music at Yale and sang in a cappella groups, but didn't pursue music much after college.
"I just hid out in my room for a decade, until the Internet happened," he says. "I knew it was coming!"
Even his early live performances were Internet-driven, using the website Eventful's "Demand It!" feature to locate areas where he could expect a sizable audience; he wouldn't play a city until the numbers indicated a show would be profitable. The result? He says he almost never had the rookie-musician experience of playing a near-empty room.
He now has a booking agent, but still uses fan data to identify potential tour stops. Pittsburgh -- where he'll play the Rex Theater on Fri., Jan. 28 -- was "one of those cities that came later."
Theoretically, an unlimited number of people can own digital copies of Coulton's music. But the Times suggested two potential constraints on his fame: Not everyone is as web-savvy as his fans, and there's only so much of Coulton to go around. Each day, the Times reported, "Coulton wakes up, gets coffee, cracks open his PowerBook and hunkers down for up to six hours of nonstop and frequently exhausting communion with his virtual crowd."
Such a life sounds more secretarial than rock 'n' roll. Who picks up a guitar with the goal of someday answering unending e-mail?
"There are certainly some scalability issues," Coulton says. He's currently way behind on e-mail (in the past, he's employed an assistant to help manage it). Twitter is currently his "favorite way to keep the social-media side of things buzzing and alive."
Being a musician today "means different things for different people," says Coulton, including "people like me, who like to use computers and engage in fun social networks." As the NYT observed, "for rock musicians, being a bit of a nerd now helps you become successful." And smart, geek-friendly music may fare better online than other musical styles.
"I'm writing songs that speak to nerds a lot of the time," he says. "And I'm also talking to people in places where nerds talk. And I'm also selling music in a format that nerds like." The result is "a kind of synergy that happens between the content and the delivery."
He's not the only one tapping into that synergy.
Although Marian Call hails from Alaska and plays "whimsical Alaskan folk-funk for the coffee counter-culture" (as her website puts it), she seems more closely allied with Internet culture and geekdom. Her site (www.mariancall.com) is well integrated with social-networking sites, and her album Got to Fly was inspired by science-fiction TV shows Firefly and Battlestar Galactica. The opening track: "I'll Still Be a Geek After Nobody Thinks It's Chic (The Nerd Anthem)."
"She is a great singer-songwriter with an interesting social-network plan," says Coulton. "In many ways, she feels like the small mammal to my dinosaur."
But Coulton offers encouragement to less geek-oriented artists, especially "frustrated creative people who are waiting for the right set of circumstances to begin doing the thing that they want to do." Instead of waiting for the perfect moment, they should just get started, using the tools around them. "In many ways, there's nothing stopping you from starting to make things."
The JoCo Cruise Crazy seems proof that nothing's stopping Coulton -- so I asked how he plans to top it.
"I have to top it already?" he says, incredulous. "I just got back!" He laughs, perhaps a bit nervously. "I think we'd like to make the cruise a semi-regular thing," he says. "I don't know what comes next -- a convention?
"Maybe I should open a casino," he continues, in a mock-musing tone. "Or maybe it's time for me to have a line of clothing ... or a fragrance? I don't know -- I'll have to look and see what the other rock stars are doing."
Jonathan Coulton with Paul and Storm 8 p.m. Fri., Jan. 28 (doors at 7 p.m.). Rex Theater, 1602 E. Carson St., South Side. $17.50. 412-381-6811 or www.rextheater.com