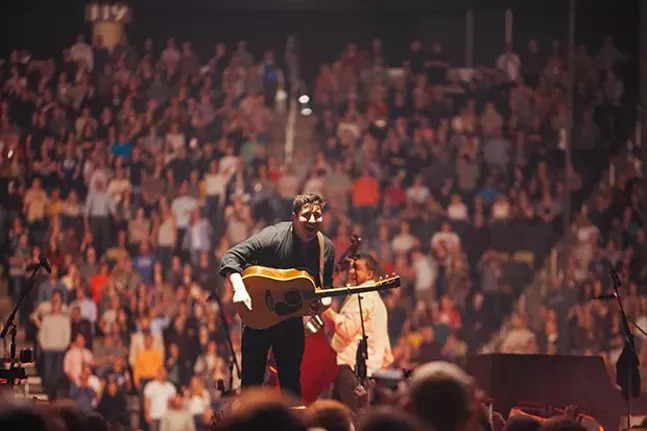 It doesn't matter whether you know 20 songs by Mumford and Sons, or none—their Delta tour, the band's
most extensive one to date
, is commanding and immersive.
Opening with "Guiding Light," the biggest hit on their latest album,
Delta
, the four members filled the stage with wild energy and a lot of pandering to the crowd, in a good way. (Who doesn't' love hearing your city's name come from the lips of a famous musician?)
While Mumford and Sons could have easily drawn out the set, bogging down the audience with music from all of their albums, the entirety of their performance was about an hour and a half, peppered the band's hits over the years, balanced with songs from
Delta
.
At one point during the show, Mumford and Sons brought out Pittsburgh-born singer Kevin Garrett, a longtime friend of the band. Garrett played a chilling piano ballad version of "Pray You Catch Me," the song he co-wrote for Beyonce's album,
Lemonade
. The crowd went insane. Garrett's voice, somewhere in between Sam Smith and Hozier, was breathtaking.
Set up on the arena floor, the band put on an unforgettable show. The bass rumbled in the audience's chest; they had lights that encased the entire room, Marcus Mumford whispered sweet things into the mic. I may or may not have cried.