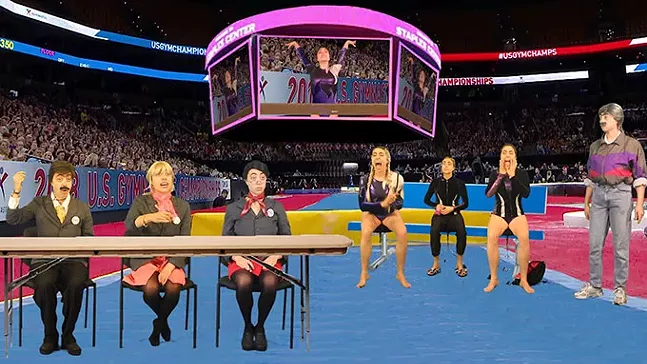 Gymnastics is a sport that relies on muscle memory, the feeling that the body remembers how to do something even if the brain doesn't. For many gymnasts, a physical and emotional memory follows them long after they've left the sport. Multimedia artist Anna Azizzy practiced competitive gymnastics for nine years, in elementary through high school, and began reexamining their relationship with the sport in "For Retired Gymnast," a video project for their thesis at Carnegie Mellon University. The 18-minute experimental video casts Azizzy as every character in a group of young gymnasts, their moms, and their coach, using a green screen and deliberately clumsy animation.
For their residency with New Hazlett Theater's Community Supported Art (CSA) Performance Series, Azizzy expanded what they made at CMU with The Secret Life of Gym Girls¸ running Dec. 5-6. "While together at the gym, they are seemingly happy in their world. Apart, their queer and unusual desires are revealed," reads the show's description.
The CSA program provides a platform for emerging artists in all mediums of performance, giving them mentorship and training for fundraising, marketing, production, and other tools of the trade. Azizzy was encouraged to apply for the program after taking part in H. Gene Thompson and Arvid Tomayko's show Apart From Me during New Hazlett's 2018 round of CSA shows.
While working on the video in college, Azizzy started thinking about gymnastics in a more "mournful" way, watching gymnasts at the Olympics and feeling the loss of what they could no longer do. "It got me on a track of thinking about early expiration of women in so many industries," says Azizzy. "Gymnastics is like a crazy example of that, an extra-exaggerated example of that 'cause you're told that once you hit puberty, you become a teenager, you're done for. You're all used up or whatever, which is really sad."
"For Retired Gymnast" begins with 13-year-old Harper Frances lamenting her imminent expiration date and retirement from the sport. Gym Girls follows the same cast of characters Azizzy used in their thesis project, diving deeper into their secrets, shames, and desires, divided into vignettes about the gymnasts and their moms.
"Using these characters has been an extremely important way for me to process my life," says Azizzy.
In order to embody all the characters in the live show, Azizzy employs and interacts with the green screen on stage. In one scene, on-stage Azizzy plays a gym mom, with a double life as a professional wrestler, who wrestles with a digital-wrestler-Azizzy on the screen behind the stage. In "For Retired Gymnast," the girls awkwardly gyrate to Britney Spears' "Slave 4 U" in the bedroom of Harper Frances, who fantasizes about avant-garde musician Meredith Monk.
Gym Girls features music written by Azizzy for their album Lullabies for Retired Gymnasts, a melancholy collection of songs about a worn and changing mind and body, featuring sound design from Azizzy's brother Jacob Rosati. On the track "Muscle Memory," Azizzy sings, "The strength inside your back may make you crooked / But please never forget / The memory in your head / The memory of the pain you could weather."
The last scene of the show involves a monologue similar to what Azizzy would say to students while coaching gymnastics last year. "I would have to talk to them about fear and trusting that your muscles know what they're doing even if your brain is freaked out and your heart is beating too fast," says Azizzy. "You can still safely grow and learn new things."