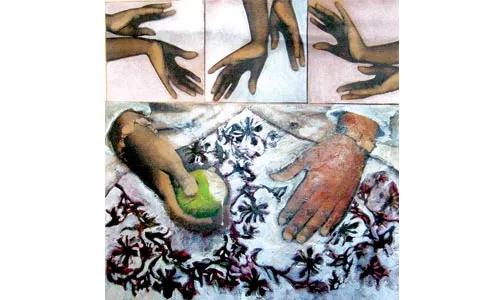 State-sponsored art exhibitions have many agendas. Diversity, access and the preservation of ideas do battle with artists and art itself. So it's perhaps no surprise that the well-intentioned Celebration of Visual Traditions seems to fall short.
Celebration, at the 209/9th Street Gallery, was organized by the Pennsylvania Council on the Arts to promote the "visual traditions of multicultural communities in Pennsylvania." The touring exhibit, in its 12th year, includes work by 25 artists, including seven from Pittsburgh, in mediums including contemporary craft, sculpture, painting and photography.
Celebration highlights some great work. For instance, the melodious paintings of Indian-American artist Salma Arastu, including "We Played in the Courtyard While Ama Took a Nap," feature beautiful pared-down human figures and simple shapes against decorative washes of red, blue and gold.
Cities and urban spaces, meanwhile, inspire many of the works. Leroy Johnson's mixed-media sculpture "The Block" depicts a miniature street scene intricately constructed of cardboard and found objects. Likewise, John Abner's "Day Worker," a multimedia photo collage of a female worker, contrasts wallpaper print -- the kind you might find in Grandma's kitchen -- with gritty scenes of tenement apartments and piled trash. Abner carefully assembles the images as backdrop to a dominating, oversized and very masculine female figure.
The work of the late K. Leroy Irvis is a nice addition, too. Irvis, the first African American to serve in the Pennsylvania House of Representatives (in 1977), was a key advocate for the creation of the Council on the Arts. His work here includes the beautiful painting "Storm in the Salt Marshes."
Yet even in much of its best work, the show feels too conservative. Traditional topics -- family, community and ancestral connections, identity, class and race -- predominate. Yet while Celebrations consists primarily of work by African Americans, there's little that challenges mainstream African-American ideologies, either thematically or conceptually -- no Kara Walker or Glenn Ligon. This is work for church folks.
The exceptions prove the rule. JoAnne Bates' "Sexual Harassment" consists of a pair of black gloves with the title words repeated below, the text surrounded by women's underwear and more gloves. Two politically charged works by Theodore Harris -- "The Pentagon Is a Wounded Guillotine, 2004" and "Somebody Blew Up America (for Amiri Baraka)" -- suggest black-power prints of the 1970s while questioning conventional notions of spirituality and ancestral connections. And Vanessa German's "My Grandmother Moved Across the Days" -- a female figure adorned with a mass of found objects, masks, bones and metal -- has a conceptual boldness even as it reiterates a sense of linkage to an African past.
Most of the work is of acceptable quality: It's just OK. But while many of the artists are familiar names -- JoAnne Bates, Tina Brewer, Mary Martin, Laverne Kemp, Ruth Richardson, Leslie Ansley -- their contributions largely lack freshness. I've seen more impressive work from these artists within the past two years.
Ultimately, though, the show's biggest problem might itself be conceptual, a matter of unanswered questions. What, after all, is the curatorial frame? What "visual traditions" do these works represent? And does it make sense to talk about contemporary work as a continuation of traditions -- especially when most of this work fails to extend the investigations of earlier African-American artists, from Henry Ossawa Tanner to Romare Bearden?
Celebration of Visual Traditions seems caught between a rock and multicultural politics. The problems extend to the show's organization: It feels lethargic. The works are arranged alphabetically and framed with wall-sized text. That makes the show seem overly didactic, as well as discouraging viewers from making any visual links between the works.
Organizing Celebration by theme might have helped, but it's hard to say. This show's underlying statement seems to be, "diverse communities (i.e., black people) make art too, and they do it in Pennsylvania." Are we not centuries past the need for simple identification?
Celebration of Visual Traditions continues through Fri., Dec. 8. A portion of the show will remain on display through Dec. 31. 209/9th Street Gallery, Downtown. 412-258-2700