Brian Dean Richmond is the Pittsburgh Center for the Arts 2010 Artist of the Year. It's a big honor, but if you attend the show's opening reception, on Nov. 19, the artist himself will probably be that shaggy-haired guy standing in the corner with a beer, looking slightly overwhelmed or maybe just smiling sheepishly.
You might get an idea why Richmond's work, though fervently praised in Pittsburgh, is barely known outside it: The artist himself takes no interest in promoting it.
Later that evening, you might see Richmond on stage, rocking his sticker-covered aluminum standup bass as part of the band The Working Poor. In that animated role, he might seem like a different person. Yet to most observers, he'll be just as much a mystery as when the night began.
Still, the best way to get to know Richmond is not by talking to him; he usually speaks in a murmur anyway. It's through his art.
Over the past quarter-century, Richmond, 54, has played bass, trombone and percussion for some of Pittsburgh's best underground bands. He's made about 30 visionary short films and numerous memorable installation works, including a musical road and one involving an airport searchlight. And he's made countless paintings -- "thousands," he says -- including some 15 years' worth of works uniquely co-created by nature.
It's the paintings that will dominate the PCA show. They're large-scale, multi-panel abstracts that Richmond makes by setting paper or canvas outdoors, adding pigment, a few objects and maybe some soil, and letting wind, rain, sun and snow take their course.
Like his lyrical, storyless films and most other things Richmond does, the paintings are harder to make than they seem. And while Richmond himself is painfully shy, his art is effusive. You just have to look, and listen.
Hidden in Plain Sight
Local curator Lauri Mancuso, who nominated Richmond for Artist of the Year, calls him "a treasure." Working Poor lyricist and vocalist Alan Lewandowski says Richmond the musician "always brings great tone, every instrument he plays. It sounds authentic." Tim Fabian, who as president of Pittsburgh's artists' guild council served on the PCA committee that honored Richmond, calls his paintings "astonishing."
You might not give a second glance to Richmond himself. The artist, who often works as a handyman, dresses in work boots, paint-streaked jeans and a plaid shirt. His face is boyish but weathered, his hands thick and calloused. And if you are looking for him, it might take a while: Richmond can't get cell-phone messages because he never empties his voice-mail box. If he has a message to deliver, he'll often get a friend to phone it in for him. And he returns e-mails only intermittently via the laptop he shares with the younger of his two sons, an Allderdice High School senior. He's also quite shy about being photographed.
But though he's that rare artist without a website, Richmond is prolific. For instance, while it can take him years to complete a film, he's "probably the most productive artist in Pittsburgh Filmmakers' history," says George Davis, a longtime friend and collaborator who helped plan the PCA show (but who has since left the PCA).
Richmond has lived most of his life in the Pittsburgh area, and with rare exceptions -- an international film festival here, an out-of-state gallery show there -- his artwork hasn't traveled much farther than he has. Locally, he's shown work at the Three Rivers Arts Festival and just a handful of galleries -- most recently at Pittsburgh Filmmakers, where he's been an artist member since the 1980s. (Filmmakers and the PCA merged in 2006.) Filmmakers' North Oakland headquarters has been at times a kind of second home, housing the editing table where, deep into the digital age, Richmond still splices 16 mm film the old way, by hand.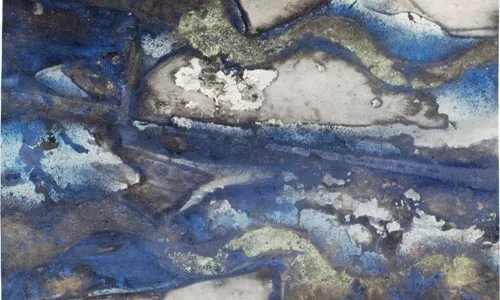 "I think he would be considered a very successful filmmaker in the experimental film world if he could get it fired up to get [his films] in front of people," says Davis. One film collaboration of theirs, 2001's "Two If By Sea," played a couple of U.S. festivals. "His other films would make that circuit no problem."
"If you would have grabbed Brian and taken him to New York City, and been his manager, he would have been a big star there," says Filmmakers exhibition director Gary Kaboly.
But Richmond is so not New York. "He wouldn't call a gallery and say, 'Hey, I have a show,'" says Mancuso, the curator and a friend of Richmond's for two decades. "You have to go to him and ask to see it."
And Richmond is so not commercial. "I'm not involved with any gallery, unless it's a community thing," he says, recalling cooperative spaces like Wilkinsburg's Turmoil Room, which he helped run starting in the late 1980s. More recently, in informal conjunction with the PCA show, Richmond collaborated with his friend Bob Kollar on a window installation made from reclaimed neon beer signs, now visible at Downtown's Salon NUVO, at Sixth Street and Penn Avenue. He also hung a large-scale black-light painting at East Liberty's Shadow Lounge (where The Working Poor will play after the Nov. 19 PCA reception).
Still, Richmond says, "I've never sold any artwork.
"I hope that changes," he adds, laughing. "I've got some bills to pay."
Did he ever try to sell anything? "I don't know how to do that," Richmond says. "That's a career of its own."
Home Is Where the Art Is
For all the acclaim his films and paintings receive, no list of Richmond's artworks would be complete without his family home, in Murrysville. Once it was a standard suburban two-story. But over the years, he's slowly remade the place into a dream-castle. It includes a kitchen he completely hand-tiled in irregularly shaped scraps of colored marble -- a functional mosaic. A few of the house's walls consist of colored-glass bottles set perpendicularly in concrete, so that daylight dapples the interior in undersea tones; one bottle-wall makes a floral pattern that in the evening glows with lamplight.
The house, which he shares with his mother, is also his studio. Canvasses might sit in the driveway for months, laid across angled wooden boards to pick up the grain's imprint. Others might occupy the lawn, weighted with paint cans and film reels, awaiting the first snow, which Richmond will then dust with pigments, anticipating the melt that will make the painting.
Richmond is the oldest of four children. His mother, Ann, and late father, Owen, a research scientist with U.S. Steel and Alcoa, encouraged his artistic inclinations with classes at the Carnegie Museum. The close-knit family often spent evenings playing folk music together and with neighbors -- Pete Seeger songs, tunes by Peter, Paul & Mary. "We always ended with 'Goodnight, Irene,'" says Richmond.
Richmond has two sons: Leif attends Penn State, while Waylon lives with the boys' mother, in Pittsburgh. Richmond's father, whom he revered, died in 2001; his siblings have long since moved away.
Richmond too could have gone elsewhere. He spent his senior year of high school in an exchange program in Norway, then got accepted into college in Amsterdam.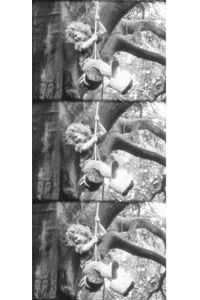 He never went. In Norway, "I was terribly homesick," Richmond recalls today. "I just didn't want to go back again after I got home." Instead, he studied art at Carnegie Mellon University (though he didn't graduate until 1993, after a belated second stint there).
In 1996, when Richmond was 40, he even got homesick attending grad school, for painting, at Ohio University, just four hours away in Athens, Ohio. His father was terminally ill at the time, his relationship with his sons' mother breaking up. Ever since getting his master's degree, he's been home to stay. "Our home is my favorite place in the world," he says.
The house embodies the seamlessness of Richmond's life and practice. When he shoots film, for instance, it's often of family and friends -- home movies, sections of which he sometimes appropriates for finished works.
"He has spent his life dedicated to his vision of art," says Mancuso, the curator.
She recalls a motto Richmond carved into the wooden mantel in the family's dining room: "Live simply so that others may simply live."
"That's how Brian moves. He's not looking for money," she says. "He's just driven to create.
"He's of a different time."
Splices of Life
It's a Friday night in October, and Downtown sidewalks bustle with patrons of a Cultural District gallery crawl. At Pittsburgh Filmmakers' Harris Theater, the evening culminates with some of Richmond's rarely screened films.
Richmond stands behind the back seats of the theater's balcony, alongside two 16 mm Pageant projectors -- old ones, about the only kind you see anymore. The small balcony is half-full, mostly with friends and collaborators, people like Mancuso; David Harris, the photographer who runs Filmmakers' cafe; Lee Smookler, who sings in The Working Poor; Richmond's mom; and his son, Waylon. ("I was planning on him being a country-rock star," Richmond jokes.)
On the theater floor, Kaboly, of Filmmakers, walks out to announce the program. "Brian still works in film," Kaboly tells the couple dozen people seated below. "It's a difficult medium these days. ... Hopefully the splices will hold."
Richmond's films often incorporate multi-layered imagery. Some of it's created in-camera, by carefully double-exposing the film. But getting three or four layers of images on screen requires running two projectors, throwing images that overlap. Ideally, it all would be printed as a single filmstrip, but Richmond seldom bothers to pay a lab to finish his work that way -- another reason he doesn't enter many festivals.
During screenings, Richmond also often covers the projectors' lenses with colored filters -- red, orange, green, blue -- to tint what's onscreen.
Showing film as performance can be tricky. One work, "Tim and Tim," is a gorgeous black-and-white evocation of a day canoeing on the Youghiogheny with some friends. (Richmond shot half of it standing in the river.) But about a minute in, there's a delay -- a blank screen -- when a projector misfeeds and Richmond has to rethread the filmstrip. Later, after another heavily spliced film clatters in the projector's gate, Richmond murmurs, "I can't believe that went through the projector. That was total luck."
Such troubles are increasingly rare in the video age. But Richmond usually sticks with what he knows. His earliest film memories include his family's home movies, shot with an 8 mm Kodak Brownie he later used himself. At Carnegie Mellon in the 1970s, as undergraduates, he and his girlfriend began making short films with a Bolex 16 mm camera. Three decades later, Richmond still uses the same camera and lens, and he still makes films the same way, he says: with "in-camera polyrhythmic superimpositions," applying a musical concept to film.
Richmond considers film "painting in time," and that's evident in works like 1997's "RopeSwing." It's a rapturous, swirling 12-minute tribute to a 350-year-old beech tree whose custodian is Richmond's brother-in-law, set to dissonant free-form music recorded live at an early screening. The film was shot largely with the Bolex tied to a rope and swung through the tree to capture the sensations of the two men's kids as they played amidst the branches.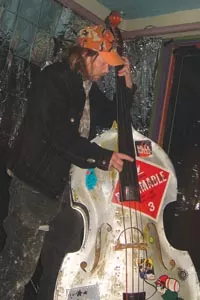 Richmond's film credentials include classes with avant-garde legend Stan Brakhage, at the Art Institute of Chicago. (Richmond's first stint at CMU ended when he dropped out; he and his college girlfriend and collaborator, the artist Avy Claire, moved to Chicago together but eventually broke up.) Richmond worked in video for a while, but stopped as Filmmakers moved from analog gear to digital, a medium he's never learned. "I have so many films I want to work on, that's all I have the time for," he says.
Richmond's best-traveled film is probably "Marsh," which played at an international festival in Portugal, in 1995, and at New York's Museum of Modern Art as part of a 2008 showcase organized by the organizers of Pittsburgh-based screening series Jefferson Presents. Like much of his work, "Marsh" incorporates film "journal" entries he'd saved. It blends footage of Waylon as a child, playing in a frozen winter marsh, with transparencies from Richmond's father's mathematics lectures and a turkey feather -- the latter two hand-printed directly on the film. It's an abstract cinematic tapestry, and it's in the film-retrospective portion of his Artist of the Year show.
Most of Richmond's films feature his sons. Another is "Hardie Way," which he screened in October at the Harris. Named for the Oakland street the boys lived on with their mother when they were small, it includes passages like an adult giving a child an airplane spin in the snow-covered alley, and Richmond's blond son standing before a bright yellow sunflower a few feet taller than he is.
Writes area critic Alice Winn, in text to accompany the PCA show: "Repeated road trips over Richmond's terrains are as compelling as rollercoaster rides and seem to suggest metaphors for the people, things and landscapes one loves, always wanting them to somehow extend forever through time and motion."
But Richmond's films don't engage everyone. After a half-hour of his show at the Harris, the theater is about empty except for the balcony. After "Hardie Way," Waylon -- now taller than his father -- walks over to lay a hand on Richmond's balding pate. Richmond smiles. "I know, I'm sweating out the top of my head," Richmond says, slightly abashed.
The screening concludes with "Visitor Parking," a characterless 15-minute epic about an unpaved lot near Filmmakers' headquarters. The camera captures the grounds, the lens caressing some thorny branches as gently as though they are rare orchids, then smoothly tracking a fabulous striped butterfly. The lot's gravelly surface reminded Richmond of the moon, and he accompanies the film with Beethoven's "Moonlight Sonata" played on a portable turntable, the old vinyl LP's pops loud as gunshots. The film, meanwhile, is vaguely menaced by images of remotely viewed men operating diesel rollers and wielding shovels as they pave the lot.
The real moon appears, followed by an exultant nighttime sequence. Details are picked out in a flashlight beam: flickers within flickers, spots in the lost world. "This is my favorite part," Richmond says out loud.
Next come borrowed moon-surface images and astronaut footage. Then rain puddles. "There is water on the moon!" reads a subtitle. Children's sneakered feet, running through the puddles, are followed by a dazzling abstract sequence, made by scratching the film's emulsion. The final shot is a sign that mundanely and poignantly reads, "Permanent and short term visitor parking."
His audience applauds, but Richmond is unhappy with the screening. Neither the Pageants nor his films were made for a theater this size. "We should have sat up front and shown it little," he says. "These projectors can't throw that far."
Weathering Heights
While his vision is highly personal, Richmond ranks among Pittsburgh's more ardent artistic collaborators. The PCA show, for instance, includes "Tabletop, Stovetop and Sink," made with artist George Davis. It's an update of their earlier collaboration that used slides and motion pictures to create an animated room, with a stovetop being cooked on and dinner dishes slowly eaten empty.
Richmond often recruits technical help. In 1998, for the PCA Biennial, computer programmer John Fetkovich helped him realize the outdoor installation "Road Music," a series of metal rumble strips spaced so they sang a tune when cars passed over them.
Richmond's been an important, if quiet, part of the local underground scene over the years. He helped, for instance, run The Turmoil Room, a repurposed Wilkinsburg house that was a nexus of that scene through the mid-'90s. One of Richmond's installations filled the basement with both 5-foot-tall cement pylons ... and the massive, salvaged airport searchlight whose beam swept the room. "Brian always seemed to push the envelope in my nerves and in the building," quips former Turmoil Room curator Kelton Fleming.
Working with Richmond can be trying, even for his biggest advocates. "He's as difficult a person as I've ever known," says Mancuso, who's frequently curated Richmond's work. "He is very stubborn."
"We've gotten in arguments in the band," says Greg Pierce, who plays guitar in The Working Poor. He mimics Richmond getting peevish: "'I think it should be played this way ...' And it's like, 'Oh, my God, Brian, chill out.'"
But Richmond repays any hassle with originality. Musically, he's anchored groups from the eclectic Johnsons Big Band and post-punk trio The Cuff to The Working Poor, in both its country-influenced and more experimental incarnations.
"His music and his paintings are one and the same," says Evan Knauer, an artist and Cuff bandmate. "He never seems to need to know what the notes are and he never really comes in on time. He has his own sense of time."
Recalling the film "RopeSwing," Knauer says, "Those abstract lines when that camera is swinging in the air, it's the same thing as the paintbrush moving across the canvas, and his fingers moving across the bass."
Richmond's most solitary pursuit, painting, is also the one that incorporates nature most directly. He started out an old-school abstract expressionist, in the Jackson Pollock "action painter" vein. But "I felt like I was being too much like Zorro," Richmond jokes.
At Ohio University, he liked hanging out by the Hocking River. There he experimented with weighting printmaking paper so it would slowly sink, and capturing the water's progressive patterns in graphite. (The paintings "would get away sometimes, if the current changed or something," he recalls. "I chased them miles sometimes.")
Now some of his paintings incorporate leaves, sand, soil, garden tools -- whatever he places on top, or finds its way there via nature. (Walnuts, he found, burn through the paper.) As in photography, exposure time is crucial. "Each different situation you set up makes a different picture," he says. "Sometimes they decompose. It's kind of a crap-shoot each time."
His latest paintings, typically untitled, are usually five panels, each about 2 ½-by-3½ feet. "I try to think of it as frames of a film, where it's a sequence," he says. Many are lush with blues, grays, rust orange, mossy green. Others are starker, with more white space and strong verticals in black and red.
Some of the paintings are displayed in the second-floor halls of Filmmakers' school. Many more lay in a back room, piled between sheets of cardboard. As Richmond sorts through them, dry brown leaves tumble out, loosed from the paper.
He shows off one of his favorites, laying the five panels on the floor of the building's soundstage. He made it at home, incorporating the serpentine shape of some gutter trim he'd pulled from his house because of an ant infestation. Moss-green star-flares accent larger puddled shapes, mixing with deep-blue spray-paint drip and spatter. "It just worked," he says. "It looks like the ocean or something."
Pittsburgh Center for the Arts 2010 Artist of the Year Brian Dean Richmond and Emerging Artist of the Year Gregory Witt.
Opening reception 5:30-8 p.m. Fri., Nov. 19. With live music by East End Appalachian Jam (old-time Appalachian tunes) and more. Exhibits continue through Jan. 23. 6300 Fifth Ave., Shadyside. $5 donation requested. 412-361-0873 or www.pittsburgharts.org