Raw bars are great — at least if the shellfish are great — but it's rare that one sustains an entire restaurant. Even if the raw bar is a restaurant's raison d'etre, it tends to costar with another, fully cooked concept, most frequently fine dining or a beach-themed bar. And, save for serious oyster aficionados, those other concepts are likely to be the reason customers return.
Muddy Waters Oyster Bar, near East Liberty's dining epicenter at the corner of Centre and South Highland avenues, combines a connoisseur's approach to oysters with Southern, primarily Cajun, cuisine. The deep, narrow space evoked both bayou shack and urbane bar, with corrugated tin and barn wood coexisting alongside subway tile. The soundtrack was what you'd guess from the name, and beer was served only in cans, but the bright lighting and well-informed servers didn't exactly suggest a juke joint. Instead, the good-time vibe stopped just short of party time.
From deviled eggs and fried green tomatoes to po' boys and gumbo, the menu was so Southern it practically drawled. Almost without exception, even non-Southern dishes, such as oysters Rockefeller or Reuben, were given the Southern treatment.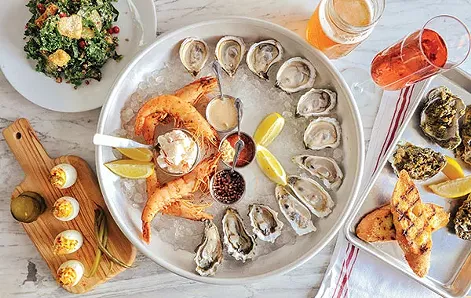 Since Muddy Waters puts oysters first, so did we. Our taste for oysters is far from refined, but there was no mistaking the quality, and more importantly the distinctiveness, of the selection. It went beyond the familiar divide between larger, brinier East Coast oysters and smaller, sweeter West Coast ones to highlight the subtle distinctions even within these regions. (The oyster menu changes daily.) Even casual oysterfolk like us found it easy to pick out gradations of vegetal and mineral notes, while the liquor ranged from background to bold. Assuming the quality is consistent, there should be no disappointments at the raw bar here.
For the most part, we can say the same thing about the cooked items, as long as you're not a stickler for tradition. The menu may read traditional — there's very little in the way of surprise ingredients — but the kitchen experimented in ways small and large. There was the whole-kernel corn in the fluffy — not dense — hush puppies, and spicy pickle relish atop smoked deviled eggs, rounding out to a full range of flavors, perfectly balanced.
Seafood gumbo lends itself well to this kind of innovation, being a dish with as many variations as there are chefs who proclaim theirs the best. Muddy Waters' contained a lush mix of lobster, shrimp, crawfish and fried oysters, along with the traditional rice, okra and andouille sausage. Most distinctive was the broth, dark as stout beer and heady with the commingled flavors of shellfish, smoked pork, spices and deeply browned roux. Served in a large, shallow bowl, this was a supremely satisfying all-in-one supper.
But Muddy Waters is not all seafood. Hot fried chicken is a Nashville thing, but here the breading was assertively seasoned with herbs whose flavor persisted through the heat (which, to be honest, could have been a bit more decisive). The chicken itself was succulent and fall-off-the-bone tender, and the bed of dirty rice and creamed collard greens played a supporting role without fading into the background.
In fact, we loved the creamed collards as a Southern variation on creamed spinach. True to their character, the collards had more substance than spinach, even cooked and creamed, retaining a satisfying texture and a not-unpleasantly bitter flavor, more akin to cruciferous vegetables like broccoli than to leafy ones.
Cajun crab-boil Reuben didn't work quite as well, though it was hard to figure out why. (There's no crab in this sandwich; "crab boil" refers to the spices in the water in which the meat, in this case, is boiled.) The pastrami was a bit lean and tough, perhaps from the round, not brisket, but even accepting that, the wonderful accompaniments of collards and pickles never came together in this context the way they had in others.
Fried green tomatoes was something of a misnomer. Slices of green tomato, unbreaded or fried, alternated with slices of fried tomato, which appeared actually to be red, in a sort of toppled stack. Their flavors were wan, surely a casualty of the dead of winter, and could not stand up to the bold roasted-corn salsa spread over and around them.
These flaws notwithstanding, Muddy Waters does an admirable job of re-envisioning Southern coastal cuisine for this landlocked city up north.