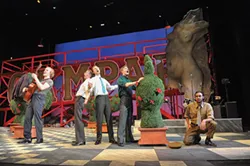 Director Anthony McKay has given Shakespeare a swinging makeover in this update of the hilarious Much Ado About Nothing. Nineteen-sixties Italy provides a visually pleasing aesthetic and a strong vehicle for the action. With live music, dance, visual effects and electric dialogue, this is a lavish production. Carnegie Mellon University's School of Drama has clearly done its research in culturally reinterpreting this play, and there are times when viewers have to remind themselves that it's a university production they're watching.
The play revolves around the secretly plotted marriage of the unknowing Benedick (Josh Grosso) and Beatrice (Molly Griggs), a plan led by Prince Don Pedro (Chris Garber). Grosso's and Griggs' Benedick and Beatrice are a pair armed to the teeth with Shakespearean wit, and the two actors bounce off each other with skillful command. The audience loved Grosso's monologues, and for good reason: His delivery was first-rate and his characterized interactions with those in the front row was delightful. It is a war of wits watching him and Griggs, and the audience's heads swivel back and forth as if it were a tennis match.
In the Bard's silliest and most light-hearted play, there is a lot of potential for fun on stage. And from the start, CMU's School of Drama wanted to impress. The opening scene is a sensational ensemble effort depicting a busy Italian town; there's a band playing, a priest on a bicycle, and a military parade. The audience doesn't know where to look.
At times, there were fears that the show relied too heavily on the aesthetic. And although the production was impressive, the cast's delivery of Shakespeare's language wasn't in any way updated in the same way as was every other aspect. A difficult job, yes, but one that can be done.
On the other hand, the actors' manipulation of setting and props was knit together in an exciting and accomplished ensemble effort, with a lot of laughter as a result. This is a Shakespearean farce of foolish asides and mistaken identity. The audience loved watching it because, quite simply, it's a lot of fun.