Three years ago, City Theatre presented Through the Night, a one-man show written by and starring Daniel Beaty. It was an evening that knocked my socks off, so I was very eager to see Beaty's new one-person show, Mr. Joy, again at City Theatre.
As with Through the Night, we're up in Harlem, shadowing the lives of several characters whose path cross and re-cross through 85 intermissionless minutes. The event that sets everyone in motion is the brutal beating of a shoe-repair shop owner, the eponymous Mr. Joy, a longtime resident of the neighborhood and a man who has touched many lives.
There's Clarissa, a young girl living with her grandmother Bessie after her parents have died from AIDS complications. With dreams of being a shoe designer, she's made the shop her second home ... and now she's wondering why he's not there. Bessie, since the beating, has begun to rally the community to action, urging folks to begin looking after neighborhood children living without parental connections. Mr. Joy's son, John Lee, works for a millionaire property developer named Clifford, an African-American man who is dating Rebecca, a white woman desperate to have a child of her own, partly because Clifford has disowned his child, Ashes ... born Ashton and now transitioned to female.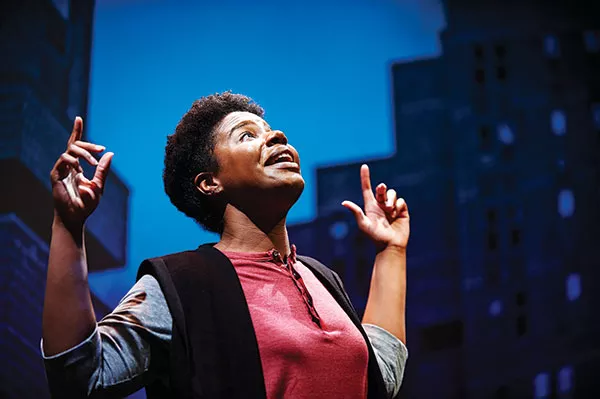 Beaty manages to continually shuffle these people, and several others, into various combinations, and ultimately tells a tale which manages to be at once both inspiring and achingly sad.
The bad news this time around is that Beaty hasn't returned to play all the roles again. The good news, the very good news, is that those duties are in the hands of Tangela Large, an actress of impeccable talent.
Large shifts from person to person in the blink of an eye with almost no visible effort, yet creates individualized, beautifully detailed characters. Under Lou Jacob's insightful direction, Large gives a deeply felt performance (performances?) of both depth and breadth. And special mention should be made to the sound and music design of Lindsay Jones.
Beaty, and Large, have not disappointed. I can't wait for the next one.