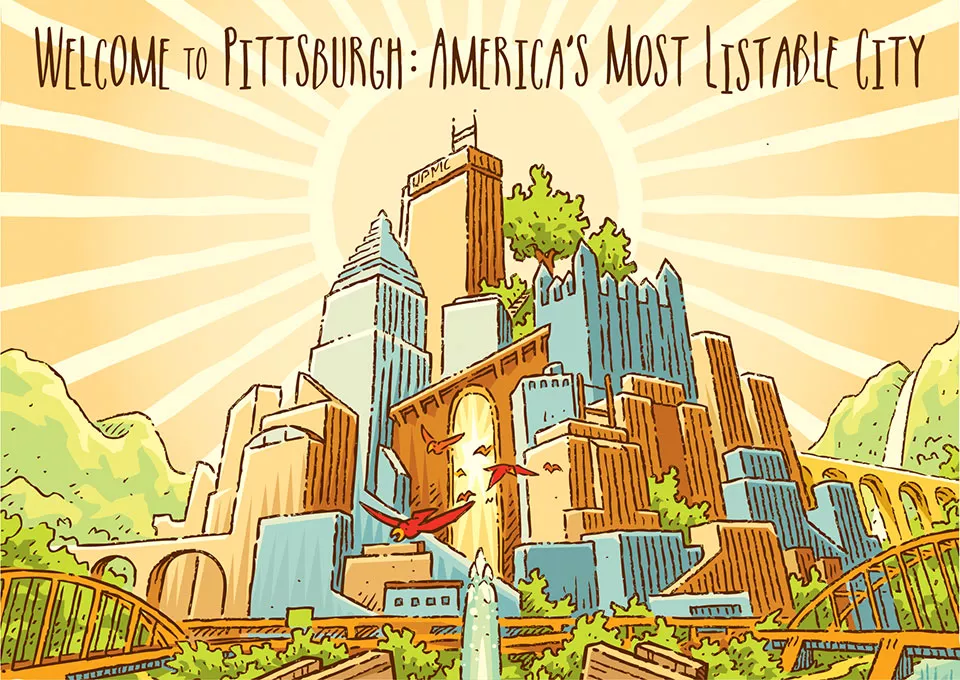 In November of last year, Pittsburgh was profiled in a Vogue article titled "5 Industrial Cities Making America's Rust Belt Shine Again." In the piece, author Michaela Trimble explained this new shine with a slew of familiar talking points: mentions of Google, Andy Warhol, Ace Hotel, Uber and Conflict Kitchen; the transition from steel town to tech hub; and the word "eats" as a synonym for food.
For many Pittsburghers, this wasn't breaking news. Media recognition of modern Pittsburgh has become routine. It seems like every other month Pittsburgh is being lauded with new superlatives and praised for its perceived renaissance. The word "grit" often makes an appearance.
Though not much different in tone or content from similar articles, the Vogue piece was unique in its recommendation to "take a drive outside the city to Braddock for chef Kevin Sousa's Superior Motors." While the author nailed certain details here — Sousa does own a restaurant in Braddock called Superior Motors — the restaurant isn't actually open. It's been soon-to-open since 2015 and remains that way today.
The flub was mocked on social media, and the mention was removed (the author declined to comment for this story). It's not exactly PizzaGate, but the mistake feels emblematic of a larger issue surrounding this type of touristic cheerleading.
At best, it reveals the flimsy research behind these lists — the Superior Motors website does display fancy dishes that could give the impression that food is being served, but the controversy over the slow opening isn't exactly a secret. At worst, it provides another example of clickbait that prioritizes going viral over truth.
"Travel writing, like pop music, abhors a vacuum," Michael Meyer, author of several books on travel and associate professor of English at the University of Pittsburgh, wrote in an email to City Paper. "There always has to be The Next Place to Go, or the Best City You've Never Heard Of. If it's not Baltimore or Greenpoint or St. Paul, then it's Pittsburgh."
For the past 10 years or so, Pittsburgh has filled that vacuum. It's been praised for its livability, resilience, safety, youthfulness, intelligence, food scene, bikability, affordability, literacy, ballpark, urban hiking, startup-friendly culture and, according to a poll from Gawker, having the ugliest accent in America (maybe "praise" is the wrong word, there). But despite the accolades, many segments of the population, particularly African-American communities, continue to suffer, and the actual impact of these lists remains negligible.
It's easy to laugh off the accuracy or seriousness of a "listicle," but a lot of the practices used today have their roots in a long history of travel writing. Taking a look at that history provides some serious insight into how we got to this "Pittsburgh-is-the-best-most-ever" era.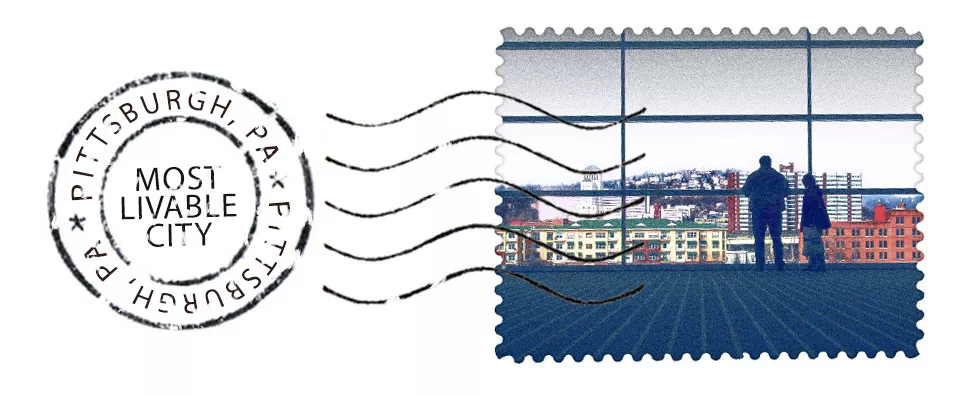 The first "most livable" nod came from Rand McNally in 1985, a year in which the unemployment rate here was just over 9 percent and more than 42,000 residents left the region. In a Los Angeles Times article from that year, Pittsburgh City Controller Tom Flaherty reflected on the designation, saying, "This will be one more giant step to change the city's image that it's a smoky steel town. … Pittsburgh is not utopia, but where is utopia?" Pretty poetic.
Author Melody Warnick studied how and why people feel attached to the places they live in her book called This Is Where You Belong: The Art and Science of Loving the Place You Live. She says that despite the touristic bent of these lists, they are actually more for the benefit of residents.
"Pittsburgh has been on so many of those clickbait-y sort of lists," says Warnick. "I think they are mostly for the people who live in the city. I think it's rare that outsiders look at those lists and think, 'Hey I'm gonna move to Pittsburgh because it's a great town for beer-drinkers,' or whatever. I think the people who already live in Pittsburgh, you click on those links, you read those articles because you want confirmation that you're right. You live in a fantastic city.
"I think they are kinda clickbait-y, but … there's a higher purpose, making current residents of the city feel good about where they live."
The phenomenon of loosely researched, exaggerated content feels symptomatic of the current state of affairs in the age of alternative facts and fake news. Reading these kinds of articles, it's hard not to recognize President Donald Trump's penchant for exaggeration and extreme adjectives. But travel writing actually has a storied history of exaggeration and positive spin, often with economic motives.
Andre and Edouard Michelin, the founders of the Michelin Tyre Company, debuted their Michelin Guide in 1900. It offered information about travel routes, petrol stations, places to eat and things to do across France. Encouraging travel helped grow the burgeoning automobile industry. More travel meant more roads, more cars and more tires. AAA's TourBooks and Rand McNally's travel guides were other early instances of using tourism information to promote commerce, but it's long been a significant factor in travel writing.
Today in Pittsburgh, websites like NEXTPittsburgh and health blog Fittsburgh seem to be carrying on this tradition with content celebrating the city. NEXT receives funding from many sources, including Port Authority of Allegheny County and Pittsburgh's Urban Redevelopment Authority, and Fittsburgh is sponsored by the UPMC Health Plan — all organizations that have a vested interest in the city's advancement. Their Pittsburgh-centric content contributes to the tapestry of pieces singing our praises.
"Zagat naming Pittsburgh 'the No. 1 Food City' has had a remarkable effect on Pittsburgh tourism," Tom Loftus, vice president of communications at VisitPittsburgh, wrote in an email to CP. Asked if there's a downside to all this attention, Loftus wrote, "None. Although we never want to rest on our accolades. We always want to be doing everything we can to promote Pittsburgh to the world."
"I have no reason to believe that these changes for the better are with people of color in mind, and are benefiting people of color that are in Pittsburgh."

tweet this
While the response to these kinds of articles and Pittsburgh's accolades vary from satisfied validation to eye-rolling and nausea, there seems to be a consensus among critics that much of the growth being praised has a cost, and that communities of color disproportionately pay it.
In July 2013, shortly after George Zimmerman was found not guilty of the murder of Trayvon Martin, a local group called Pittsburgh for Trayvon staged a protest at the Allegheny County Courthouse demanding, among other things, that Mayor Luke Ravenstahl renounce Pittsburgh's title as "Most Livable City" until relations between police and communities of color improved.
In 2014, Damon Young, editor-in-chief of the digital magazine Very Smart Brothas, penned an op-ed in the Pittsburgh Post-Gazette titled, "Oblivious: Black people love Pittsburgh, too, but can't help but wonder how much Pittsburgh loves them." In it, Young expressed his ambivalence about the growing trend of Pittsburgh praise.
"Even as we boast about living in America's 'Most Livable' or 'Most Welcoming' city, we question whether it is truly livable for and welcoming to us," he wrote. "This is largely due to the fact that Pittsburgh's relationship with its Yinzers of color has always been, for lack of a better term, complex."
Asked if he feels any different three years later, Young says, "I'm probably a bit more pessimistic, but not totally. I have no reason to believe that these changes for the better are with people of color in mind, and are benefiting people of color that are in Pittsburgh."
In fact, a 2015 study by the nonprofit, Washington, D.C.-based Urban Institute found that despite the city's improvements, the difference in quality of life between black and white Pittsburghers remains sharply disparate.
The "Barriers and Bridges" study cited the contradiction, stating, "Pittsburgh has been rated the most livable city in the United States (The Economist 2011), but research depicts two very different cities. Employment, homeownership, neighborhood and school quality, and quality of life differ starkly for African-American residents and non-African-American residents, most of whom are white."
These competing narratives of livability and inequality don't negate the city's transformation since the 1970s, but they do illustrate a sort of city-wide cognitive dissonance regarding the nature of those changes. There's truth to both narratives, but it's important to consider the sources: the celebratory narrative from financially interested parties, the critical narrative from academic studies and first-hand accounts from residents affected by the changes.
Moving forward, the city will be tasked with ensuring the shine from all the praise thrown at Pittsburgh doesn't blind them to the needs of the residents who live here.
"In the last census, we actually lost population," says Young. "So all of these initiatives and redevelopment, you wonder who it's helping. Forget about people of color, black people, whatever, but who is coming to the city? There's a giant apartment building that takes up three entire blocks in East Liberty … where the community center used to be, across the street from the Target. Who is that for? Who's gonna live there?"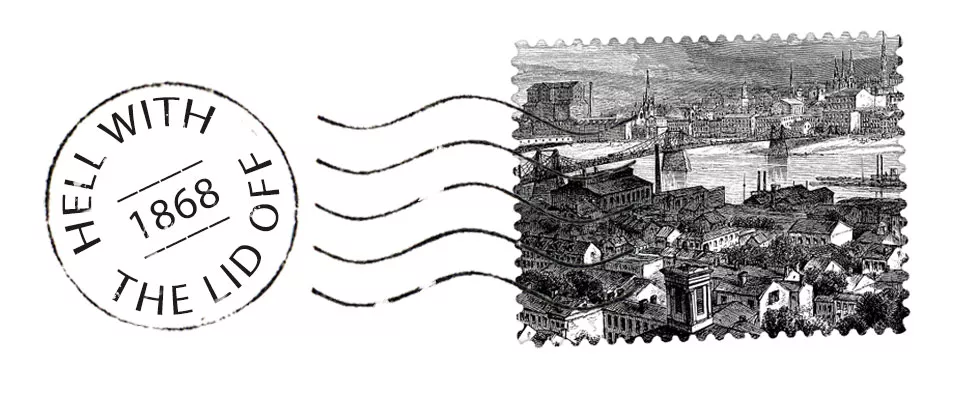 The history of travel writing is littered with instances of exaggeration, dishonesty, ulterior motives, rose-colored biases and the exoticization of "the other." Particularly in the pre-industrial world, travel writing often boiled down to "you won't believe how weird other cultures are." It leaned toward pulpy sensationalism, and given the difficulty of confirming facts at the time, much of it was left unchecked.
The tip of the iceberg is Marco Polo and His Travels, a travelogue published in the 14th century that chronicled the Venetian's 20-plus year trek along the Silk Road trading route across Asia. Suspicions of exaggeration have plagued Travels since its release, but unlike, say, calling a restaurant in Braddock to see if it's open, Polo's claims were more difficult to verify. Some scholars also point to it as one of the first examples of idealizing Asian culture as exotic, and establishing Western culture as the norm.
The Baedeker Guides, a German travel-book series founded by Karl Baedeker in the 1800s, had a habit of coming to condescending, broad-stroke conclusions about foreign people. When the Nazis commissioned Baedeker for a guide for German-controlled Poland in 1943, Auschwitz was listed as "an industrial city of 12000 inhabitants." They continued printing until the 1970s.
Herodotus, a Greek traveler in the 5th-century B.C., holds the nickname as both "Father of History" and "Father of Lies." His writing gave hearsay and fable equal weight with confirmed facts, a practice he freely admitted. He opens The History of Herodotus, published around 440 B.C.: "These are the researches of Herodotus of Halicarnassus, which he publishes, in the hope of thereby preserving from decay the remembrance of what men have done, and of preventing the great and wonderful actions of the Greeks and the Barbarians from losing their due meed of glory; and withal to put on record what were their grounds of feuds."
"14 Great and Wonderful Actions of the Greeks and Barbarians You've Never Heard of" might work better, SEO-wise, H.
The history of Pittsburgh travelogues also turns up some surprisingly modern practices.
"Pittsburg" [sic], James Parton's 1868 article published in The Atlantic, contains more than 7,000 words, but "hell with the lid off" are the only ones anybody seems to remember. The quote is actually "hell with the lid taken off," but time has a way of sanding phrases down to their essentials (will future generations call it "lidless hell"?). Here's the full quote:
There is one evening scene in Pittsburg which no visitor should miss. Owing to the abruptness of the hill behind the town, there is a street along the edge of a bluff, from which you can look directly down upon all that part of the city which lies low, near the level of the rivers. On the evening of this dark day, we were conducted to the edge of the abyss, and looked over the iron railing upon the most striking spectacle we ever beheld. The entire space lying between the hills was filled with blackest smoke, from out of which the hidden chimneys sent forth tongues of flame, while from the depths of the abyss came up the noise of hundreds of steam-hammers. There would be moments when no flames were visible ; but soon the wind would force the smoky curtains aside, and the whole black expanse would be dimly lighted with dull wreaths of fire. It is an unprofitable business, view-hunting; but if any one would enjoy a spectacle as striking as Niagara, he may do so by simply walking up a long hill to Cliff Street in Pittsburg, and looking over into — hell with the lid taken off.
While Parton's piece is far from fawning, the overall tone is closer to that of the above passage: more bewildered than critical. Over 17 pages, Parton — using the pronoun "we" though his pals aren't named — analyzes Pittsburgh's geography, industry, work habits, religion, community and history. Parton was born in England and spent most of his life in New York and Massachusetts, and given the industrial and geographic growth of America at the time, it makes sense that the city made such a strong impression on him. The modern world is being built as he writes, but the tenor often feels not too different from Marco Polo embedded with the Mongolians, or scientific researchers wowed by the behavior of stoned rats.
Pittsburg announces its peculiar character from afar off. Those who approach it in the night see before them, first of all, a black hill, in the side of which are six round flaming fires, in a row, like six fiery eyes. Then other black hills loom dimly up, with other rows of fires half-way up their sides ; and there are similar fiery dots in the gloom as far as the eye can reach. This is wonderfully picturesque, and excites the curiosity of the traveler to the highest point. He thinks that Pittsburg must be at work behind those fires, naked to the waist, with hairy chest and brawny arms, doing tremendous things with molten iron, or forging huge masses white-hot, amid showers of sparks. No such thing. These rows of fires, of which scores can be counted from a favorable point, are merely the chimneys of cokeovens, quietly doing their duty during the night, unattended.
It's hard not to hear echoes of the ubiquitous "Fort Pitt tunnel view" lede and idealization of the city's work ethic in that excerpt. Also familiar is the following phrase from its opening pages, the sense of surprise that Pittsburgh's qualities cause in first-time visitors.
"It is chiefly at Pittsburg that the products of the Pennsylvania hills and mountains are converted into wealth and distributed all over the world. The wonder is, not that Pittsburg is an assemblage of flourishing towns of 230,000 inhabitants, but that, placed at such a commanding point, it is not the most flourishing and the most populous city in America."
The Atlantic doubled down on that sentiment with a short documentary in 2014 called "Pittsburgh: It's Better Than You Thought." It's mostly about bike lanes.
While Parton and crew neglect to cover the brunch scene, they do tap into aspects of the city's 19th-century food culture. Getting breakfast (they call it "breakfasting") at their hotel on the first morning, Parton remarks "we soon lost ourselves in wonder why people order for breakfast, at a hotel, five times as much as they can eat."
In the following pages, Parton goes on to answer his question by describing the work ethic he witnessed during his visit. He spends a staggering number of words waxing about the iron, coal, artillery and glass, and the people who do the work.
"The old men never think of 'retiring,' nor is there anything for them to retire to."
He goes on, "Nothing in the life of Pittsburg is more striking to a visitor than the completeness of the cessation from labor at the close of the week. The ScotchIrish race are strict Sabbatarians, and nothing goes on in Pittsburg on Sundays which it is possible to stop. Of all those five hundred tall chimneys, there will not usually be more than two that smoke on Sundays. During the week the town gets under such a headway of industry, that it takes all Saturday afternoon for it to come to a stand. The regular work ceases at noon, but the afternoon is spent in paying wages, grinding tools, cleaning up, making repairs, and getting ready for a fair start on Monday morning."
Parton's Pittsburgh is filled with brutish but self-respecting people. He's consistently revolted by the difficulties of their daily life. Describing the horrific air pollution, he writes, "the traveler is referred to the tables of mortality, which show that Pittsburgh is the most favorable city in the world to longevity." So much of the article has the attitude of an average person witnessing the training regimen of an Olympic athlete: I could never do that, but good for you!
Given the time it was published, the article's lack of interest in inequality is not all that surprising — aside from noting the lack of women on the streets ("not a single petticoat among thousands of other coats!"). Another piece, written 80 years later, attempted to document the city's racial divide.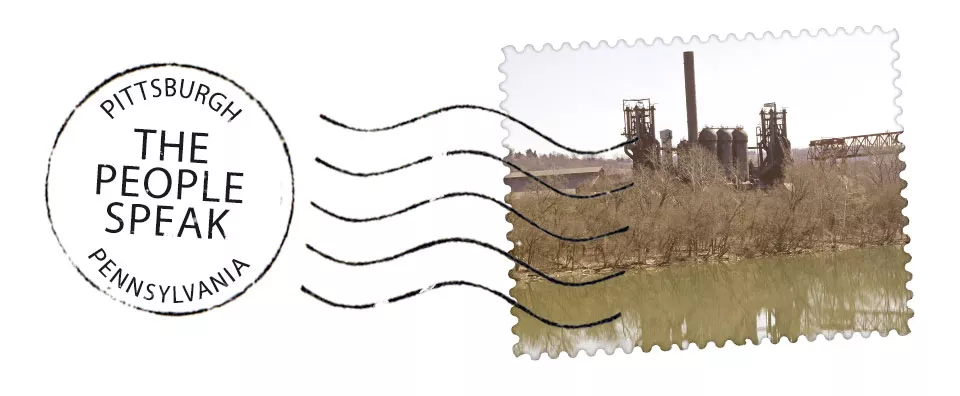 In 1935, the Works Progress Administration commissioned the Federal Writers' Project to put unemployed writers and editors back to work during the Depression. The WPA put manual laborers to work building roads and bridges; the FWA was charged with encouraging people to use them.
The FWA began with a series of straightforward travelogues called the American Guide Series, which was followed by a series dealing with "folklore, sayings, superstitions, music, legends and oral histories of the American people." And finally, it commissioned an initiative to document racial and ethnic inequality in American cities — which, unsurprisingly, was met with some resistance from more conservative congressmen, eventually leading to the FWP's closure in 1939. Nevertheless, in the course of the four years, a group of mostly African-American authors compiled a lengthy, in-depth account of life for black Pittsburghers in The Negro in Pittsburgh.
"The Negro in Pittsburgh" is not travel writing, but it includes one component that is routinely omitted from travel writing: the perspective of residents in their own words. The final chapter, "The People Speak," offers a fascinating insight into what life was like for black Pittsburghers in the 1930s.
While it wasn't published at the time — the FWP was shut down before the piece was completed — it's pretty remarkable to consider a government project that documents the brazen inequality of an American city. The subjects speak anonymously, referred to only by their first initials, first names or, in the following case, as "the younger aunt."
I was a good sized girl before I realized that complexion made any difference. We lived in Lawrenceville; it's one of the most rubbish places now. There were a lot of big mills there then. There was Clark's and the Black Diamond and several others. Yes, we Negroes have just about every problem there is. We have people that are disreputable just as the whites have. But then their faults are visited on most all of us. We don't feel that way towards the whites; no matter what opportunity they have every problem to fight against — how to make a living — how to live in decent homes and how to live in a decent neighborhood … There's only one thing in the world would make me want to be white and that's to have a white woman's opportunity. I'm surprised to see so many of them throw away their opportunity.
A few entries down, "R———-" describes coming to Pittsburgh after living in Birmingham, Ala., for most of his life.
I liked Pittsburgh, I felt very much at ease. I got a job with a nice family in Mt. Lebanon. I was nicely treated. I did general housework. I got the job through a friend, a kind of social worker. I applied to her. Pittsburgh wasn't strange. It was like Birmingham. They're both mineral towns. There's lots of coal and steel in both of them.
Another Southern transplant, "James," describes his transition from North Carolina to Pittsburgh a little differently.
Well, now, I'm going to talk candidly with you. Only difference is a little more freedom in the South. Living conditions are just as bad and intolerance isn't much better. In a way, I guess I'd rather live in the South. From the color standpoint, it's easier. In the South you know you can't go into restaurants and places, there's no temptation. I'd rather live there; you know where you stand, and here in Pittsburgh, you can't always tell.
That spectrum of conflicting perspectives in The Negro in Pittsburgh is unique. Whether in modern listicles or Parton's "Pittsburg," there's not much room for nuance in most travel writing. Superlatives like "best" and "most" are not built for nuance. And while the modern relevance of what they're expressing is not surprising, the fact that The Negro in Pittsburgh wasn't published in its time illustrates the incentive to keep the nuances of race relations in growing cities quiet.

Fast-forward to 1985: Pittsburgh, that smoky mill town obsessed with French fries — was listed as America's Most Livable City by Rand McNally. An article in the Chicago Tribune from that time is something of a patient zero for modern travel writing about Pittsburgh.
Pittsburgh. The smoky city.
The place where the wash is white when it goes on the clothesline and gray when it comes off.
The city of iron and steel. A shot-and-a-beer town.
What follows is a format for writing about Pittsburgh that's remained relatively unchanged in the 30-plus years since: not anymore! The author goes on to list the usual suspects: the inclines, Fort Pitt Tunnel, Mount Washington view, the Point, Station Square, Three Rivers Arts Festival, etc ... The only hint of criticism is quickly snuffed out by congratulation.
Indeed, the smoke is gone — most certainly for the better, but not without its price. The demise of heavy industry in America has hit Pittsburgh hard ... The Pittsburgh region could have been devastated by the graying of its industrial base, but it was not. The city rebuilt its downtown area in the 1950s and 1960s, a process known as the Pittsburgh Renaissance.
It's easy to be snarky about the "Pittsburgh Renaissance," but many of the changes championed and celebrated over the past 30 years deserve the fanfare. It's not that Pittsburgh is undeserving of praise, it's just that the praise often seems vapid and self-perpetuating and that at such a volume, it tends to drown out any semblance of nuance or reality when it comes to writing about cities. Nuance doesn't have much place in modern travel writing (least so on the internet), but broad-stroke superlatives are insufficient to accurately describe the complexities of a modern city.
Yes, Pittsburgh has acclimated to the death of its primary industries with great success. But that growth is inseparable from the fact that black communities in Pittsburgh do not benefit from that success as much as do white residents, and often suffer for that growth through gentrification. That contradiction may not be wholly accidental, as some critics believe the lack of racial diversity is a tacit incentive to move here.
"There's this idea that younger people, millennials, whatever, that we want diversity, that we want a city that is going to have all these different populations, all these different kinds of foods ... we want the melting pot," says Damon Young. "But I don't think that's always the case. I believe that there are people who look at Pittsburgh and look at how it's still a very predominantly white city and white-dominated city. Young people, they look at that as attractive. And it's like, 'You know what, I could go to D.C., where it's super diverse, go to N.Y.C., go to Philly, or I can go to Pittsburgh, which is like the white person's Atlanta.' And again, that's for a certain population of people, that's a selling point, not a detriment."
The cities Young mentioned all have established personalities in our collective imagination, but not so with Pittsburgh. For many, it's a blank slate that anyone with a laptop and a camera can fill in for themselves. Writers may declare Pittsburgh the next Brooklyn or Austin, but the city's historic role in American industry and Western expansion give it a unique status. Couched between the Northeast, South and Midwest, Pittsburgh has long defied categorization, which might explain why so many people try to categorize it.
Reading over the past 150 years of Pittsburgh travel writing, it's hard not to recognize a pattern of contradicting narratives: unique but universal, diverse and segregated, blue-collar and intellectual, old-fashioned and modern, beautiful and shaggy, forward-thinking and antiquated. The history of Pittsburgh travel writing is the history trying to sift through these contradictions to come to some uncomplicated conclusion about the nature of American cities.