Charles Christen knows not many cities have what Pittsburgh does in the way of resources for those living with HIV and AIDS. So it concerns him to think about the number of those who aren't receiving adequate care. 
Based on statistics from the state Department of Health, 31 percent of those living in Southwestern Pennsylvania with AIDS and HIV with a history of receiving HIV-related services have an unmet need for primary medical care — such as viral-load testing or antiretroviral treatment.
And since most of that population resides locally — there are approximately 3,000 people living with HIV or AIDS in Allegheny County — it could mean nearly 1,000 individuals aren't receiving adequate care. 
"The major issue we face is [making sure] that everyone who is HIV-positive knows they are positive and is connected to care ... because medications and care work well to reduce the virus in a person's body" to undetectable amounts, says Christen, executive director at the Pittsburgh AIDS Task Force. 
In addition, more than 20 percent of those living with HIV in Pennsylvania are unaware of their status, according to the state Department of Health. And Christen says there is no definite way to know how many people are infected who don't know it and are receiving absolutely no care.
"The problem is that there are more people who aren't in care than in care," he says. "And it's the people who aren't in care that are really driving new infections."
There could be a variety of scenarios in which someone isn't in care — Christen notes it could mean they are sporadically taking antiretrovirals, which reduces the viral load of HIV in the blood, or only accessing care when they feel sick. 
It's not that there isn't adequate care here. Pittsburgh is home to two major clinics — Positive Health Clinic at Allegheny General Hospital, and the Pittsburgh AIDS Treatment Clinic — that receive funding through the federal Ryan White program, which helps them treat low-income, uninsured or underinsured patients.
"This is the gold standard of care for free," says Christen. "Not many cities have that."
That's in addition to other programs and resources, like the Pittsburgh AIDS Task Force, Shepherd Wellness Center, Pitt Men's Study, and the needle-exchange program Prevention Point Pittsburgh. Pennsylvania also has a drug-assistance program that offers drug therapies at a low cost or for free.
Advocates are working to reach everyone they can. The Allegheny County Health Department has a van to do testing. PATF, meanwhile, is looking to hire a part-time case manager to re-engage those who have dropped out of treatment. 
Reasons that those at-risk and with the disease may not take advantage of readily available care vary widely. Some get diagnosed and go to their primary-care provider "and the PCP says, 'I don't know anything about HIV, I can't take good care of you,' and they can't give a good referral," says Stuart Fisk, nurse practitioner and clinical manager at the Positive Health Clinic.
Others with HIV don't display immediate symptoms, he says.
But the stigma around the disease remains one of the greatest barriers for patients, and for health-care providers who don't routinely test for it as they would for other conditions like diabetes and cancer. 
"The provider community is not routinely testing people for HIV," Fisk says. "So when people are tested, they are being diagnosed in late stages."
Those who are at greater risk for infection have more than one sex partner, inject drugs or are men who have sex with other men, according to the Centers for Disease Control. 
 "People are really afraid of coming forward to get HIV [testing], because it means they have to come to grips with many things about how they got infected and what they're going to do," says Dr. Linda Frank, executive director of the Pennsylvania/MidAtlantic AIDS Education and Training Center. "People sometimes tend to hide their heads in the sand."
"HIV is little bits of protein that stick together that can kill you," adds Fisk. "But the stigma is in how you get it."
That often leads to those at risk not getting tested at all, or not getting into care if they test positive. Some patients fear being seen in busy hospitals where clinics are located. Others drop out of care if they lose insurance, not knowing that clinics can still treat them. Also, advocates say, the health-care system hasn't been the most adept at handling the illness.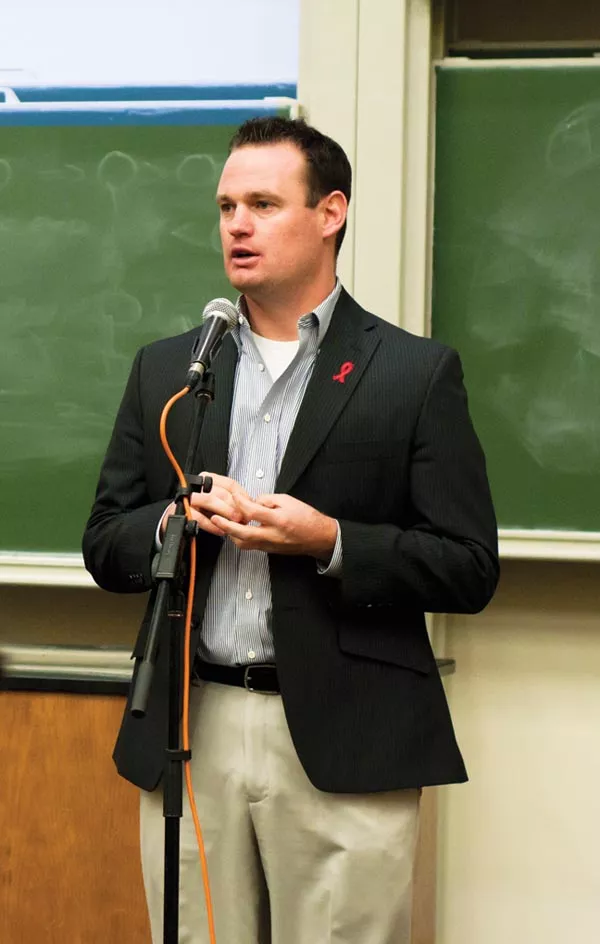 "Our system does a poor job with injection-drug users, with young poor street kids ... and people who are sex workers," says Dr. Anthony Silvestre, director of the Pennsylvania Prevention Project and professor in Pitt's Graduate School of Public Health Department of Infectious Diseases and Microbiology. "Those are the people who make up a large number of cases."
And those marginalized populations, he says, have an even harder time navigating a complex health-care system, let alone knowing where to start when diagnosed.
"Middle-class men who have sex with men have resources and the wherewithal to navigate complex systems," Silvestre says. "But when you have a 15- or an 18-year-old on the street making money through sex work, getting them three square meals a day is enough of a problem."