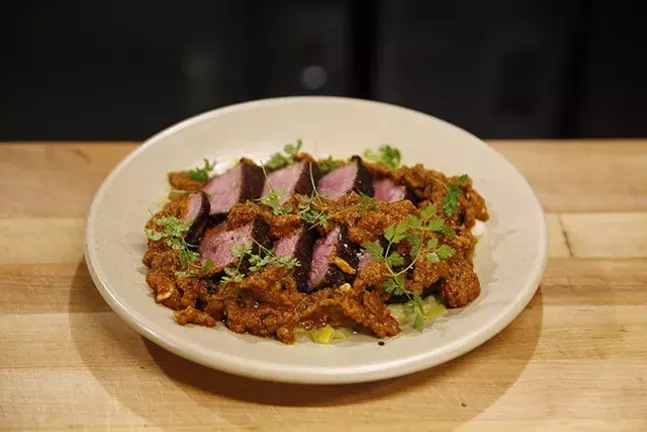 In 2015, Morcilla opened its doors in Lawrenceville and captured the city's attention with a family-style menu of traditional pintxos (small plates) and Spanish-inspired charcuterie.
But just under two years in, Morcilla was forced to close after an overhead pipe burst and damaged much of the interior. Head chef and co-owner Justin Severino (Cure) took this renovation opportunity to smooth out Morcilla's kinks. The restaurant re-opened in late March.
I visited Morcilla on a picture-perfect evening during the city's first snow, a blissful time when Pittsburghers still relish flurries. I cozied up in a corner booth and watched the snow fall from a safe, warm distance.
The inside is gorgeous. Muted oranges and browns mix with exposed brick, naked light bulb chandeliers adding a contemporary twist. Small details acknowledge the restaurant's Spanish inspiration: drying meat hung from the ceiling, a tribute to jamón shops; the wine list overflowed with Spanish grapes like garnacha and tempranillo.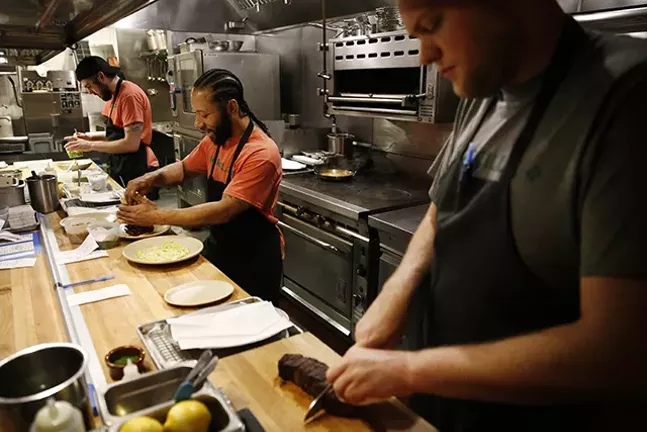 Morcilla's menu is divided into five sections: snacks, charcuterie, crudo (raw bar), small plates, and large plates. My server knew details about every dish and talked me through the menu with ease. With her help, I chose four dishes to share between two people: queso en aceite (manchego cheese, meyer lemon, padron peppers, and roasted garlic), lomo (14-month aged pork), fried sunchokes, and the oxtail montadito (braised oxtail).
The first two plates, lomo and queso, arrived quickly from a small prep area at the bar. The queso en aceite, small cubes of manchego covered in olive oil and meyer lemon, lost the cheese's classic nutty flavor to pungent citrus. It balanced when the cheese, peppers, and garlic were placed on a crostini, with the crisp bread masking the strong lemon.
My charcuterie choice, lomo, was paired with an apricot mostarda. The cut was impeccable, each slice thin enough to see through. Lomo was the perfect match for an apricot mostarda, whose sharp, syrupy character rounded out the mellow meat.
Soon after the first plates were clean, the second course arrived. I started with the sunchoke, a root vegetable similar to a potato. It was heavenly. The pieces were lightly charred and placed over a butternut squash romesco. The nuttiness of the sunchoke echoed through the dish. Za'atar, a woody spice, and chopped nuts kept the romesco earthy, nutty, and added a nice crunch.
Braised oxtail was my final dish. A crostini was stacked with oxtail and caramelized onion and finished with melted mahon cheese. I took a knife and fork to the assemblage, but it the oxtail was so tender that it immediately collapsed. The dish blew me away, with the sweet, caramelized onion leveling out the rich oxtail for a spectacular combination of taste and texture.
By the end, I was stuffed and prepared to dreamily re-live the fantastic meal. But a server walked past with fresh churros and the smell seduced me. The churros arrived freshly fried, drowned in sugar, and sitting in a searing hotbed of dark chocolate. Morcilla's churros confirmed what I had been feeling all night: The restaurant is marvelous.
Morcilla checks all the boxes: professional, knowledgeable service, an intimate, upscale but approachable atmosphere, and superb, mouthwatering plates. At my next visit, I plan to order one of everything.
Favorite Features

1. Soundproof Kitchen

During the renovation, Severino and his team decided to add sound proofing technology to the restaurant to manage noise levels. It was as if the kitchen was a muted TV. I could see and watch the staff moving, chatting, and cooking, but couldn't hear a thing.
2. Bathroom Sink

Morcilla's bathroom sink impressed me almost as much as the food. Water poured straight onto the counter, held in by a one-inch boundary. It never overflowed and never spilled. It was an architectural feat.

3. Invisible Server

My server was sensational. My wine glass was always full, and no question could stump her. I barely saw her, but she was there when I needed her — the mark of fantastic service.