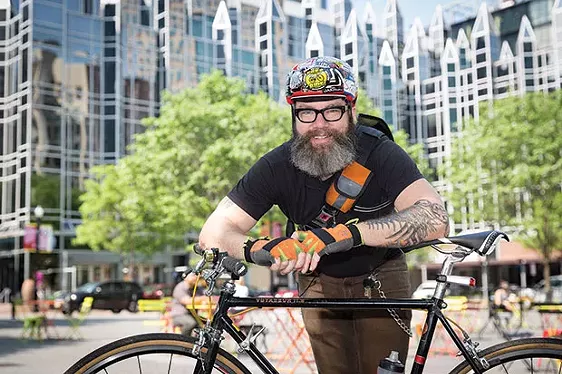 On April 21, City Paper reported about a video showing Pittsburgh City Councilor and mayoral candidate Darlene Harris getting into a verbal altercation with a cyclist. In a city where such encounters are part of cycling culture, it might be hard to convince anyone to ride a bike on Pittsburgh streets, but Scott Kowalski is determined. He's been hosting informal group rides during warm-weather months for the last couple years, and this year, he's giving his Steel City Roll rides an official schedule.
"I want people to feel more comfortable with riding in the city," says Kowalski. "It is a great way to get around Pittsburgh, and the more that people see bikers out in the street, the more people will want to ride."
On the first Monday of each month from May to October, riders can meet Kowalski at Market Square, Downtown, just before 7 p.m. Rides are free and trek to different neighborhoods, including the North Side, South Side and Squirrel Hill. Kowalski, who is also president of FreeRide Pittsburgh, a bicycle co-op in Point Breeze, says rides are 8 to 10 miles in length and tend to end at destinations where the group can socialize, like a bar or coffee shop. He says cyclists who are intimidated by riding in traffic usually ride next to him, and he offers tips and direction so that everyone is safe.
"If I can give one person the confidence to ride by themselves or ride to the grocery store, that is why I do it," says Kowalski.

The rides aren't really harrowing, either. Kowalski says routes early in the season are mostly flat and take advantage of the city's protected bike infrastructure and trails as much as possible. Either way, he says new riders would be surprised at how far they can ride.
"Your body is capable of more than your mind thinks it is," says Kowalski. "You might be out of breath, but so am I, and it mostly matters how quickly you recover. … Cardio is good for you, period."
Kowalski recognizes that some city cyclists don't adhere to all the rules of the road, and he wants Steel City Ride to help educate riders to not only be safe, but also to follow state laws.
"There is a war between cyclists, pedestrians and cars," says Kowalski. "But if I can create a safe ride with Steel City Roll, then I can give people confidence that there is a safe way to ride, and I get excited about that."
For more information: www.tinyurl.com/steelcityroll.