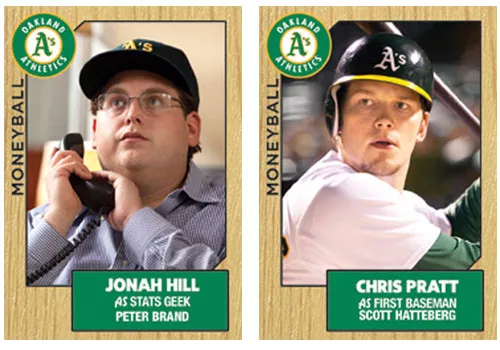 Pittsburghers already know the miseries of having a small-market baseball team, with a dinky budget to match. But that doesn't mean they won't enjoy Moneyball's extended riff on the Oakland Athletics' similar troubles, and the then-esoteric strategies their general manager, Billy Beane, employed to stem the bleeding.
Bennett Miller's Moneyball is adapted from Michael Lewis' eponymous best-selling book (subtitled The Art of Winning an Unfair Game), and has been re-fashioned into an entertaining dramedy. The film documents one year (2001-02) in the A's front office, as the organization struggles to re-group after losing three marquee players to wealthier teams. (Beane refers variously to the decimated A's as "the last dog at the bowl," "a farm team for New York" and "organ donors.")
Beane (Brad Pitt) tosses the recruiting playbook: "If we act like the Yankees in here, we'll lose to the Yankees out there," he tells a room of crusty old scouts. Instead, he works with a stats geek (Jonah Hill) to assemble a worthy but budget-friendly team. Beane perseveres, even as he faces opposition from manager Art Howe (Philip Seymour Hoffman), and privately harbors doubt about his gamble.
You don't need to know much (or care) about baseball to enjoy the film. Moneyball is more about adaptive tactics than inspirational ball-playing. Its deeper themes are about loyalty, confidence and risk-taking, all traits that theoretically matter as much in the front office as on the field. The film is tightly written, with Pitt driving nearly every scene (when Hill isn't stealing 'em).
For a film about baseball number-crunching, Moneyball has a fair bit of heart. The macro of this story -- how major-league baseball is coldly run as a business -- deserves more cynicism. But Beane reminds us twice that baseball always generates romanticism. And never more so than when the underdog team catches a beam of that winning light.
Moneyball
Directed by Bennett Miller
Starring Brad Pitt, Jonah Hill, Philip Seymour Hoffman