The season's big news includes the Pittsburgh Cultural Trust festival India in Focus. Venues throughout Pittsburgh's Cultural District will be filled with work that showcases art created in and inspired by Indian culture.
Wood Street Galleries will show videos and photographs by a London-based artist in At Home: Hetain Patel and photographs by Nandini Valli Muthiah (Sept. 25). Plus One at Space Gallery (Sept. 25-Nov. 22) will include four artists, while 707 Penn Gallery will show a set of photographs called Birth Series by Gauri Gill (Sept. 25) and 709 Penn Gallery will show A Million Marks of Home, an installation by Sarika Goulatia (Sept. 25).
Goulatia is a local artist and many other venues throughout Pittsburgh will showcase local talent. Paul Zelevansky will show Mixtape: God Bless the Child That's Got His Own, a multimedia piece, at windowSpace (Sept. 25). The University of Pittsburgh, Department of Studio Arts faculty exhibition, Reverberations is at University Art Gallery, in the Frick Fine Arts Building through Oct. 23. Moving Targets, an exhibit about passenger pigeons and European Jewish immigrants by Ann T. Rosenthal and Steffi Domike with Ruth Fauman-Fichman, is at the Christine Fréchard Gallery through Oct. 1. Tina Williams Brewer will show Coding: We Are Always There at Sweetwater Center for the Arts (Sept. 25). Seth Clark, Pittsburgh Center for the Arts' Emerging Artist of the Year, and Artist of the Year Dennis Marsico are showing through Nov. 1. And, of course, the roster of local artists is never complete without Warhol. Warhol by the Book will be on display at The Andy Warhol Museum (Oct. 10).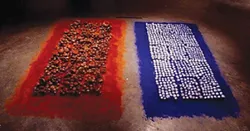 Jane Haskell's Modernism at the Carnegie Museum of Art (Nov. 7) will highlight the work and collection of the influential figure in Pittsburgh who was a board member and donor to the museum. Jane Haskell: Drawing in Light, at the American Jewish Museum will also highlight her artwork (Oct. 20-Feb. 19).
CMOA also includes a brace of additional modernism-themed exhibitions, including HACLab Pittsburgh: Imagining the Modern (through May 2); Silver to Steel: The Modern Designs of Peter Muller-Munk (Nov. 21); and The Propeller Group: The Living Need Light, The Dead Need Music (Oct. 23).
Factory Installed at the Mattress Factory (through winter 2016) is a two-part exhibition of room-sized exhibitions by eight artists or groups, two from Pittsburgh. Chosen from an open call of 500 applicants, some are already on display at the museum's building at 1414 Monterey, while the rest open on Sept. 18. In the Making, at Neu Kirche Contemporary Art Center through Oct. 2, includes 10 local, national and international artists who are participating in the Center's public-art programs.
The Pittsburgh Glass Center will show Indagare, works made by Therman Statom during his residency at PGC (Oct. 2), and Forbidden Fruit: Chris Antemann at Meissen®, at The Frick Art & Historical Center (Oct. 3), will show works in porcelain made by the artist in residence at the Meissen Manufactory artCAMPUS in Germany.
Exhibitions that engage topics that defy stigma and stereotype include Mindful: Exploring Mental Health Through Art at the Society for Contemporary Craft (Sept. 18); Les Fleurs du Male, works by Steven Miller at Revision Space (Sept. 18); and Dandy Lion: (Re)Articulating Black Masculine Identity, at Silver Eye Center for Photography (Sept. 18).