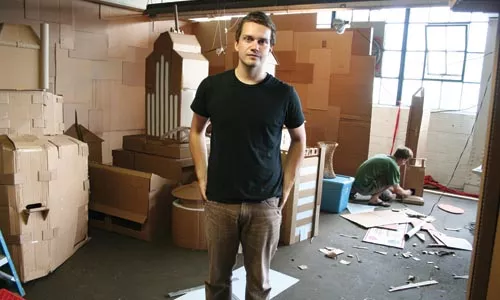 Thom Glunt isn't sure where he got the idea to build a massive model city out of cardboard. "I usually keep an idea book with me," he says. But the Moleskine journal contains no clues. Glunt is a 23-year-old film director, and his latest project is a music video of "Brittney Lane Don't Care," a brand-new song on a brand-new self-titled album by the fairly new Pittsburgh-based band, Meeting of Important People.
Glunt's idea is simple: Film the three-piece band playing cardboard instruments in a miniature city made of cardboard and held together by transparent tape. Last week, the "city" consisted of mini-skyscrapers and a vintage cardboard airplane, backed with cardboard mountains against a piecemeal cardboard sky. Built in a rented Bloomfield warehouse (nicknamed "The Nerve"), the city was brown and un-painted. Each building was portable, so the metropolis could be rearranged to fit any kind of shot.
And where does one find so much cardboard?
"Dumpsters," Glunt says. "The idea of turning trash into something valuable was too good to pass up."
Glunt, a Youngstown native, has a low-key presence, but his projects are ambitious: A graduate of the Art Institute of Pittsburgh, he is a resident artist at the Brew House arts collective, and he has already directed videos for local bands Anti-Flag, Punchline, We Shot the Moon, Outrun the Gun and Driver Side Impact; five more projects are slated. Glunt likes music videos because he can experiment with cinematography and style. He also likes that they're profitable.
"Music videos seemed like the easiest route," says the young director. "But I consider this a passion piece."
Indeed, a cardboard city in a rented warehouse costs very little, and although the final price tag is secret, Glunt takes pride in the video's shoestring budget.
The project has also attracted a small following of volunteers. Thanks to ads on Craigslist and a local online message board, 25 or 30 people visited the warehouse to help construct the refuse-based structures. The ads provided an e-mail contact, the Nerve's street address and a loose timetable (1-8 p.m., throughout the week). Many volunteers were bona fide artists, but Glunt was surprised by the participation of a cluster of actual architecture students.
Josh Verbanets, the frontman for Meeting of Important People, was very pleased with Glunt's concept. The two were introduced by a mutual acquaintance, and when Glunt described his vision of a cardboard city, says Verbanets, 26, "We got excited because we could shoot it in Pittsburgh.
"Then we realized, 'Oh, this is gonna be a lot of work.'"
Meeting of Important People is only a year-and-a-half old, but the band's popularity has exploded. Its songs have been frequently broadcast on WYEP, its CD has been signed by Los Angeles-based Authentic Records ... and soon the band will be armed with a viral music video. (For more on the band, see Signal to Noise, page 20.)
As it happens, Verbanets knew a girl in his hometown named Brittney Lane, but the song isn't really about her. "It's just a name," Verbanets maintains. The same goes for the paper metropolis: "There's nothing logically literal about our video. The song was intended to be an upbeat indie-pop song."
Nobody expects the video to air on MTV, but the team hopes for a significant Web presence. Shooting took place last Saturday, and Glunt plans to film some stop-motion animation sequences in his home.
But how do you dispose of an entire city?
Glunt wants to transport the buildings to the Brew House's art gallery, where he hopes to create a large-scale installation. "I feel guilty about destroying it all after the shoot," he says. If all goes as planned, the city will rise again.