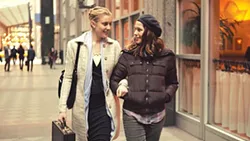 It hasn't been a bad season for mainstream and indie comedies headed by the ladies — from Trainwreck to Diary of a Teenage Girl. By offering actresses more than the standard one-note supporting roles, many of these films have opened the door to messier female characters who are infinitely more interesting — and amusing. Rounding out the summer where on-screen women could be as infuriating as men often are is the latest comedy-of-millennial-manners from Noah Baumbach, Mistress America.
Tracy (Lola Kirke) is a freshman at a college in New York City and isn't fitting in very well. But the guy her mom is marrying has a daughter who also lives in New York, so Tracy agrees to meet her new almost-step-sister. Brooke (Greta Gerwig) is 30 and, at least at first, Tracy is bowled over by her fabulousness. Brooke is a prattling whirlwind who takes Tracy to all the cool places, and outlines her burgeoning venture: a super-hip restaurant for which she just needs money and everything else.
Much of the material in Mistress is oh-so-slightly exaggerated for comic effect. It's an arch comedy, full of funny, sharp dialogue, not one word of which is how people really talk. It all builds to a lengthy set piece in which Tracy and Brooke, plus two other students, spend much of the afternoon in the chic suburban home of Brooke's former friend, Mamie Claire (Heather Lind), trying to solicit money for the restaurant. Also on hand is Mamie Claire's very pregnant friend, serving as a Greek chorus, and Mamie Claire's husband (Michael Chernus), who scrambles for Brooke's hip urbanity like it's a life preserver. It's a scene of banter, argument and revelation not unlike a door-slamming stage farce.
The film is partly an undoing of Brooke — the manic pixie dream girl who ages out — and Tracy's ultimate betrayal of her. (The student becomes the master and so on …). In a broader sense, it's another, and obvious, critique of that self-entitled generation obsessed with achievement (particularly of the cool arty sort) that can't ever seem to actually do anything. (But why just pick on the kids: The title suggests there's plenty of blame to go around in a nation whose denizens believe we are exceptional simply because we say we are.)
Late in the film, Brooke delivers a monologue espousing her philosophy, which offers some of her hard-earned, if still myopic, self-awareness: "Being a beacon of hope for lesser people is a lonely business." Truer false words have never been spoken.