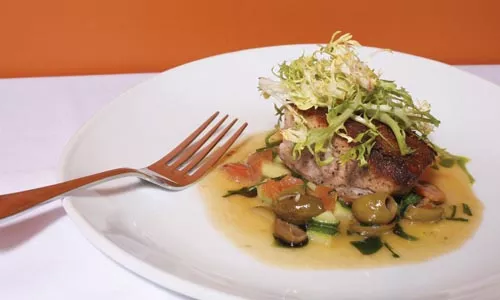 Location:
225 Commercial St., Aspinwall. 412-781-3141
Hours:
Tue.-Thu. 5-10 p.m.; Fri.-Sat. 5-11 p.m.
Prices:
Appetizers $10-14; entrees $28-37
Fare:
Contemporary American
Atmosphere:
Candle-lit bistro
Liquor:
Full bar
Smoking:
None permitted
A restaurant is a pretty nifty concept, when you really think about it. Pantry bare? Exhausted just thinking about planning, shopping for, cooking and cleaning up after a meal? Craving Italian but can't even boil pasta? Then get thee to a restaurant, sit back and enjoy. In exchange for emptying your wallet a little (or a lot), someone else will fill your belly. They'll also serve, clear, clean up and even decorate the dining room. No wonder there are so many restaurants. In terms of playing to our fundamental human need for sustenance and desire to be catered to, the business plan is simply genius.
Far fewer establishments cater as fully to our companion need to slake our thirsts with drink. Sure, there are bars aplenty, but we're talking about drink as an integral part of a meal. Many restaurants treat beverages as an afterthought, tacking the standard choices of juice, soda, coffee and tea to the ends of their menus. Some encourage patrons to bring their own wine or beer, while those with liquor licenses offer varying degrees of selection and expertise. Few restaurants treat the pairing of food and drink -- specifically, wine -- as equals in the way of Mio, an Aspinwall restaurant and wine bar opened this year by native son and chef Matthew Porco.
With candlelight from organic-formed iron fixtures flickering onto white tablecloths and terra cotta and butter-colored walls, the ambience of Mio is warm and autumnal. Parties at our neighboring tables included couples on dates and a family celebrating a birthday; Mio has all the ingredients of an upscale "occasion" restaurant, but it also draws regulars who come for the wine as much as for the food. With staff sommelier Alan Uchrinscko working the dining room, chatting amiably with customers and making recommendations from his stock of unique, artisanal wines from around the world, it's hard to go wrong.
In our case, a bottle of valpolicella that's never seen the inside of a state store managed to beautifully complement a meal that spanned seafood, poultry and pork. An appetizer of tiger shrimp ravioli featured its own array of tastes and textures: al dente pasta wrapped sweet, tender shrimp, brightened by a lemony sauce with fruity tomato, while a lightly dressed "salad" of shredded crabmeat topped it all off. Alongside, toothsome young kale held the sauce while adding a slightly earthy flavor.
Braised pork ragu featured tender meat and crisp, colorful vegetables over gnocchi that rescued the reputation of this often dense, heavy, sticky pasta. Chef Porco's were the lightest, fluffiest, creamiest gnocchi we've ever had, and there were a lot of them, making an appetizer of almost entrée proportions.
This left Angelique more sated than salivating by the time her pan-seared red snapper arrived. But she rallied for a dish that was a triumph of layered flavors and balanced textures: a bed of smooth, sweet parsnip puree, sweet corn and astringent tomato, gently tangy saffron aioili and fish that melted in Angelique's mouth beneath a savory, crisped exterior.
Crispy Pekin duck breast was only just crisp, but the meat was moist and medium rare. Almost outshining the duck itself was the "melted" cabbage, tender shreds studded with tiny bits of still-meaty bacon -- evidence of superb kitchen technique. The sauce was a rich blend of armagnac reduction and cream. This was, again, a dish finely balanced among its component flavors.
We normally share one dessert, but the offerings of pastry chef Barbara Ferguson enticed us to order two. Cocoa nib crème brûlée featured diced poached pears atop the crisp caramel surface of a mild custard that tasted more like chocolate milk than death by chocolate, proving that the dark master, the cocoa bean, can also rule with a lighter touch. An accompanying cookie had a sophisticated, not-too-sweet cocoa flavor.
Lemon cake was dominated by smooth lemon curd and light lemon sauce, both tart with true lemon flavor. A scoop of incredibly creamy dulce de leche ice cream was the perfect foil to keep the puckers at bay.
At Mio, quantity and quality are both on the menu. Some diners will appreciate the fact that Mio's prices buy substantially larger portions than at comparably upscale restaurants. But after trying to decide who was going to roll whom home, we must confess to feeling that a few dollars less and a few morsels fewer would result in a more accessible meal -- without leaving anyone nibbling on the parsley. Still, there are plenty of restaurants where you can pick a wine to go with your food; Mio stands out as a place where the opposite is not only possible, but delectable.
JR:

AB: