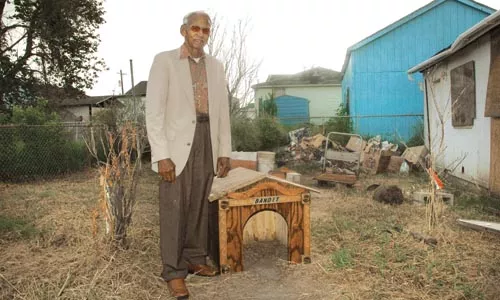 "I never thought I would lose Bandit the way I did."
So laments Malvin, an 85-year-old New Orleans resident who survived Hurricane Katrina, only to return to his destroyed home and find his little poodle gone. Bandit was lucky -- he was found by rescuers soon after the storm and relocated to the Pittsburgh area -- but that was just the beginning of Malvin's ordeal.
We could be here for days itemizing the casualties and enduring crises wrought by Hurricane Katrina, among our nation's worst disasters and subsequent institutional failures. Instead, Geralyn Pezanoski's documentary, Mine, focuses on one unforeseen and heartbreaking aspect of Katrina: what happened to the pets that residents were forced to leave behind. The work is inevitably sentimental, but also quietly provocative.
Pezanoski, a San Francisco-based filmmaker, initially went to New Orleans to document animal-rescue efforts. The 80-minute film opens in the early days after the 2005 storm, as volunteers worked to rescue trapped, hurt or abandoned animals. Pezanoski later returned to track the trials of several residents searching for their lost dogs.
Sad-eyed dogs and cats always generate sympathy, but in the wake of such a tragic disaster, one may well ask: Why helpless pets over helpless people? For those working to capture some of the estimated 165,000 Fidos and Fluffys left behind by Katrina, though, their efforts meant saving pets for people. "If you save one dog, you've saved it for that person who has lost everything," explains one rescuer.
Certainly the storm victims depicted here would concur. Linda, who returned from a forced evacuation to find her German shepherd gone, cries: "We lost everything but our mind ... that dog meant so much to us, 'til it's ridiculous. I would give anything for her to be back."
But many of the 15,000 spared animals didn't have an easy journey home. The post-storm chaos, the hodgepodge of rescue efforts and the eventual distribution of unclaimed animals to shelters nationwide meant that owners -- many of them poor or elderly -- faced tremendous challenges in retrieving their pets.
Among them: Victor, who found paw-print evidence in his muddy yard that his Jack Russell terrier had not perished; Gloria, a retiree whose search for her missing Lab was undertaken by more Internet-savvy strangers thousands of miles away; and Malvin, stuck in Houston for months waiting for a FEMA trailer.
Then there's Jessie, a hotel worker whose bond with his dog J.J. was part of his recovery from homelessness. During the hurricane, Jessie evacuated 20 family members. He had to leave J.J. behind, but left food and water for the couple days he anticipated being away. Upon returning and finding his pet missing, Jessie was devastated: "[I think] how J.J. must have been [during the storm], and I wasn't there. How scared he was. I know I should have been there for him."
(Over the year that Mine documents, Jessie suffers the cruelest highs and lows as he learns of his dog's fate. Missing from Mine's coda is the recent news that Jessie and J.J. were finally reunited. After seeing the film, you'll be glad I "ruined" that part.)
Pezanoski takes us to the new homes where most of the missing pets ended up, but getting them back to New Orleans isn't so simple. In some cases, the new owners refuse to relinquish the animal, citing their own emotional bond. Others claim that the dog now has a "better" home. (One dog ends up with TV's Dog Whisperer, but this isn't as great as it seems.)
Under the law, domestic animals are property, which legally negates any emotional argument for the pet's return. Add to this the onerous judgments made by some new owners that previous owners had "abandoned" their pets. There are strains of classism here, to be sure -- though mostly what struck me about these claims was the startling lack of empathy or even sympathy. A Canadian woman, who worked to reunite Malvin and Bandit, noted that some well-meaning adopters "got tunnel vision about the animals and forgot about the human who was attached to them."
A few of these dog-custody battles turn, inevitably, into lawsuits. (Students of karma should note that the new owners who responded least selfishly were ultimately paid back in equal good fortune.) Pezanoski tries to depict all sides fairly -- from distraught pet owners and frantic rescuers to animal advocates and new owners who felt their own compassion had been betrayed. What emerges is a patchwork of failed good intentions, nearly irresolvable in the massive chaos of Katrina, and the gap between how we feel about pets and what the law says.
But in these cases, the dogs were not simply lost property. For folks who lost everything, having their surviving pet removed was the ultimate heartbreak. Damaged households could be replaced, scattered relatives reunited, but the dog they loved was irreplaceable.
One final note: If you think Mine sounds like a three-hanky movie, you'd be wrong: You should pack at least half-a-dozen tissues. Starts Fri., Feb. 12. Regent Square