The title of Min Jin Lee's most recent novel might seem at odds with the story's epic sweep.
Pachinko is a pinball-like gambling game that has been popular for decades among Korean expatriates in Japan. In contrast, Lee's novel Pachinko (2017, Grand Central) takes place over a century, telling a multi-generational story of the immigrant struggle to survive and adjust in new surroundings.
However, Pachinko parlors were crucial to the survival of many Koreans expatriates in Japan during and after World War II. "It was the only place of employment for many men, and some women," says Lee, who appears April 1 at Carnegie Music Hall in Oakland in the finale of Pittsburgh Arts & Lectures' Ten Evenings' 2018-19 season.
"It was one of those places where they would hire you without checking out your references because a lot of Japanese didn't want to work there," says Lee. "And very often, until recently, it gave housing as well as food. They had dormitories. If you go from one city to another, you could get housing, food, and a job, all rolled into one. That's a pretty big deal."
Pachinko is kin to The Life of Pi, The Kite Runner, and Half a Yellow Sun, novels that illuminate places unknown to many American readers. Lee's story —a poor family that makes its living through fishing and hosting lodgers in a tiny house on a small island in Korea — is dizzying in scope and detail. A finalist for a National Book Award, Pachinko was one of the best reviewed novels of 2017.
Lee spent nearly three decades writing Pachinko.
"I don't know what made me spend most of my adult life working on this book except that I felt very strongly that something was wrong in this picture. The more I explored, it felt really dark," says Lee. "And then I started to see all the light as I talked to people. I thought that was an interesting thing, that my perception of it was wrong versus the reality of it."
There is a purposeful dichotomy in Lee's characters. Most of the men — Joseb, Noa, Isak, Solomon, and Mozasu — are named after biblical characters. But Sunja, Kyunghee, Yangjin, Dokhee, and Bokhee have non-Christian names.
A line in the book — "No one should expect praise, and certainly not a woman" — further illustrates the differences in how men and women were treated.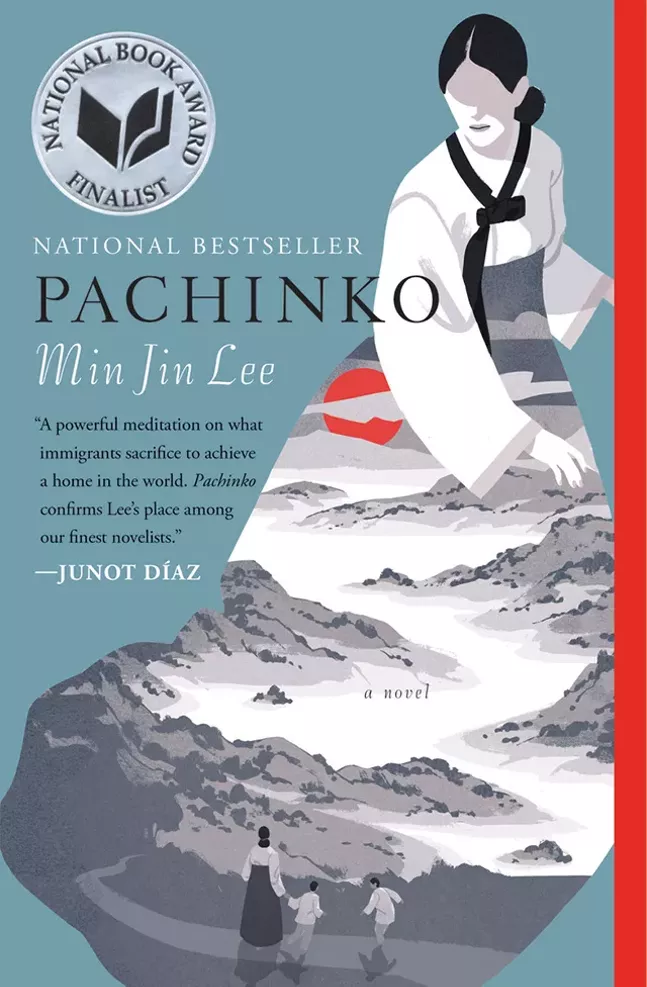 "Whether you like missionaries or Christianity or both, the role of Christianity in the late 19th century, the 20th century, and even the 21st century in Korea is incredibly profound," says Lee. "And one the things Christianity does is increase the education of women, increase the awareness of civil rights for working class people.
"And in terms of the contrast between men having biblical names versus women, when families are naming their children, they wanted to give their sons these important biblical names, whereas the girls weren't seen in that way. I don't think they had a feminist reading of Christianity."
Pachinko is the second book in a planned trilogy that started with Free Food for Millionaires.
Recently, Apple ordered an eight episode adaptation of the novel, much to Lee's delight and disbelief. "More than anything I'm surprised that this happened," she says. "I wrote a book about a very tiny population. Its history is almost never taught, even in Asian nations. The fact that it's going to become a series that will be shown on every Apple device in the world is such a shock."

Min Jin Lee, Pittsburgh Arts & Lectures Ten Evenings, 7:30 p.m., April 1. Sold out. Carnegie Music Hall, Oakland. 412-622-8866 or www.pittsburghlectures.org
---
Between the Lines
The first Carnegie library is turning 130 this year. Braddock Carnegie Library, designed by William Halsey Wood in a medieval style and dedicated with fanfare by Andrew Carnegie, will celebrate its birthday March 30 with activities for the entire family. Starting at noon, there will be tours, readings, and other activities leading up to a re-dedication ceremony starting at 3 p.m. All activities are free and open to the public.
Braddock Carnegie Library, 419 Library St., Braddock. 412-351-5356 or braddockcarnegielibrary.org