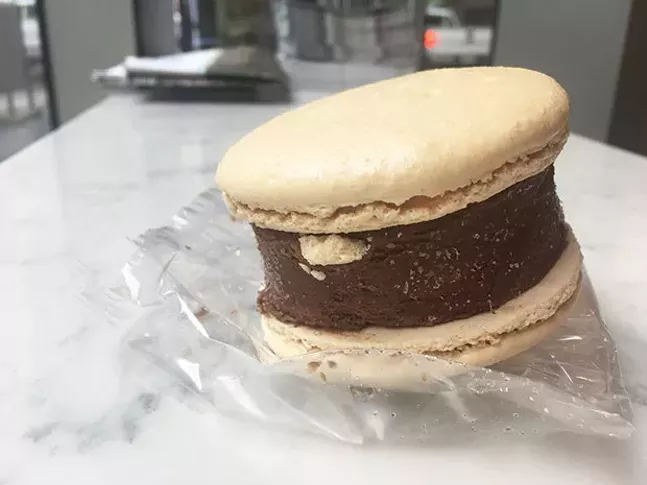 For the last couple of years, Millie's Homemade Ice Cream has been tantalizing Pittsburgh with its treats — small-batch ice creams sourced from local ingredients. Now Millie's has teamed up with Macaron Bar to create ice-cream sandwiches topped and bottomed with the artfully crafted, slightly crispy, slightly chewy French cookie.
"[Macaron Bar] approached us. They are a Cleveland-based company, and had recently expanded to the greater Pittsburgh area. They currently operate a kiosk in Ross Park Mall, but are looking for a brick-and-mortar location in the city," writes Melissa Horst, retail operations manager of Millie's Homemade, via email. "They have a relationship with a gelato company in Ohio, and were searching for a like-minded ice-cream maker based in Pittsburgh."
The result of the partnership is this decadent sandwich, currently available at both of Millie's shops, as well as at Macaron Bar, in Ross Park Mall.
Currently, Millie's offers two flavors: Best Chocolate and Vietnamese Coffee. And good news for those with gluten sensitivities: Macarons are made with almond flour and are gluten-free.
"Macaron Bar currently has more flavor options available than the [ice-cream] shops, but we will continue to experiment with different flavor options," says Horst.
It's an inspired pairing: The texture of the macaron holds up well to the richness of the ice cream. The temptation is to tear off the wrapper, but patience is advised. "We recommend guests allow them a few minutes to come to temperature before eating as it enhances the flavor and texture of the sandwich," notes Horst.
In addition to serving up macaron sandwiches, winter flavor offerings are in full swing at Millie's. The roasted-pear almond combines the nutty-buttery taste of almond with crisp fruit flavors, while the black-walnut molasses is a marriage of dark, rich flavors. For a throwback flavor, try tin roof — that classic blend of vanilla, fudge and peanut.
And it's not all about the frozen treats: When's it chilly outside, consider warming up with a hot chocolate from Millie's downtown location.