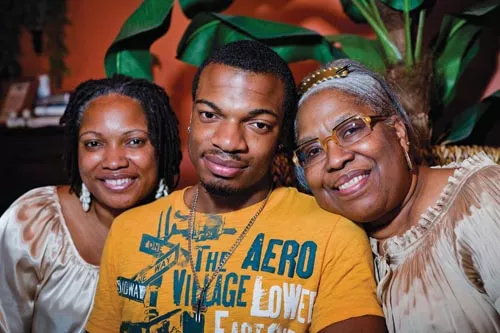 Since his arrest and beating at the hands of three undercover city police officers last year, Jordan Miles has been the face of efforts to reform the Pittsburgh Police -- whether he wanted to be or not.
Miles was beaten by three members of an anti-gun task force, who claimed they mistook a bottled soft-drink for a gun -- no trace of either was found -- and said Miles tried to run from them and resisted arrest. But photos taken afterward of the CAPA High School honors student, his face swollen and his scalp raw, became a flash-point of controversy across the city.
Those protests gained new vigor after May 4, when U.S. Attorney David Hickton announced that the officers involved in the beating -- Michael Saldutte, Richard Ewing and David Sisak -- would not face federal charges, due to a lack of evidence. Soon after, city officials announced the officers would be reinstated to the force. At rallies held May 6 and May 14, protesters hoisted signs bearing Miles' beaten and bruised face, and urged District Attorney Stephen Zappala to press charges against the officers.
Miles himself, however, has kept a low profile for much of the past year. He has spoken to the media on just a few occasions, preferring to leave public comment to his mother, his lawyer and the activists. City Paper sat down with Miles on May 14, an hour after the 19-year-old attended a protest on his behalf outside Pittsburgh Police headquarters on the North Side.
Because he has filed a civil lawsuit in the matter, Miles could not speak about the beating itself. But with the family puppy gnawing at his shoelaces, he did discuss his reaction to the feds' decision, his discomfort with the spotlight, and what he hopes will happen next.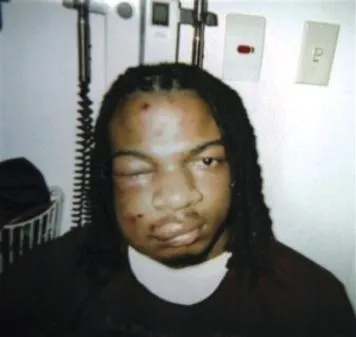 An hour ago, you joined dozens of activists and community members protesting your treatment by police. How did it make you feel seeing demonstrators demand "Justice for Jordan"?
I was pleased to see everybody who is supportive of me in the case. ... What I went through was really tough, and people that are not even related to me reached out. They know the injustice. It really made me happy to see everybody come together and try to support me.
This was the first time you attended a demonstration on your behalf. Why haven't you attended earlier protests?
I'm more of a shy person. I really don't like to be the center of attention. I came today because my mom talked to me about it, and we thought it would be a good time to come out. I know that I don't have to go to every rally, even though they are for me, but I would like to go to some.
How do you react when you see photos of your badly bruised and swollen face posted on signs and fliers, or in the media?
Every time I see that photo of the beating I suffered on Jan. 12, I relive that event. It plays back in my mind everything that happened. It's getting to the point where I'm a little more comfortable seeing everything. I don't mind having my face on posters -- as long as people get the message that this is what happened and this should never happen again.
[Being the subject of these protests] really wasn't comfortable at first. It really took me out of my comfort zone. ... But as long as it's for a good cause, to prevent what I went through from ever happening to anybody ever again, then I'm willing to become the poster child.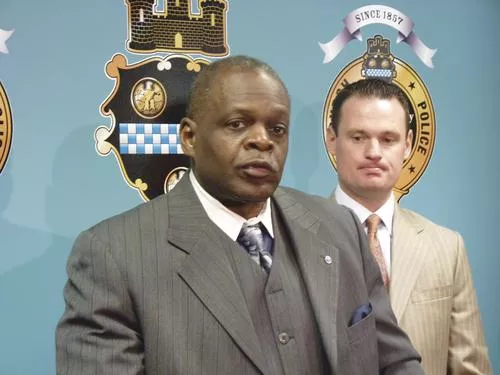 The federal investigation into your arrest lasted for more than a year. How confident were you that the three officers would face criminal charges?
I was very confident. When we went to court and they dropped the charges [against me], and [the officers] went on paid leave, I believed that they were going to get charged. ... [I]t was a real disappointment to find out that they got their jobs back. It was completely shocking. I couldn't see this coming.
How did you first learn that charges would not be pressed?
There was a meeting [on May 4]. My mom, myself and my lawyer attended. There were about 12, maybe 14, different representatives from all over the place. They sat us down and said they weren't going to press any charges on these cops and that they were going to get their jobs back. ... [I]t was just such a letdown. I got depressed, and I just wanted to be alone at that point.
The same day the U.S. Attorney's office dropped its case against the officers, the city's Office of Municipal Investigations did the same. Were you surprised at how quickly the city closed its investigation?
I think that if the city was going to do anything about the case, they would have done it a long time ago. I kind of saw that coming. It was kind of in the back of my head, but I did not want it to come true.
When Police Chief Nate Harper announced that the officers would be going back to work, he said there was no evidence that there was any wrongful conduct on their part. He also said he's "very comfortable" bringing the officers back. How comfortable are you?
I'm not comfortable at all. They can do [what they did to me] to just about anybody. ... I don't see any reason for them to go to the level of brutality given to me. Those cops, they are brutal and they were wrong. And I would really like it for them not to be back on the streets.
Harper called the incident a "teachable moment," and said, "We would hope that young people realize that when a police officer approaches them, and they've done nothing wrong, to see what the police officer wants instead of running away." What's your reaction?
When I first heard that, it almost made me want to laugh, because he said that statement as if I knew that these were cops. If I knew that these were undercover cops, then I would have obliged to anything that they asked for. ... [T]he fact that they did not identify themselves as cops was the reason why I ran away. If they did, then I would have obliged. I don't know if he believes that I did not know that these were cops or not, but he's speaking as if I did, and [saying] I ran as if I felt like I was guilty of committing a crime.
Reportedly, District Attorney Stephen Zappala is still deciding whether to file charges against the police. How confident are you that he'll do so?
I'm not sure what he will do, but I'm just praying that he does. I know that once he presses charges on these cops, then they will most likely lose their jobs, which is what I would like to happen.
After everything that's happened, how do you feel about the effectiveness of the justice system?
To me it seems like, if these weren't cops, then things would have been different. They would have been behind bars. But because they are cops, they can get away with this and nothing happens to them.
What was going through your head in the days just after the Jan. 12 incident?
"Why did this have to happen to me? Why did they choose me out of anybody else?" I couldn't believe everything that happened. I didn't think it was real. I thought it was a dream. I was afraid to go outside for a long time, especially after dark. I didn't want to be seen by anybody. My self-esteem dropped really low.
I have had nightmares for a long time after everything happened. I wouldn't say I still have nightmares now. [But] it's still on my mind.
What was it like finishing your senior year of high school in the midst of the investigation?
It was really tough. I started my senior year off really strong: I had all A's and one B the first report period and the second report period. This thing happened at the end of the second report period. After I came back to school ... I couldn't put it behind me because people would bring it up constantly. It was really hard to focus on my work without thinking about everything that happened to me. I was still suffering [physically]. I had to go to therapy three times a week and see a psychiatrist as well. My grades dropped from all A's and one B to B's and C's and a D. It's been really hard to get back on track, and it's still hard to focus in school to this day.
Have you heard from others who say they've had bad encounters with police, too?
Yes, there's been numerous people who told me that they know somebody, or they themselves have been a victim of police [brutality]. ... It let me know that I wasn't the only one that was going through this -- that this type of thing was happening all around and not just to me. And it needs to stop. They've been kind of leaning on me to be the one to end it all. I know that this is bigger than just me. It's for a lot of people who have been in similar situations.
You enrolled at Pitt Bradford in the fall of 2010, but you later decided to leave the school to go to Penn State Beaver. Why did you switch schools?
Pitt's campus was a good campus. I liked the classes, but there was a little too much partying. I'm not the party type, especially now. I just wanted to keep to myself. ... I wanted to come back and be closer to my family, where I can be motivated and feel their support.
What are you studying? I heard that you considered studying criminal justice.
Coming out of high school, [criminal justice] was definitely a thought, but I'm actually studying business administration for right now. I wanted to learn the field and become a real-estate developer.
How do you react when you see a police officer now?
I know that there are good cops out there, and I know that there are some bad cops. But when I see a cop, it immediately brings me back to what happened to me on January 12 of last year. I try not to let it affect me because I know that that cop may not be like the three that I had the encounter with, but it's kind of hard.
Do you feel in any way like police are paying more attention to you now?
Yeah, definitely. I feel as though they know who I am, that they recognize me. And any opportunity that they have to catch me slipping and doing something I'm not supposed to be doing, they'll take advantage of that and try to bring me down.
During last year's St. Patrick's Day parade, police officers wore shirts expressing support for the three officers who arrested you. How did that make you feel?
I know that there is a brotherhood, and they stand behind each other and they can't turn their back on each other and everything. I know there are good cops, but they're all just being suckered in by all the bad cops. If they were to stand out [against the three officers], then they would be criticized, probably even lose their jobs.
Mayor Luke Ravenstahl recently said that it's now time for the city "to heal the relationships between our police ... and the people they are sworn to protect." How do you think the city can be properly healed?
I believe that if there are more people that come out and protest against this injustice, things will change.