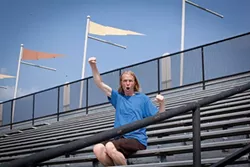 The rock on the side of Mount Washington is getting blasted away, but that would be the perfect place to put a Pittsburgh Mount Rushmore. My nominees for all-time contributions would be Fred Rogers, Jonas Salk, Rachel Carson and Andrew Carnegie. Because of those four, we can go to free libraries in an environmentally safe, friendly neighborhood with no polio. Take that every other city.
Our contribution to sports is almost as great. For instance, an all-Penguin Mount Rushmore is easy: Mario Lemieux, Jaromir Jagr, Sidney Crosby and Yvgeni Malkin. Since sports is so ingrained in this town, here are my other Mount Rushmores for Pittsburgh sports. For parity's sake, these players are from the last 50 years, the length of time the Penguins have been around.
The Steelers: Joe Greene, Franco Harris, Jack Lambert and Jerome Bettis. Of course I am omitting around 20 or more other Hall of Famers. The Steelers themselves could construct about seven more Rushmores, including guys who are on the way to the Hall. In contrast, Cincinnati would have to carve the face of its only Hall of Famer, Anthony Munoz, four times.
The Pirates: Roberto Clemente, Willie Stargell, Barry Bonds and Andrew McCutchen. This one is basically inarguable. Also, it's pre-steroid-era Bonds, so the shape of his head would be normal-sized.
College Coaches: Johnny Majors, Jamie Dixon, Bob Rager and Dan Burt. Majors and Dixon are shoo-ins, while Bob Rager has more wins than any other college coach in town and deserves his due. And Dan Burt just signed an eight-year — yes, eight — contract. His tenure of greatness at the helm of the Duquesne women's basketball is just beginning.
Mullets: Sadly enough, I agonized over this category the longest. My final four are Jaromir Jagr, Doug Drabek, Zane Smith and Darius Kasparaitis. DK's was a little wispy, but solid. Zane Smith's was good, but not as good as Drabek's. Drabek actually pulled it off nicely, but Jagr's is legendary. Aerodynamic and full of volume, I would go so far as to say that I would put his on the all-time list with Andre Agassi, Billy Ray Cyrus and Jake "The Snake" Roberts. It's the finest Camaro Crash Helmet you may ever have seen.
Pro Wrestlers: Bruno Sammartino, Kurt Angle, Larry Zbyszko and Shane Douglas. Sorry to all the Dominic DeNucci and Big John Studd fans. Zbyszko and Bruno wrestled in the era when it was hairy overweight men in Speedos, nothing weird or flashy. Today's kids just don't appreciate the era of no-frills wrestling.
Play-By-Play Announcers: Bob Prince, Bill Hillgrove, Mike Lange and Greg Brown. Brown just made the list with his call of rookie Josh Bell's grand slam in his second big-league at-bat against the Cubs. Plus, he gets points for longevity; the other guys announced for good teams. For those 20 long years after you and I turned off the game, when the Pirates were perpetually down by seven, Brown had to stay and witness it all. Plus, he is pretty good.
Worst Free-Agent Signings: Derek Bell, Ziggy Palffy, Jay Riemersma and Jeromy Burnitz. This is a bust of busts to be sure. Bell is the king after getting paid $4.5 million by the Pirates just to leave. Before that he took in another $5 million for hitting .173. Burnitz had eight seasons of 25 or more home runs, including a combined 61 in the two years prior to signing with the Pirates in 2006. He hit just 16 in PNC Park and took $6 million for his effort. In two years with the Steelers, Riemersma got $45 million for catching 17 passes (that's $265,000 per catch). Palffy signed with the Penguins for more than $13 million and left after just one year. So, if you're adding it up, that's $33 million for 17 catches, a .173 batting average, 16 home runs and 42 points. All of these monuments could be sculpted for far less than that and they would provide far more entertainment.