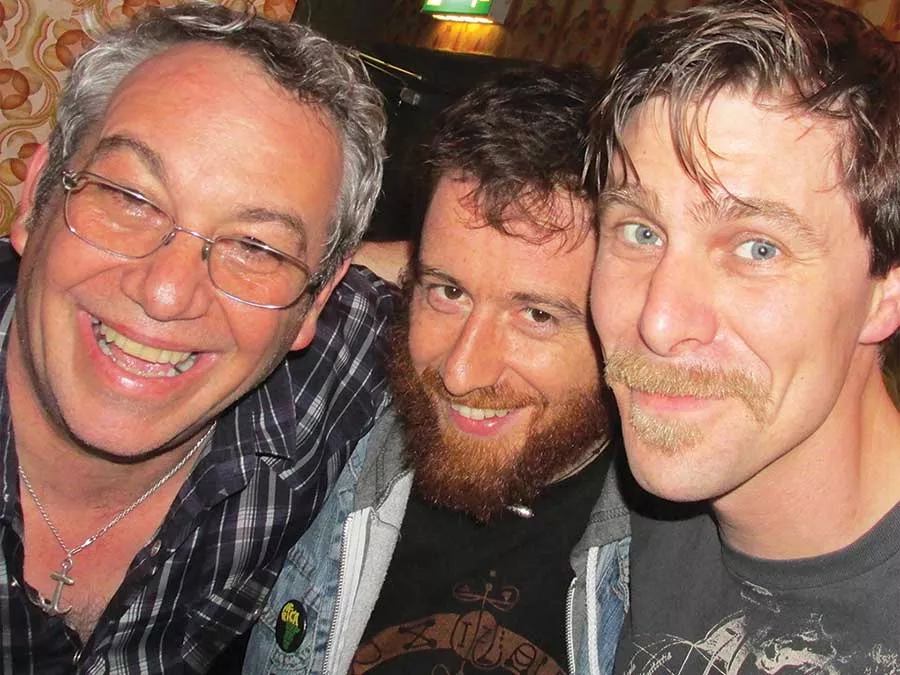 Bassist Mike Watt's prolific career began in his early adolescence, when D. Boon fell from a tree as Watt was passing through the area. Strangers to one another, the two struck up a conversation, which led to a friendship. That friendship eventually escalated to the formation of the hugely influential punk band Minutemen. Watt is attuned to the fact that his role in Minutemen was seeded in chance encounter.
When D. Boon died tragically in an automobile accident, forcing the dissolution of Minutemen, the lesson Watt learned was to remain open to the artistic opportunities that present themselves, and to extend a helping hand where he could. It's a simple philosophy, but Watt embraces it with monastic dedication and, as a result, has found himself collaborating with artists as diverse as Iggy Pop, visual artist Raymond Pettibon, Sonic Youth and J Mascis.
Watt keeps his lines of communication more open than most artists of his stature. So he is often sent material by artists seeking feedback and desirous of sharing their music with Watt as he has shared his with them over the years. As an outlet for this wealth of largely under-the-radar material, Watt created the Watt from Pedro Show, currently available as a podcast; on it, Watt plays an eclectic mix of material he's received, along with anything else that excites him. "I think one of the things I've learned is that if I've got my mind open enough, everyone's got something to teach me," Watt says.
For many new artists, Watt's encouragement is enough to get them over the initial intimidation and rejection implicit in starting out. "Mr. Watt hit me up in the MySpace days," recalls Tom Fec, known for his work with Black Moth Super Rainbow and as the solo artist Tobacco. "He's the guy I think of to remind me why I do what I do when all the noise around me is making me cynical. ... I wouldn't be surprised if he understands my music better than I do."
Il Sogno del Marinaio, Watt's current endeavor, began when guitarist Stefan Pilia reached out to Watt, following a stint supporting him while Watt was touring Europe with his second opera. After working with Watt on tour, Pilia's initial intimidation at Watt's reputation as a punk-rock legend diminished. "I immediately felt a strong sense of familiarity with him. I knew about his history, but as soon as I met him, his humanity just overwhelmed his history," Pilia explains. Now touring in support of a second album, Canto Secondo, Il Sogno del Marinaio's songs are in keeping with band's nautically themed name, as sprawling as the seas themselves, yet steered as tightly as the ships that cross them.
For Watt's part, he seems to have chosen the artist's life as a vehicle for human interaction. "I'm not a musician; I got into playing bass to be with D. Boon. So my first motivation for music was to be with my friend," Watt says. He is clearly honored to be afforded such chances and feels a responsibility to honor each one that presents itself to the utmost. "I only do as much as I can handle. The worst thing in the world is having to tell someone 'no,'" Watt says.
"If you are going to do something for someone, you can't do it half-assed," he continues. "I try to look at it as the 'O' word, opportunity, not the 'B' word, burden."