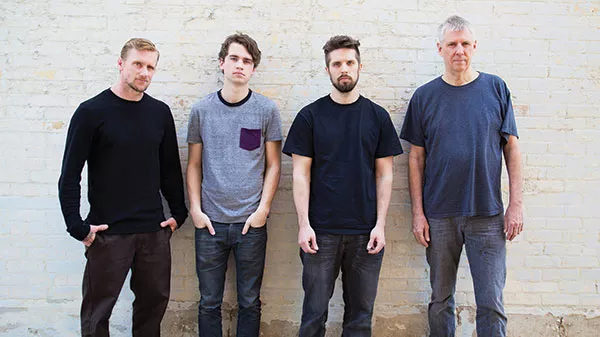 Even in the best of times, internal turmoil was implicit in the description of legendary hardcore outfit Black Flag. (See one-time frontman Henry Rollins' essential tour diary, Get in the Van.) Given the band's ramshackle legacy, which was marked by shifting line-ups, spit-soaked shows and even police surveillance, it should come as no surprise that the band's 2013 reunion would be fraught with controversy.
This time around, however, the issues at stake were decidedly less punk. Greg Ginn, Black Flag's founder and arguably its leading creative voice since its inception, sought to bar former Black Flag singer Keith Morris (also known as the frontman for the now-defunct Circle Jerks and Off!) and other former Black Flag members from using the Black Flag name and iconic black bars logo: They'd been promoting their own outfit, Flag, which also featured performances of Black Flag classics. In a move more befitting his age than his reputation, Ginn sought resolution through litigation.
Over the latter half of 2013, the dispute played out publicly and in real time, as Ginn (via representation), Morris and bystanders with more opinions than skin in the game took to various media outlets to air their grievances. Like an aggro-Rashomon, accusations and insinuations abounded as the various stakeholders weighed in with their perspectives on the situation, revealing to a mainstream audience the gossipy side of the often-insular punk scene.
April 2014 brought a rather anticlimactic culmination to the affair, as Black Flag announced the suit brought by Ginn and his label, SST Records, was settled in an agreement signed by Ginn, SST Records, and former Black Flag singers Henry Rollins and Keith Morris. The settlement confirmed ownership of all Black Flag recordings and the Black Flag logo by Greg Ginn and SST Records, stipulating that Flag cease its use of the logo in promotion of Flag shows and releases.
Enter Mike Vallely. Though he's best known for his almost-mythic skateboarding skills, Vallely's varied résumé has also included work as a stuntman, a stint in the Federal Hockey League, and a music career dating all the way back to 1985, including a few one-off shows with Black Flag. In 2013, Vallely partnered with Ginn to form the punk outfit Just For You. Since Black Flag's reformation, Vallely has been acting as a co-manager and publicist, helping Ginn to navigate the uncharted waters the band faced. The mid-show exit (or firing, depending on who you ask) of Ron Reyes in November left Black Flag without a singer. In January, Ginn announced that in addition to co-management duties, Vallely would assume vocal duties for Black Flag.
Now that he is the mouthpiece for Black Flag both on- and offstage, Vallely has brought Black Flag closer to its aggressive DIY roots. He has no doubt in his choice to sign on as singer.
"It was just the obvious thing to do," he says. "Ron Reyes had quit the band. It was do or die. Instead of letting the band and the music end on this unresolved, negative note, we chose to move it forward." Despite his varied career history, which seems informed in equal parts by both opportunity and genuine desire, Vallely is focused on his new role. "It's a fun opportunity, but I am also committed to this for the long term, no doubt."
Like Henry Rollins, Vallely was a fan of Black Flag long before he became involved with the band, and it affected him deeply. "1984, Trenton, New Jersey," Vallely says. "It was an important night for me. I was 14 years old and it was the first live music I'd ever witnessed. The show, the music, the energy and intensity had a very profound effect on me. It was the moment when, in a way, I really began living my own life as I know it. It was a spark of true inspiration."
From Vallely's perspective, his new role is a natural fit, stemming from the chemistry between him and Ginn. "We have a very strong friendship and partnership," Vallely says. "There's a lot of respect there, as well as simple, straightforward communication. Musically and creatively we are on the [same] page. My singing for Black Flag comes from a place of strength. There is nothing to disagree about. Just work to do.
"With the lawsuit behind us, we can now just focus on putting the music first without any confusion about who or what Black Flag is."
Rosters aside, Black Flag's initial run, from 1976 to about 1986, inspired a legion of fans. Many followed Black Flag's war-like imperative to the letter, forming their own bands. Those who didn't adopt Black Flag as a lifestyle still received its message of aggression against the status quo, a lesson they carried into the world at large. While it may be easy to dismiss the dispute between Black Flag and Flag as rock stars arguing about first-world problems, it's important to note that during Black Flag's initial storied run, life in the band was a grinding struggle, a constant fight for the rarest and most marginal of victories. Spoils of that fight are a long time in coming.  It should come as no surprise that everyone who suffered for and in Black Flag should want a share.
It's hard to say whether the band's influence was ubiquitous enough, its fans impassioned enough, to allow both Black Flag and Flag to co-exist profitably, but it isn't implausible. For his part, Vallely seems to be determined to recapture Black Flag's defining essence by any means necessary. When asked what Black Flag meant to him upon hearing the band for first time at14 , Vallely's answer is unequivocal: "Freedom. Still does."