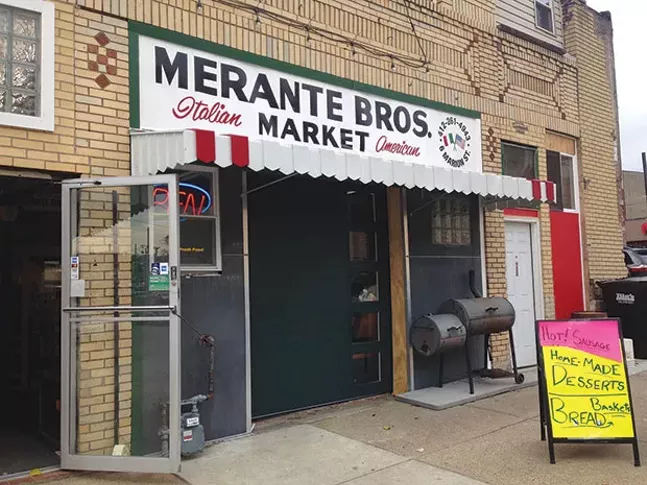 The Merante Bros. Italian-American Market, in Uptown, has reopened after decades of inactivity. And other than some new floors, a new façade, some upgraded appliances and fresh paint, not much has changed; the owners are intent on trying to maintain as many of the old market's traditions as they can. Members of the family that run the market, the Merantes, are still salty with each other, and traditional Italian-American dishes are in abundance, like hot sausage in tomato sauce.
"I thought, 'Just to do hot sausage once a week,' then I realized people want it every single day," says Marco Merante, who runs the shop with his father, Pasquale Merante, as well as his three brothers and mother.
Marco adds that the menu is also accommodating. "If someone comes in and asks for something, we will most likely do it."
The market offers all the regular corner-store offerings: pastries, candy, cans of pop, a bit of produce. But Merante also specializes in fresh-made hoagies on locally baked Italian bread and an array of Italian deli sides, like marinated olives and pasta salad. Some days, the lunch special is Italian roast beef and, other days, it's fresh-baked pepperoni bread.
Pasquale's wife also makes homemade pizzelles for the shop. Pasquale says the family has made so many pizzelles, that it even has its own pizzelle press with a specialized family emblem on it. "Like a union pin," says Pasquale.
Marco says the store has also started catering, and last month, filled an order for workers at the nearby UPMC Mercy. The market opened in October, and Marco says the store is getting "busier and busier every day."
Pasquale says the shop is ideally situated for the lunch crowd of UPMC workers and construction crews that are becoming more common in Uptown. "You give these guys a chipped-ham sandwich, and they are happy," says Pasquale.
The market is open 6 a.m. to 6 p.m. weekdays and 8 a.m. to 3 p.m. on weekends, but also stays open late during Penguins games. "Until the puck drops," says Pasquale.
6 Marion St., Uptown. 412-261-4943